Baked Kale Chips
Crispy Baked Kale Chips recipe that's easy, quick, and perfect healthy snacks. Enjoy them between meals or add to meal bowls for extra crispy deliciousness.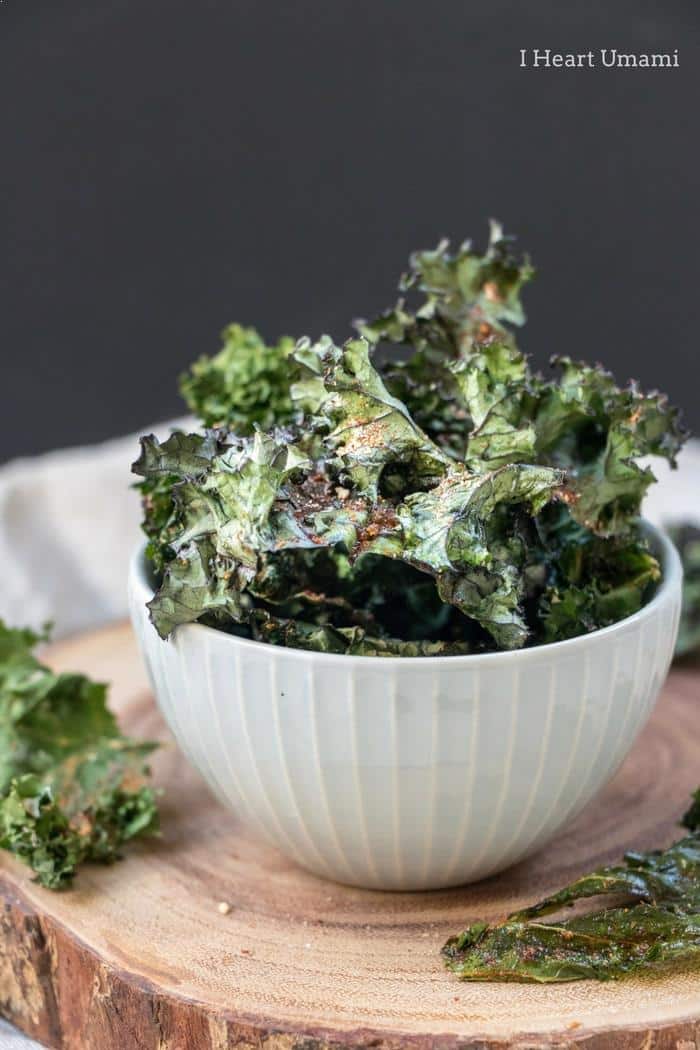 When I first tried these Baked Kale Chips I was hooked immediately. There has been so much hype about homemade Baked Kale Chips but for some reason it never occurred to me to try them until lately.
They are very versatile and you can swap the seasonings to your own liking to create variety. For example, garlic and salt to accentuate a more garlicky flavor, nutritional yeast to bring out some more cheesy tasting flavors, or some paprika to bring out a smoky flavor like my recipe below.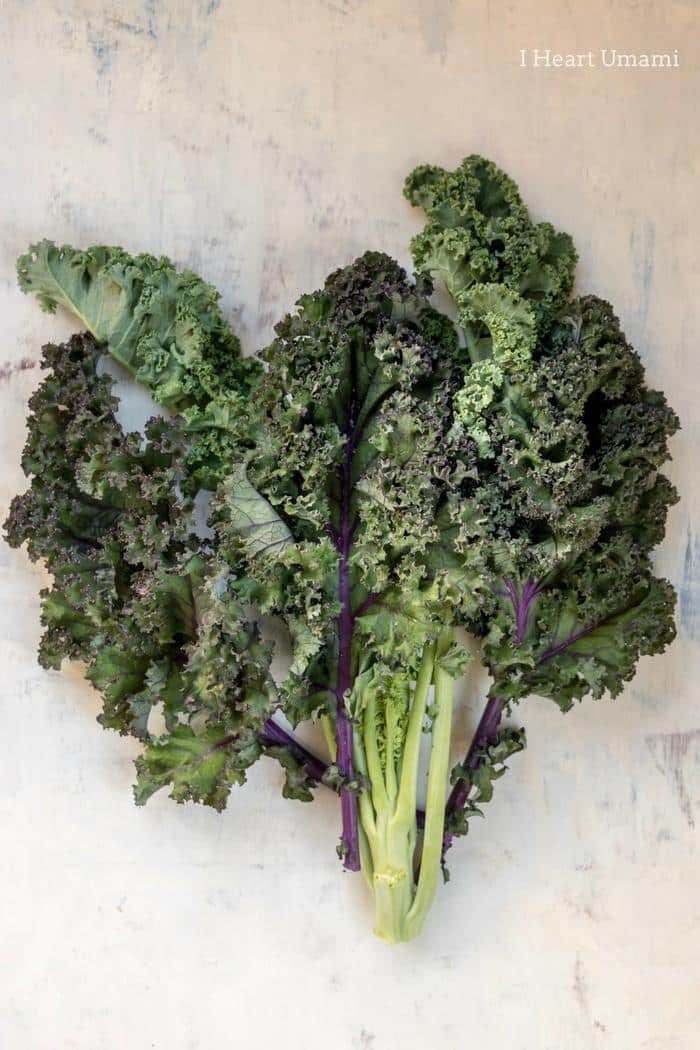 Crispy Baked Kale Chips
General rule of thumb for homemade Baked Kale Chips:
Keep the kale leaves very dry. No water. So after rinsing them, put them in a salad spinner to spin out all the water. Or use a paper towel to pat the leaves as dry as possible. (see video demo above)
Bake the kale at a low temperature. The low temperature helps remove the moisture content gradually so keeping the temperature low is the key.
There are a few things I did differently than most recipes on the net:
I roasted entire whole kale leaves first then used scissors to cut them into bite sized pieces. In my opinion, it tastes crispier this way.
I used hazelnut oil for a more nutty flavor (but feel free to use avocado oil).
I used Pink Himalayan salt (AKA pink salt). According to Dr. Axe, pink salt improves respiratory problems, balances the body's pH, and is a natural digestive aid.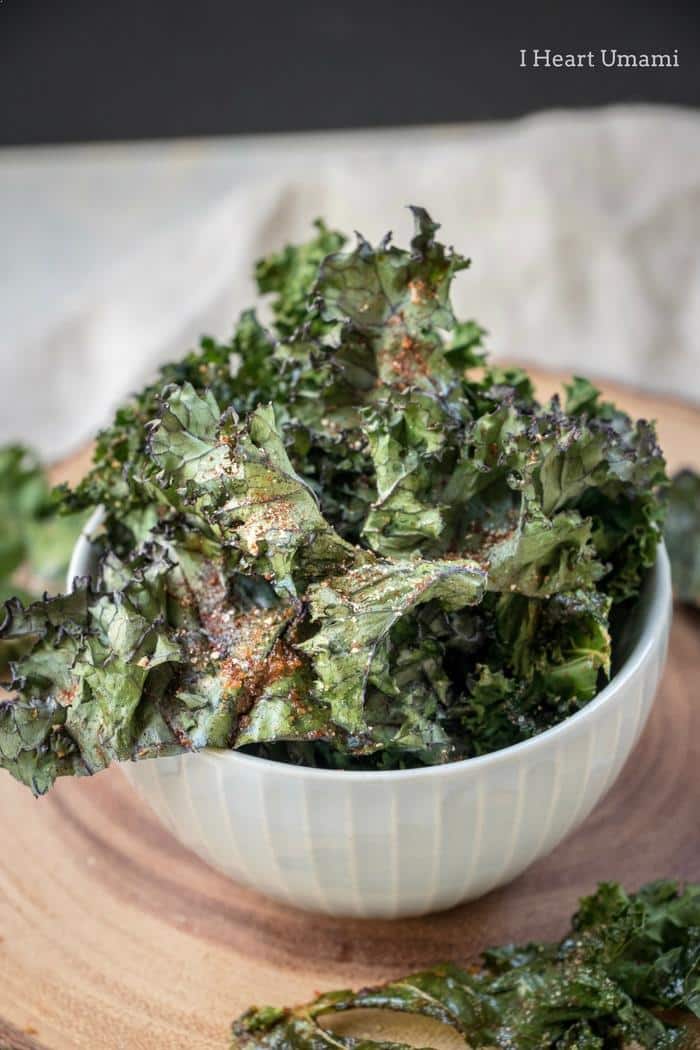 Make these Roasted Kale Chips for movie night, game night (hello super bowl !) when you have friends over, or just for healthy snacks.
One little tip: they do not store well for more than a couple of days so it's best to make them and eat them the same day for maximum crispy deliciousness !
If you give these Roasted Kale Chips a try, let me know ! Leave a comment and rate the recipe. And don't forget to take a picture and tag it #IHeartUmami on Instagram. I'd love to see what you come up with. XOXO !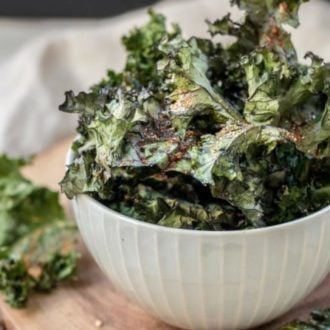 Baked Kale Chips
Crispy Baked Kale Chips that's easy, quick, and perfect healthy snacks. Enjoy them between meals or add to meal bowls for extra crispy deliciousness. Keto Whole30 Vegan and Paleo friendly !
Print
Pin
Rate
Ingredients
1 large bundle curly green and/or purple kale
2 tbsp hazelnut or avocado oil
Seasoning of choice, mine is garlic powder, onion powder, smoked paprika, and pink salt*
2 large baking sheet pans + parchment paper
Instructions
Preheat oven to 300F. Cut away large stems. Rinse and thoroughly dry kale. Use a salad spinner to help dry up the leaves even further if you have one at home.

Spread the kale over 2 large baking sheet pans. Lightly brush each leave both front and back with hazelnut oil. Sprinkle with seasonings of choice, using hands to distribute and gently rub the seasonings in both front and back.

Try to make the leaves as flat and not folded over as possible and leave some space between each leave. Bake at 300F for 10-15 minutes or until kale is crispy and in slight golden brown. Watch closely as it can burn easily.

Let cool slightly – the leaves will crisp up even more once out of the oven. Use a scissor to cut along the stem. Enjoy immediately. Best when fresh.
Notes
For flavor variety, try sprinkle with nutritional yeast to add more flavor !
No pink salt? Use sea salt instead.
Nutrition
Serving: 161g, Calories: 156kcal, Carbohydrates: 14g, Protein: 7g, Fat: 10.5g, Saturated Fat: 0.8g, Sodium: 252mg, Potassium: 556mg, Fiber: 6g, Sugar: 3g, Vitamin A: 15150IU, Vitamin C: 250mg, Calcium: 230mg, Iron: 2.3mg
More healthy snacks/game-day recipes