Paleo Taiwanese Chicken Nuggets (鹹酥雞)
Paleo Taiwanese Chicken Nuggets (aka 鹹酥雞)! Homemade, Taiwanese-style crunchy chicken nuggets pan-fried to golden brown crispy with a hint of basil flavor. Perfect Paleo appetizer or game-day snacks.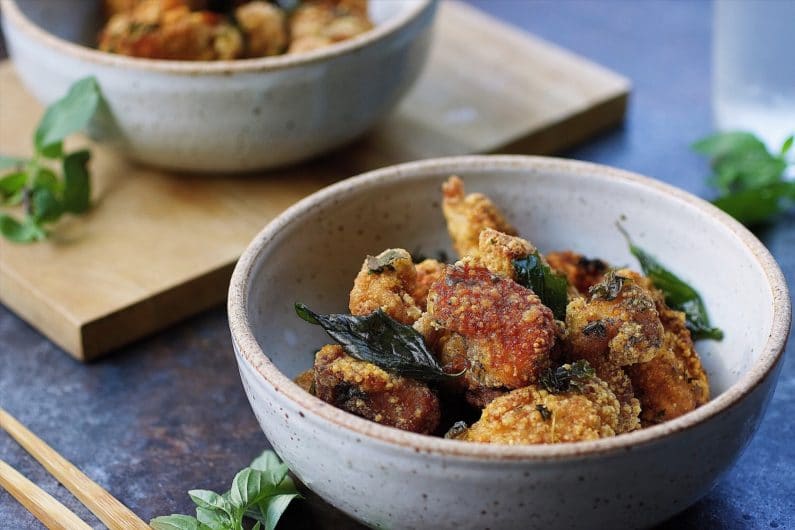 I'm so excited to be sharing one of my favorite recipes – Paleo Chicken Nuggets – with you today. In Taiwan, this dish is called 鹹酥雞 [Xián sū jī], it literally means salt and pepper chicken. This is a national-pride dish and you can find it often in night street markets.
These Taiwanese Paleo Chicken Nuggets are insanely delicious. If you love and crave Asian food, this dish is for you.
This is a dish perfect for game-day, or whenever you have friends or family stop by for visits. They are completely gluten-free, with no added sugar. Everyone will love this dish.
Tips on making golden delicious and crunchy Taiwanese Paleo Chicken Nuggets –
– Fewer steps & fewer carbs for the win: unlike traditional chicken nuggets – dipped in flour, egg, and flour again – this recipe uses only sweet potato flour/powder or arrowroot flour/powder only. No need to dip in egg or another layer of flour mix.
– Super flavorful: marinate the chicken pieces overnight in the fridge for maximum flavor but if you are short on time, 2 hrs should be okay.
– Crunchy and golden delicious: pan-fry the chicken in separate batches and try not to overcrowd the frying pan so that your chicken nuggets will be extra crunchy and gorgeous looking !
– Basil infused flavor: I infused the oil with fresh basil leaves so that the chicken nuggets will have a light and aromatic herb flavor. This, however, is an optional step. You can totally skip it. When you pan fry the basil, because the leaves contain water, they will splatter even after you pat them dry really well. So please be extra careful and use a splatter or deep frying pan cover. In my case, I pan-fried them in a large size dutch oven so it will be less messy around my stovetop.
– Bake v.s. Pan-fry: In order to make the crunchiest and gorgeous looking Paleo Chicken Nuggets, unfortunately, baked nuggets will not be as tasty and pan-fried. Part of the reason is also because these lovely chicken nuggets aren't breaded with a thick coat of coconut or almond flour. They are thin, light, and crispy little morsels so I strongly recommend that you pan-fry them in either coconut oil, avocado oil, or ghee butter.
Looking for a perfect dipping sauce to go with these Taiwanese chicken nuggets ?
You can dip these 鹹酥雞 chicken nuggets in Paleo Ketchup, BBQ , or any of your favorite dipping sauces. And if you love the original flavor, simply follow the steps below for an authentic taste.
Want more Taiwanese food?
Also check out my Taiwanese fried chicken cutlets (air fryer or stovetop), Taiwanese salt and pepper popcorn chicken, Sauteed Taiwanese cabbage, Instant Pot Taiwanese meat sauce, and Taiwanese beef soup.
Paleo Taiwanese Chicken Nuggets 鹹酥雞
Paleo Taiwanese Chicken Nuggets. Taiwanese-style crunchy chicken nuggets. Perfect Paleo appetizer/game-day recipe. Whole30 and Keto friendly. 
Print
Pin
Rate
Ingredients
1 1/2 lbs skinless chicken breasts or thigh, , slice into bite-sized chunks.
1 cup fresh Thai basil (alt. Italian basil), , including stem
1 cup sweet potato flour/powder, , alt. arrowroot flour/powder
Coconut oil, avocado oil, or ghee (to pan-fry the nuggets)
Chicken marinade: (after slice into bite sizes):
Instructions
Marinade: Slice the chicken into bite sizes. Add all ingredients listed under "Chicken marinade". Gently stir and coat the marinade evenly over each pieces. Seal in a container and refrigerate overnight (alt. Marinate at least 2 hours in the fridge).

Basil oil: Heat oil of your choice in a deep fry frying pan (or dutch oven) with ⅓ cup of oil. In the meantime, use a paper towel pat dry the basil leaves. When the oil is hot, lower the heat to medium-low, then carefully add 1 cup of basil. Use an oil splatter guard and be careful about the splatter. Once the basil is crispy, about 5 seconds, remove and drain on paper towel.

Pan-fry the chicken: Toss and coat the chicken with sweet potato flour in a large zip lock bag. Heat the basil oil over medium-high heat. When hot, lower the heat to medium, pan-fry the chicken in separate batches until they are completely cooked through and golden brown in color. Remove the chicken and drain on a paper towel.

Final touches: Place the crunchy chicken nuggets into a large mixing bowl. Crush the fried basil into the chicken, and, if you like, toss with more fine sea salt and white pepper into the chicken. Serve immediately with salt and white pepper on the side for an authentic taste or your favorite dipping sauce.
Nutrition
Serving: 189g, Calories: 397kcal, Carbohydrates: 24g, Protein: 31g, Fat: 18.9g, Saturated Fat: 2.6g, Cholesterol: 99mg, Sodium: 729mg, Fiber: 1g, Vitamin A: 300IU, Vitamin C: 1.7mg, Calcium: 30mg, Iron: 0.9mg