Air Fryer Salmon With Dijon Mustard
This Air Fryer Salmon With Dijon Mustard gives serious gourmet restaurant vibes, but (shh!) it's effortless it is to make! Impress your eaters with this perfectly flaky salmon fillet with crispy skin, topped with a creamy and tangy dijon dressing—in under 15 minutes (including prep!)
I air fry fresh salmon in this recipe but try my Frozen Salmon In Air Fryer recipe to cook straight from frozen. If you're loving the air fryer as much as I am, check out my handy Air Fryer Cooking Times guide, too!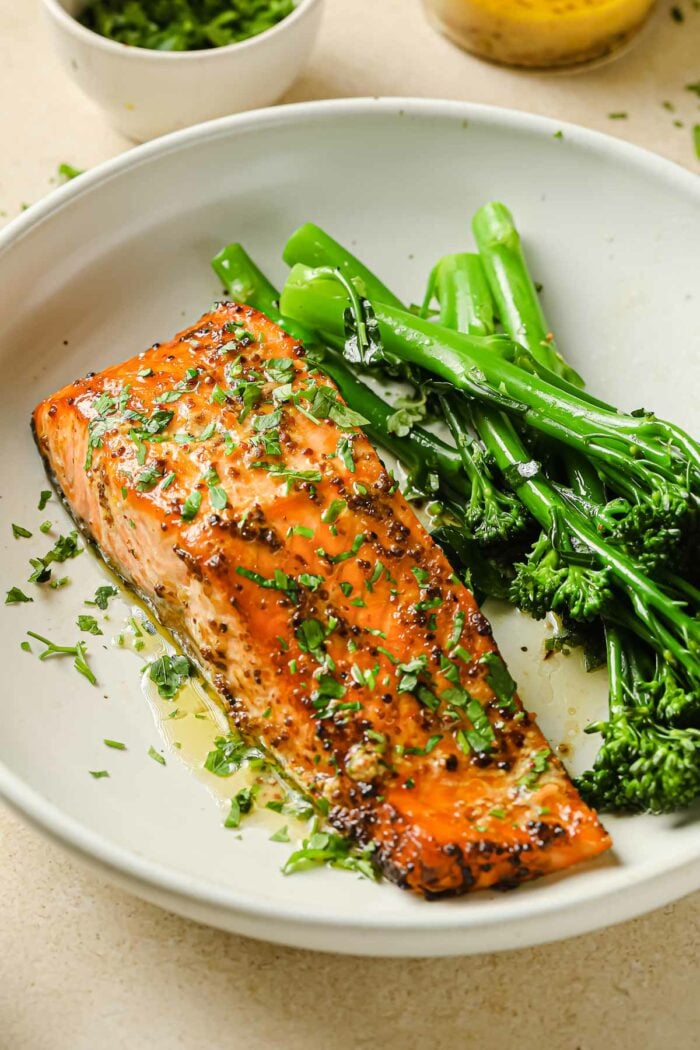 Why this will be your go-to recipe
Salmon is a seriously healthy protein option, but it can be tricky to get it just right. Air frying salmon really is a game-changer! Say goodbye to dry or chewy fish, and let this juicy air frier salmon melt in your mouth instead!
This is the best air fryer salmon recipe because it's:
Simple and Fast: This dish is ready in under 15 minutes, including prep time!
Healthy: Salmon is an excellent source of protein and Omega-3 fatty acids.
Mouthwatering: Crispy skin that tastes almost seared, tender fillet, tangy dressing with a pop of fresh herbs…yes, please!
Ingredients
This easy salmon in air fryer recipe has very few ingredients, and they're all super accessible. You probably have them in your kitchen already!
Salmon Fillets: I use fully thawed Atlantic center-cut fillets with the skin on (more on this below!)
For the Sauce: Olive oil, whole-grain dijon mustard, lemon juice, salt, pepper, and garlic powder
To Garnish: Fresh parsley, lemon slices
Ingredient substitutions
Mustard: You could use regular (not whole grain) dijon or yellow mustard. (Yellow mustard will taste slightly different.)
Herbs: Dill or cilantro would also work well if you don't have parsley.
Skinless: You can make skinless salmon in air fryer using this exact recipe.
Fillet: If using sockeye salmon or a different cut, like a tailpiece, reduce the cooking time by half and add time as needed. (These are thinner than Atlantic center-cut fillets.)
Buying Fresh vs Frozen Salmon
For this air fryer salmon with dijon mustard, I buy frozen salmon and thaw it completely overnight.
Unless you are buying fresh-caught fish off the boat, frozen salmon is generally better than "fresh" salmon at the fish counter, which is often thawed from frozen before it sits out for days. Frozen fish is flash-frozen immediately after harvest, preserving its nutrition and texture until you thaw it at home.
How to make the dish
This air fryer salmon fillet could not be easier! Here's how to cook salmon in the air fryer in just 15 minutes:
Preheat your air fryer and pat dry the salmon with a paper towel.
Mix the sauce while preheating.
Line the basket and place the salmon fillets skin side down.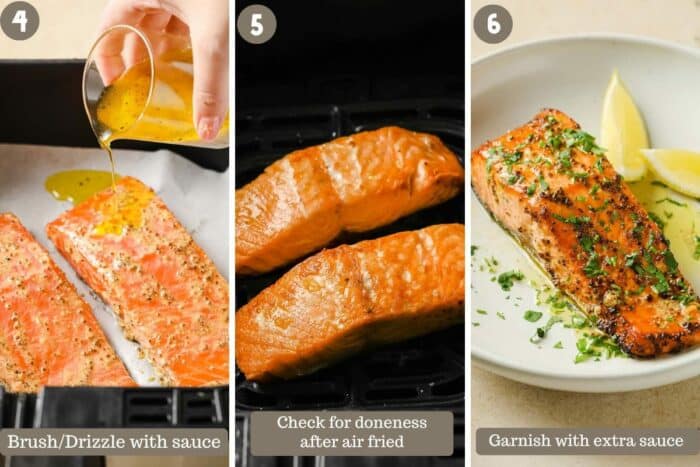 Brush on the sauce (save 2 tablespoons of the mixture for garnish!)
Air fry and check for doneness with a fork or meat thermometer
Garnish with the rest of the sauce, parsley, and lemon slices
Tips For Perfect Salmon In an Air Fryer
Use similar-sized fillets so they have the same cook time.
Don't crowd the basket. This will steam the fish, making them soft rather than crispy.
Check for doneness with a meat thermometer for greater accuracy (internal temperature should be 145 degrees). If using a fork, the fish should flake away easily.
Variations
While I love the simplicity of these air fryer salmon fillets with dijon, there's really no wrong answer when it comes to how to season salmon for air fryer. Here are a couple of delightful variations:
Sweet Variation: Add some honey or maple syrup to the sauce for a sweet and tangy maple dijon or honey dijon salmon. Brown sugar would also work.
Spicy Variation: Sprinkle with smoked paprika or chili flakes to add a bit of heat.
Sauce Variations: Change the flavor profile with a different sauce, like my creamy ginger dressing or bacon aioli.
Serving suggestions
I love making salmon in airfryer, not only because it's easy and delicious, but because it's a healthy protein that pairs well with so many sides.
Air fry salmon filet tastes especially elegant when paired with a roasted vegetable dish. Some of my favorite veggies are my Mapel Brussel Sprouts Air Fryer recipe, this Misso butter asparagus dish, and these Roasted Cherry Tomatoes with Delicata Squash.
For another protein dish that uses a dijon mustard sauce, my Baked Sesame Chicken is a great companion to my healthy air fryer salmon recipes!
Common FAQ
How to make salmon in air fryer?
Simply preheat your fryer, season the fillets with oil and seasonings of choice, and air fry until cooked through (internal temp of 145 degrees).
How long to air fry salmon?
Total time will vary based on the size and type of cut you are using, but generally less than 10 minutes. The internal temperature for salmon should be 145 degrees.
What is a good seasoning for salmon in the air fryer?
There are many great air fryer salmon seasoning options! Garlic, lemon, paprika, chili, ginger, and Old Bay seasoning are a few delicious ideas.
Is baked salmon in air fryer healthy?
Yes! This is a low-carb dish that's low in calories and high in both protein and Omega-3 fatty acids for brain and heart health. Plus, the air fryer requires very little oil for cooking.
Storage and make-ahead
This simple salmon air fryer recipe is a great meal prep item for the week! Store leftover salmon in an airtight container in the fridge for up to three days.
If freezing, wait until the fish has cooled completely and wrap it in parchment paper so that it doesn't stick to the container.
Reheat the fish using a low temperature in the air fryer, microwave, or oven so it doesn't dry out.
Umami Tips
For this fresh salmon recipe, thaw frozen fillets completely overnight.
Use Atlantic center-cut fillets with the skin on for the perfect combo of crispy skin and juicy fillet.
Use a meat thermometer to check for doneness. How many minutes to air fry salmon will vary depending on the size and cut of fish.
For perfect air roasted salmon, be sure you don't overcrowd the air fryer basket.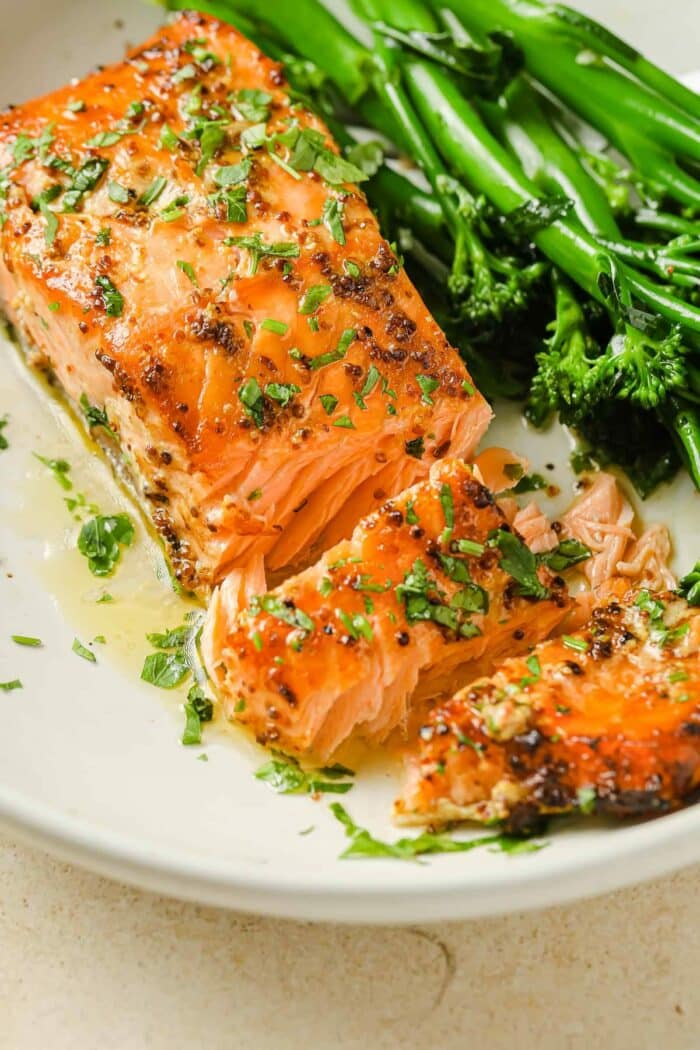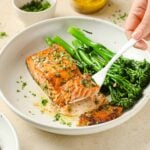 Air fryer salmon with dijon mustard recipe
Air fryer salmon with dijon mustard sauce ready in 15 minutes! Fresh salmon fillets & simple seasonings air fried to moist every single time!
Print
Pin
Rate
Ingredients
1 lb center-cut salmon fillet, divide into 2 pieces at 0.5 lb (227g) per fillet
2.5 tbsp olive oil
2 tsp whole-grain mustard
4 tbsp lemon juice, plus more for serving, about 1 whole lemon
0.5 tsp coarse sea salt, or more to taste
0.25 tsp ground black pepper
0.25 tsp garlic powder
Olive oil spray, or avocado oil
2 tbsp finely minced parsley
Instructions
Preheat your air fryer, following your brand of default setting. Mine is Cosori and the default is 400F (204C) for 5 minutes.

Slice the salmon into two equalized pieces. Pat them dry if they are watery.

To prepare the sauce, in a measuring cup with sprout, combine olive oil, mustard, lemon juice, salt, pepper, and garlic powder. Stir well until the salt is dissolved.

Line the air fryer basket with a thin piece of parchment paper. Lightly grease the paper with olive oil spray. Place two fillets in the basket with some space in between. Place them skin-side down.

Set aside 2 tbsp of the sauce and pour the remainder onto the fillets. Use a silicone brush to help you distribute the sauce evenly and all over the salmon.

Air fry for 8 minutes and check the doneness. Add another minute or two for medium-cooked salmon. The salmon is done when you can use a fork to flake easily.

Use a fish spatula, and carefully transfer the salmon out of the basket onto a serving plate. The skin might stick to the parchment.

Sprinkle the fillets with a touch of salt, drizzle with the remaining 2 tbsp sauce, and garnish with the parsley on top. Serve with extra lemon wedges on the side. Serve hot.
Notes
I highly recommend you line the air fryer basket – AFTER you reheat it.
I use center-cut Atlantic salmon fillets and my cook time is 400F (204C) for 9 minutes for medium-cooked salmon.
Use a silicon brush to help distribute the sauce all over the fillets.
The salmon skin might stick to the parchment paper so when you transfer the fillets out of the fryer, please take extra care or the salmon will break into pieces. They are still delicious just the presentation might not be as pretty. 🙂
Nutrition
Serving: 1serving, Calories: 490kcal, Carbohydrates: 3g, Protein: 46g, Fat: 32g, Saturated Fat: 5g, Polyunsaturated Fat: 8g, Monounsaturated Fat: 18g, Cholesterol: 125mg, Sodium: 739mg, Potassium: 1180mg, Fiber: 1g, Sugar: 1g, Vitamin A: 434IU, Vitamin C: 17mg, Calcium: 40mg, Iron: 2mg
Made a dish and love it? Please remember to rate the recipe and leave a comment in the comment section below! It helps my blog grow organically so I can continue sharing free and awesome content with you. Thank you!