Banh-Mi Wrap: Vietnamese Grilled Pork With Pickled Carrots And Mint !
Paleo Banh-Mi Wrap: Vietnamese Grilled Pork With Pickled Carrots And Mint !
I've been dying to find a way to make Vietnamese food not only Paleo and Keto, but also Whole30 friendly.
For the longest time, I thought I had to part with Vietnamese food because without using added sugar, Vietnamese cuisine is, to be frank, difficult.
Most of the Paleo recipes on the net use honey or even coconut sugar as a substitute, but I wanted to challenge myself and see if I could find a better and more natural substitute ingredient with lowest amount of natural sweetness possible, but which would still allow us to enjoy this delicious Vietnamese Banh-Mi Wrap.
So the question is: how do we still enjoy this delicious Banh-Mi Wrap – not tasteless "health food", but a DELICIOUS meal – when you don't want to spend hours in the kitchen and spend time looking for obscure ingredients?
Imagine feeling excited to enjoy this delicious Banh-Mi Wrap in ice cold butter lettuce with refreshing pickled carrots that gives you endless energy and coming home to a dinner you look forward to.
Be sure to watch my video demo below about this amazingly delicious Banh-Mi Wrap. My videographer and I spent an entire weekend filming this video at my home for you.
I hope you enjoy and give this scrumptious Banh-Mi Wrap a try and let me know how you are doing.
Have a lovely July 4th weekend ! Xoxo.
[embedyt] https://www.youtube.com/watch?v=iP1V3f57DRQ[/embedyt]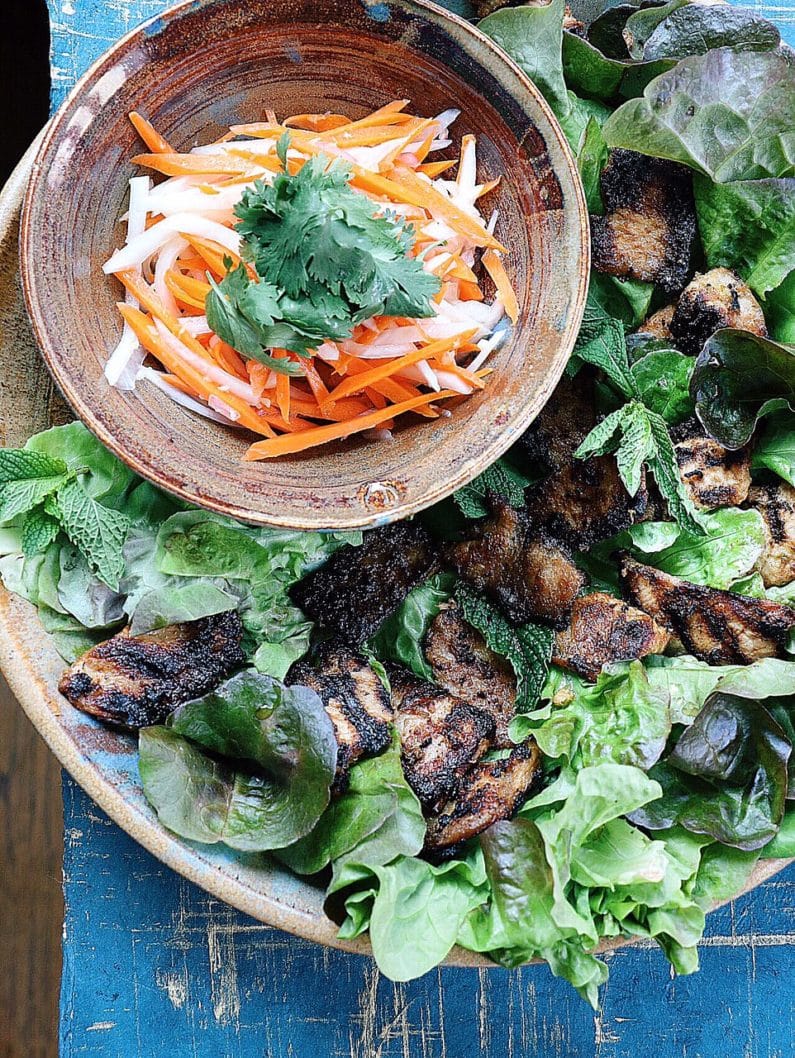 Banh-Mi Wrap: Vietnamese Grilled Pork With Pickled Carrots And Mint !
Paleo, Keto, Whole30 Vietnamese Banh-Mi Wrap recipe with grilled pork and pickled carrots, daikon radish. A paleo recipe that will remind you of your favorite Vietnamese pork chop sandwich !
Print
Pin
Rate
Ingredients
1 lb Pork shoulder or loin boneless chops
1 box butter lettuce, or more if desired
Handful fresh mint and cilantro
Coconut oil, for grilling
Pork marinade:
4 cloves garlic
1 large shallot
½ tbsp fresh ginger
1 whole lime zest and juice
2 tbsp red boat fish sauce
3 tbsp coconut aminos
1 tbsp hot chili pepper sauce, W30 compliant. Optional
3 tbsp fresh pineapple puree
Pickled Carrots & Daikon (radish):
1 cup carrots, julienned
1 cup daikon, julienned (alt. thin sliced radish or skip this ingredient)
2 cloves small garlic, grated
1 tbsp shallot, finely minced
1 tbsp ginger, grated
1 whole lime juice
1 tbsp water
1 tbsp olive oil
½ tsp sea salt
½ tbsp red boat fish sauce
2-3 tbsp fresh pineapple juice, I use the juice from a canned pineapple. No sugar added or syrup. Please read your label & ingredient lists
Instructions
A day before grilling:
Slice the pork to about ¼ inch thick.

Chop garlic, ginger, and shallot in a food processor and then mix with other ingredients under "pork marinade".

Pour the marinade over the sliced pork. Store in an airtight container and in the fridge overnight.

Day of grilling:
Pickled Carrots & Daikon: Julienne 1 cup of carrots and 1 cup of daikon (or radish). Combine and mix well other ingredients under "pickled carrots and daikon". Store in fridge for 20-30 mins. (*Note: if you skip daikon and only use 1 cup of julienned carrots, please cut down the seasoning measurements by half).

Grill Pork: Heat about 1 ½ tbsp coconut oil over a grill pan, when hot, lightly drip off of the liquid access before placing on the griddle. Grill about 2-3 minutes per side until the surface is slightly charred and the meat is cooked through.

Enjoy the grilled pork with butter lettuce, some mint leaves, fresh cilantro, and pickled carrots. Dip them in the pickled juice for extra yum !
Nutrition
Calories: 312kcal