Vietnamese Aromatic Egg Wraps
I'm in the middle of filming a new episode. Let me give these wraps a taste test…one bite…Wow! Burst of flavor dancing in my mouth.
I can taste the mint, basil, lime, savory mushrooms and juicy meat.
I couldn't stop eating. Let me turn the camera off just for a few seconds to take one more bite.
Ever get the feeling that you couldn't stop eating even though you're full?
That's how insanely delicious these Vietnamese Aromatic Egg Wraps are.
These Vietnamese Aromatic Egg Wraps are my latest interpretation of Vietnamese Bánh Xèo.
On the surface it looks like meat filling wrapped with fried eggs and lettuce however, the magic begins the moment you take a bite.
One bite and you are hooked for another and another.
WARNING: Vietnamese Aromatic Egg Wraps = Stuff your face with wraps. 🙂
Here's how you'll enjoy the dish –
– Brown the meat of your choice (I prefer ground chicken or turkey),
– Pan fry some golden-delicious turmeric eggs, crispy shallots, and
– Wrap the entire thing with ice cold lettuce and fresh mint/basil and dip in with my interpretation of Vietnamese Nuoc XXX dipping sauce.
Oh and before I forget to mention it, I discovered the best Paleo and Whole30 friendly Vietnamese Nuoc Cham dipping sauce that's closest to the real thing! And I'm not talking about using coconut sugar or honey as substitution.
Be sure to watch my cooking demo below on how to incorporate this insanely delicious dish into your weekly meal prep & watch to the end where I show you how to eat the Vietnamese Aromatic Egg Wraps like a local pro.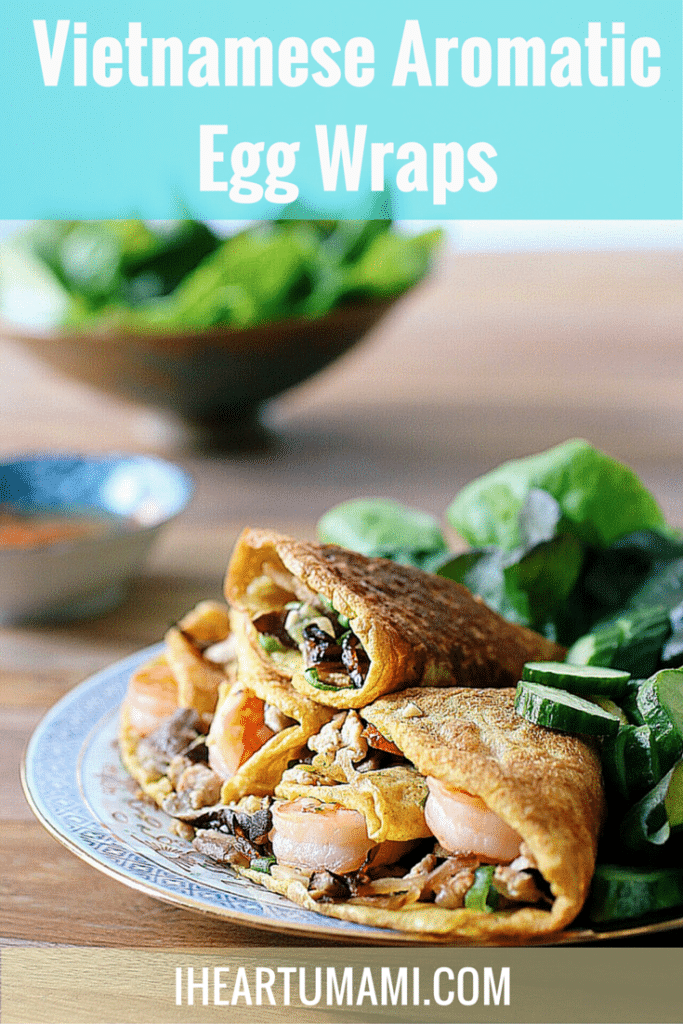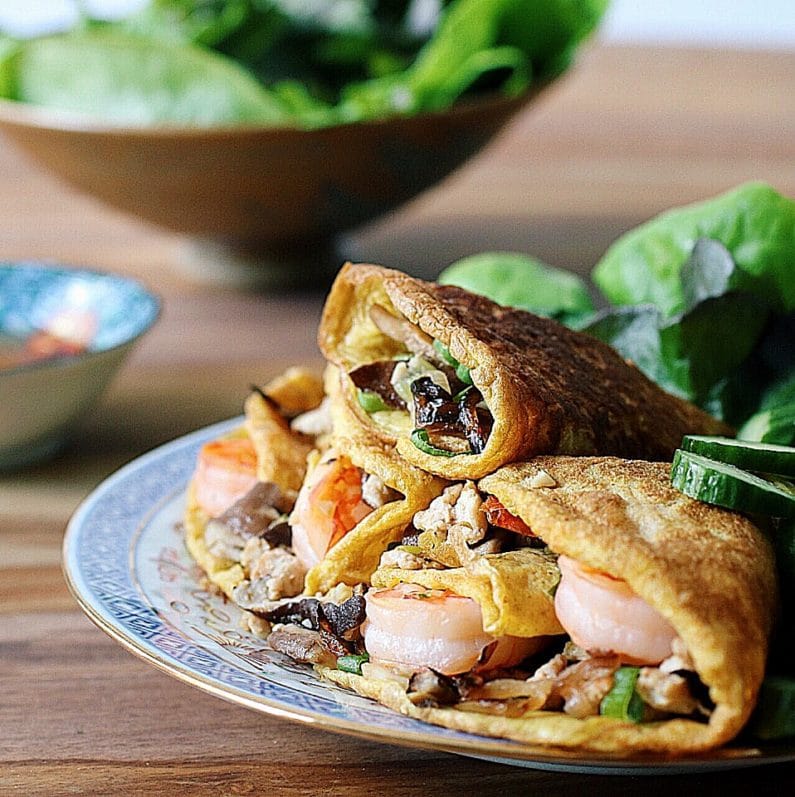 Paleo Vietnamese Aromatic Egg Wraps
If you want to incorporate this dish into your weekly meal prep, you can prep the food up to Step 3 or 4. Store the filling in a glass air tight container. Reheat and assemble with egg wraps and fresh leafy greens and herbs of your choice !
Print
Pin
Rate
Ingredients
¾ lb ground turkey breast, alt. Ground pork or chicken
½ lb shrimp, peeled & deveined (optional)
Other:
1 large shallot, thin sliced to long/lean shape
5 oz fresh shiitake mushrooms, sliced
2 stalks chopped scallion, separate white & green color parts
Half one whole lime
Half one whole lime zest
Salt to taste
1-2 tbsp Water
Egg wraps:
6 eggs
¼ tsp turmeric powder
Sea salt to taste
2 tbsp full fat coconut milk from a can, stir-well before using
Herbs:
Butter lettuce or Iceberg lettuce
Handful of mint and basil
Seedless cucumber, sliced (optional)
Cilantro, optional
Dipping sauce:
Small pinch of finely minced garlic and red chilies, remove seeds
Half one whole lime juice
½ tbsp rice vinegar
½ tbsp fish sauce
2 tbsp water
1-2 tbsp fresh squeezed orange juice
Oil to pan-fry:
1 ½ tbsp coconut oil – pan fry shallots
1 tsp ghee – pan fry egg wraps
Instructions
Combine ground turkey with meat seasoning. Mix well. Set aside in the fridge.

Make filling: Heat a saute pan with 1 ½ tbsp coconut oil. When hot, add sliced shallots. Pan-fry until golden brown. Scoop out the shallots. Set aside.

Use the shallot oil to pan-fry/brown ground turkey. When the meat is cooked through, add mushrooms and white color parts of scallion. Keep stir-frying until the mushrooms turn soft. If the saute pan is too dry, add 1-2 tbsp water. Scoop out the meat. Set aside to cool. Add ½ lime juice and ½ lime zest.

Add 1 tbsp of coconut oil to pan-fry the shrimps until they turn pink. Season with a little bit of salt if desired. Set aside.

Make Egg wraps: Heat a small non-stick pan with 1tsp ghee. Mix all ingredients under "egg wraps". Whisk well. Add ¼ cup egg mixture to the saute pan and give it a gentle swirl. Turn heat down to medium/medium-low. Pan-fry the eggs until the edge is crisp and in light golden brown. Repeat the process. Set egg wraps aside.

Dipping sauce: Combine ingredients under "dipping sauce".

To serve: Scoop 2 tbsp of filling (meat + shrimps) onto one half of the egg wrap. Fold the egg in half and slide it onto a plate. Slice the egg wraps into sections and wrap each section with lettuce, mint, cucumber, and basil. Serve immediately with my Paleo and Whole30 friendly dipping sauce.
Nutrition
Calories: 380kcal