Cranberry Cinnamon Roasted Delicata Squash
This Roasted Delicata Squash Recipe with cinnamon and cranberries is my new favorite way to roast winter squash! The caramelized sweet baked delicata squash tastes really meaty and seriously addictive. Pair with a touch of cinnamon, dried cranberry sprinkles, and finish it with a touch of lemon garlic sauce…I'll happily have this side dish any night of the week!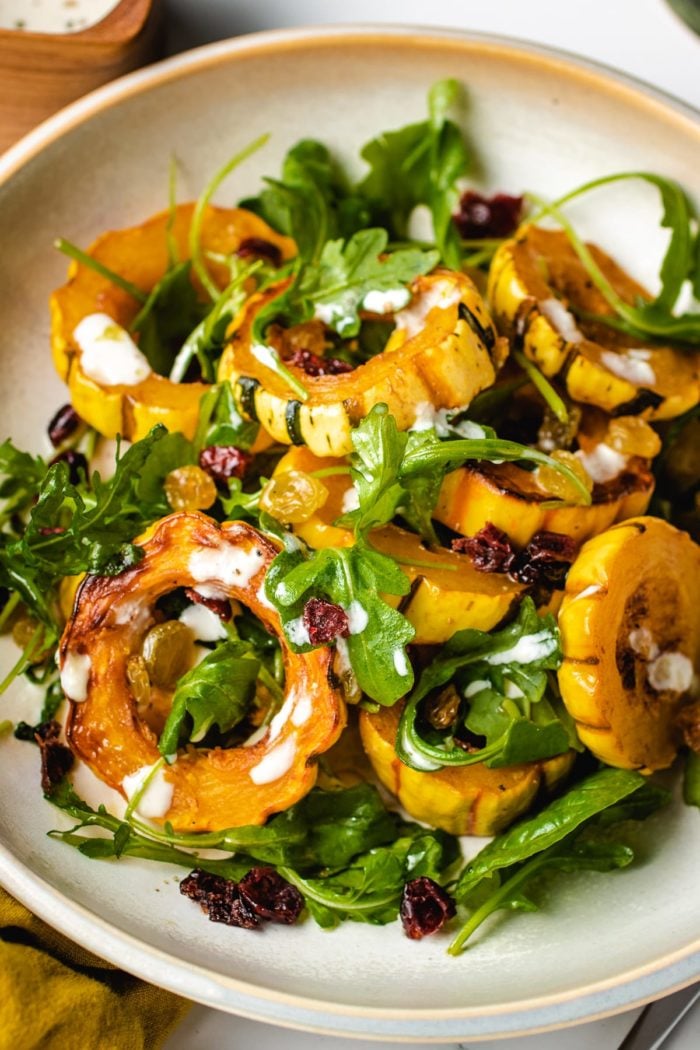 I'm on a mission to share more holiday recipes and side dishes this season. Every year in the Fall, my husband and I would be traveling in Asia to see our family and friends. This year since we are all staying home in the states, I finally have some time to sample all the delicious fall flavors – roasted squash!
Roasted winter squash delicata – a new favorite!
Baked delicata squash is seriously my new favorite winter squash. They are petite (each weight about 1 lb-ish), beautifully looking, and taste so sweet and delicious, and you don't need to peel the skin!
Something magical happens to the squash when you roast it. The sweet flavor intensifies and caramelizes beautifully in a hot oven. Roasted delicata squash not only makes a great Paleo thanksgiving sides but also perfect for weeknight pairings!
I've stepped it up a notch by adding a dash of cinnamon and a sprinkle of dried cranberries and golden raisins to make it even more festive looking and cheery! To balance the sweet flavor, I lightly toss the roasted squash with baby arugula and finish it off with a touch of lemon garlic sauce.
Mmm…a bite of heaven that will make everyone smile at the dinner table. 🙂
Oh…you can absolutely sprinkle with some toasted walnuts, almonds, pistachios or pine nuts, if cranberries and raisins are not your favorite. 🙂 This just shows how versatile this roasted delicata squash recipe is!
Before we begin, let's answer some common questions:
What does delicata squash taste like?
Delicata squash tastes sweet and buttery in flavor and has a nice and creamy texture. I find it even sweeter than butternut squash or pumpkin. It has a similar sweetness to kabocha squash but without the earthy flavor.
How to cook delicata squash
You can roast/bake, saute, or make a squash soup. My favorite way is to roast it in the oven. The magic happens when you roast it in a hot oven. The sweet flavor intensifies and the texture turns buttery soft.
Dice the tip ends and slice the squash into small rounds (length wise), about ½-inch rinds.
Use a grapefruit spoon to scoop out the seeds and remove the stringy strings.
Toss well with olive oil, dash of salt and pepper.
Spread them over in a large sheet pan and roast until buttery soft and fork tender.
Unlike butternut squash or acorn squash, delicata takes much less time to bake, about 25-30 minutes are all you need!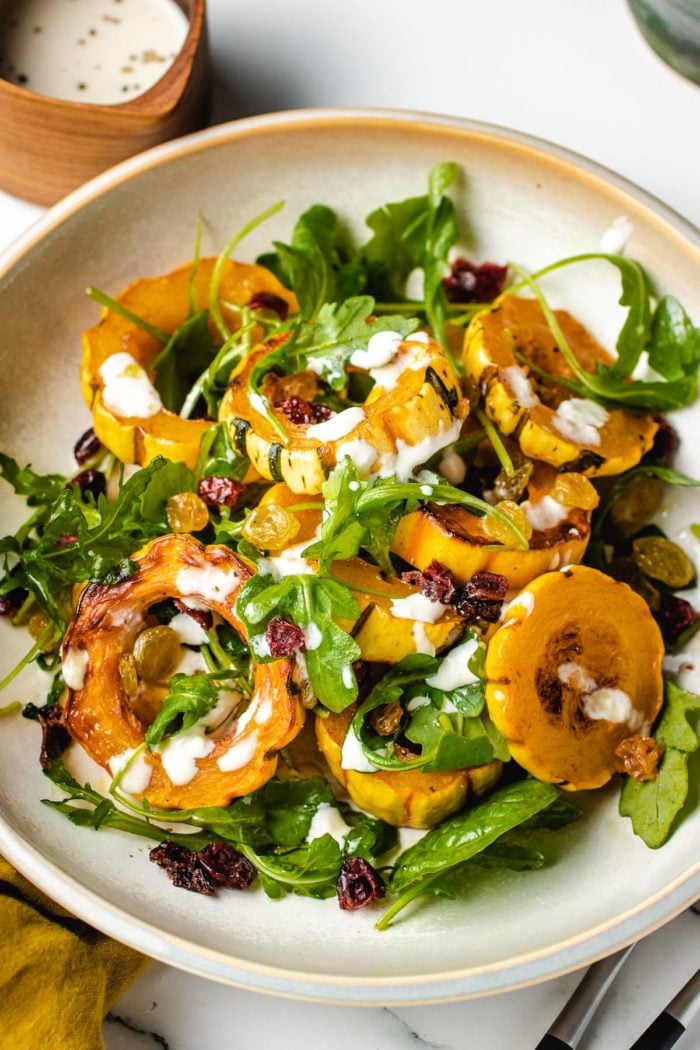 Do you need to peel it? Can you eat the skin?
You don't need to peel the delicata squash and Yes, you can absolutely eat the skin. The skin turns soft after roasting.
How to take the squash seeds out?
Use a grapefruit spoon or a small spoon with a sharper tip to take the seeds out.
How big should I cut the rounds?
About ½-inch per round of delicata squash. It's important to cut them into similar thickness so the cook time will be the same.
How do you know when they are done cooking
When the squash is buttery soft and turn from pale yellow to deep rich yellow color. When poking it with a fork, it should be fork tender.
How long does delicata squash stay fresh?
Whole delicata squash should be stored in a dark and dry cool area for up to 3-4 weeks. Cut or cooked squash last in the fridge for up to 3 days.
Baked delicata squash flavor variations:
Try season with your favorite dry spice seasonings. For example: garlic powder, dried thyme, or touch of crushed red pepper for a little spicy kick!
More veggies: Roast the delicata squash with sweet potatoes cubes, diced butternut squash, broccoli florets, cauliflower florets, or red onion slices.
More winter squash recipes
More Paleo Thanksgiving Sides
So friends! I say if you are going to make a delicata squash recipe, go all the way out! Add a sprinkle of dried berries, golden raisins, toasted nuts and pass the lemon garlic sauce around the table or serve it on the side. The sweet buttery soft flavor is seriously addictive and makes this dish a perfect fall and holiday side dish for your holiday table!
Do you have a favorite way to prepare delicata squash? Share below!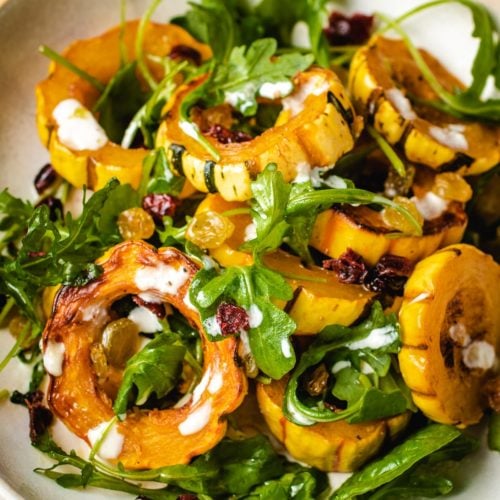 Roasted Delicata Squash with Cinnamon and Cranberries (Paleo/Whole30)
Roasted delicata squash recipe with cinnamon/cranberries is the perfect Paleo Thanksgiving sides and makes the best baked delicata recipe!
Print
Pin
Rate
Ingredients
For the squash:
2.2 lbs delicata squash, about 3 chubby ones
⅔ tsp coarse sea salt, or to taste
¼ tsp ground black pepper
¼+1/8 tsp cinnamon powder
4 tbsp olive oil
For the sauce:
1.5 tbsp mayo, I use tessemae's
4 tbsp unsweetened plain yogurt, plant-based or full fat for keto
¼ tsp coarse sea salt
⅛ tsp ground black pepper
0.14 oz garlic, grated
1-2 tbsp lemon juice, or to taste
Garnish:
handful baby arugula, baby arugula
Salt and pepper, to taste
Drizzle olive oil and lemon juice, to taste
small handful dried cranberries and golden raisins, optional or toasted nuts
Instructions
Preheat the oven to 425F.

Scrub the delicata squash clean, pat dry, and dice into ½-inch rounds (length-wise).

Scoop out the seeds and remove the stringy parts, using a grapefruit spoon.

In a large mixing bowl, toss the squash with salt, pepper, cinnamon, and olive oi. Coat well.

Line a large baking sheet with parchment. Spread the squash out in a single layer over the sheet. Bake in a middle rack about 20 minutes on the first side and flip the rinds to bake 8-10 minutes additional.

In the meantime, prepare the sauce in one bowl. Cover and set aside in the fridge. In a mixing bowl, Toss the arugula with salt pepper to taste and drizzle with oil and lemon juice.

To serve, spread the arugula over a large serving platter. Place the roasted delicata squash all over. Sprinkle with cranberries and raisins, if using. Drizzle with a touch of sauce over the squash or serve it on the side to pass around the table. Serve warm or at room temperature.
Notes
You can also use toasted and chopped walnuts, almonds, or pistachios if you prefer not to use cranberries/raisins.
Nutrition
Serving: 1serving, Calories: 241kcal, Carbohydrates: 23g, Protein: 3g, Fat: 17g, Saturated Fat: 3g, Cholesterol: 3mg, Sodium: 570mg, Potassium: 889mg, Fiber: 4g, Sugar: 6g, Vitamin A: 3410IU, Vitamin C: 32mg, Calcium: 82mg, Iron: 2mg
Tap along to see how to make this dish!