Turmeric Ginger Kabocha Squash Soup
A bowl of Kabocha Squash Soup with pops of heartwarming ginger, cinnamon, and turmeric is a sure bet to warm and comfort you on chilly days. With my easy-to-follow recipe, you'll learn how to turn this Japanese pumpkin into a thick and creamy bowl of soup in no time!
Looking for more ways to enjoy this Japanese squash? My Simmered Japanese pumpkin and Roasted whole butternut squash are all excellent choices!
What is kabocha?
Kabocha squash originates from Japan. It is popular in Japanese cuisine, with its thick orange flesh bringing earthy notes and sweet flavor. This Japanese variety of winter squash makes one of the best soups. The most common type is either green skin or red kabocha squash. Both are often used in Japanese pumpkin soup.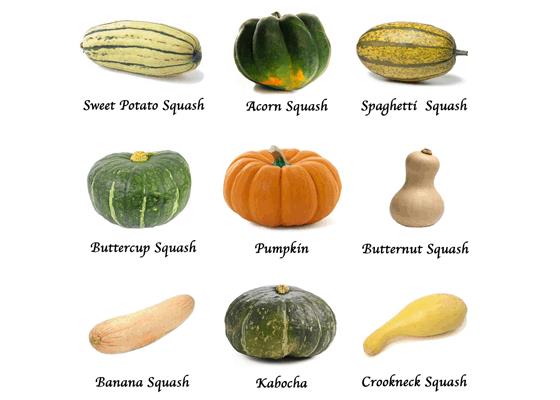 Why this is the best creamy squash soup?
There's a reason why people love Kabocha squash soup recipes – delicious earthy flavor, simple ingredients, and heartwarming spices perfect for colder days!
Only 9 ingredients are required, and this includes salt and butter!
Rich, creamy, and naturally sweet – The squash has a sweet flavor with no need for additional sweeteners.
Dairy-free and healthy – Packed with vitamin C to support healthy white blood cells!
---
Ingredients
Nine simple ingredients are all that are needed for this delicious kabocha soup! This is an easy recipe your whole family will love. Here are what you need to get started: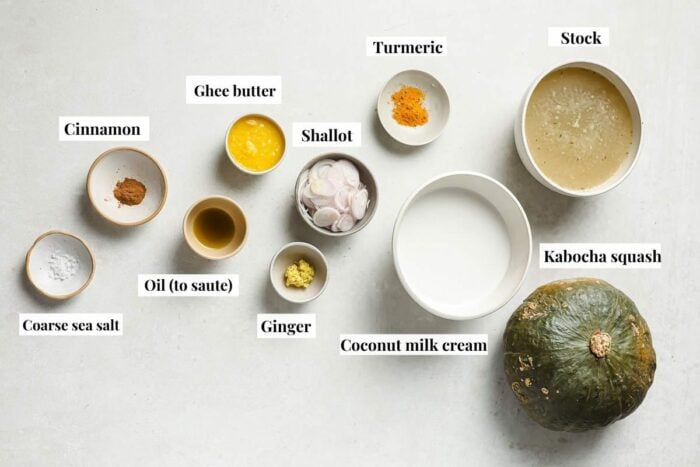 Kabocha squash: Look for a firm and feels heavy in handJapanese pumpkin that is either in dark green or orange-red-ish skin with no bruises.
Aromatics: shallot and ginger
Other: salt, ghee butter, turmeric, cinnamon, coconut cream, stock
Ingredient substitutions
Can't find kabocha? Use a combination of other favorite winter squashes such as acorn squash, pumpkin sweet potato, or Jamaican squash.
Allergic to coconut cream? Switch the swirl of coconut cream for any dairy-free unsweetened coffee creamer.
Okay with a little dairy? Use regular full-fat milk or half-and-half to blend with the squash.
No shallot? Yellow or white onions are ideal swaps!
How to make the soup
Maybe you've seen similar recipes from simply recipes butternut squash soup or justonecookbook kabocha but rest assured that my step-by-step instructions and special tips will help you make the best soup in no time!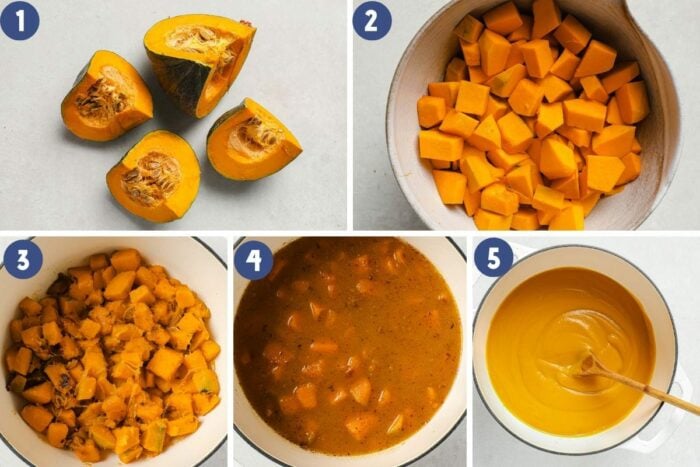 Heat kabocha in the microwave on high for 2 to 3 minutes. This will make the outer skin easier to slice.
Use a sharp knife to cut the kabocha in half. Scoop out the seeds and remove the skin with a knife. Dice to small cube sizes.
Melt the ghee in a Dutch oven. Saute with shallots and a little salt until fragrant. Add kabocha, season with salt, and saute until the squash is slightly softened.
Add stock, turmeric, and cinnamon powder. Cover the large pot with a lid. Cook until the squash turns soft.
Carefully use a regular immersion blender to blend until creamy and smooth. Add the milk cream and bring it to a gentle simmer. Stir in fresh ginger. Taste and add more spices to your preference.
How to cut the kabocha squash?
Cutting the whole kabocha squash needs a steady hand! Place the kabocha in the microwave on high for 1-2 minutes. This helps soften the squash flesh therefore making it easier to cut. My Air fryer corn ribs recipe also uses the same timesaving tip.
What's a good substitute for kabocha
Although this squash is quite popular in North America, Asian supermarkets and farmers' markets are the best places to find it. You can substitute a sweet and starch squash combination of sweet potato, acorn squash, and pumpkin that will replicate the kabocha squash taste.
Variations
Even though I love this kabucha squash soup as is, a few fun twists and variations include:
Use roasted kabocha: Intensify the flavor by roasting instead of boiling it. Add oil and herbs to the baking sheet for the roasted kabocha squash soup recipe. Unsure how? Follow the steps in this similar recipe – Roasted delicata squash
Keep it vegan: Swap ghee for vegan butter or olive oil, and you've got yourself a plant-based soup! An easy step to turn your kabocha squash soup vegan.
Add a touch of cumin powder: You can add a touch of cumin to elevate the spice profile, just like my Cumin beef. Curry powder will also work here!
For a thinner texture soup: add full-fat coconut milk to the broth to adjust the consistency to your liking.
Vietnamese twist: Add some fish sauce to spice up the flavor for a Vietnamese-inspired squash soup.
---
How to make ahead, store, and freeze the soup
Great question! This is the perfect soup for the make-ahead meal. It'll taste just as delicious following my storage tips below:
Make-ahead: Slice kabcha squash, dice it into cubes, and remove the squash seeds. Store the squash in the fridge with a container lined with clean paper towels for up to 2-3 days in advance.
Fridge: Store the soup fresh in the fridge in an airtight container for up to 4-5 days.
Freezer: The soup is also suitable for freezing. It can be frozen for up to 3 months.
---
Umami tips
Easier to cut: microwave the whole squash for 1 to 2 minutes to soften the vegetable, it will be easier to slice.
Oven method – roasting: If you like, start by roasting the kabocha to intensify its sweet and nutty flavors before adding it to your soup.
A faster method – no oven: If roasting is not an option, you can still coax out those rich flavors by cooking diced kabocha directly on the stovetop in a Dutch oven or a heavy-bottomed pot. The gentle, slow cooking will develop a "roasted" depth to the squash, giving your soup that hearty, comforting character we all crave!
Spice it Up: Complement the sweetness of the squash with spices like ginger, garlic, or a hint of nutmeg to add an Asian flair.
Add coconut milk: For a creamy, dreamy texture and a touch of Thai inspiration, use coconut milk instead of cream. It pairs beautifully with kabocha, adding a layer of complexity to the flavor profile.
Blending right: Use a hand blender to achieve a silky-smooth consistency, blending right in the pot for less mess.
Garnish generously: Don't forget a garnish to jazz it up! A sprinkle of fresh herbs like cilantro or toasted nuts or pair the soup with sauteed vegetables (like I do).
FAQs
What's the difference between Kabocha and Butternut squash?
Kabocha, also known as Japanese pumpkin, is an Asian pumpkin with a sweeter flavor than butternut squash. It has a firmer, flakier texture compared to the creamy and mildly nutty butternut squash. Kabocha squash has an earthy flavor that butternut squash does not have.
What does kabocha taste like?
Kabocha has a sweet, earthy taste reminiscent of a cross between a sweet potato and a pumpkin, with a rich, velvety texture that makes it a star in hearty, flavor-packed Asian dishes! You can roast kabocha, make soup, put in stew, steam, or slow simmer the squash until tender.
Do you leave the skin on Kabocha squash?
You can leave the kabocha squash skin on or off. The skin contains nutrients and softens when cooked. It also adds an earthy flavor to the dish. also contains nutrients. However, if you prefer a softer bite, you can simply peel it off before cooking.
Kabocha health benefit
Kabocha is rich in vitamin A, and fiber, and is an excellent source of beta-carotene. Not to mention it has zero sodium, is fat-free, and is low in cholesterol. (source)
More delicious soup recipes you might like
If you're looking for more ideas, my Creamy chicken kale soup, Paleo pumpkin soup, and dairy-free ham and potato soup are also super popular among the readers!
And if you are looking for Chinese hot soup recipes, my Chicken hot and sour soup, chicken corn soup, bok choy soup, and Keto egg drop soup will be sure to delight!
Kabocha squash soup recipe with turmeric ginger
Kabocha squash soup with turmeric ginger is an easy and healthy Japanese pumpkin soup. Made with accessible ingredients and dairy-free.
Print
Pin
Rate
Ingredients
For the soup:
2 lb kabocha squash, 1 medium size
2 tbsp ghee butter
1 large shallot, thinly sliced
½ tsp coarse sea salt, or to taste
24 oz. chicken stock, 3 cup, or vegetable stock
¼ tsp Turmeric powder
¼ tsp Vietnamese cinnamon powder
14 oz. Full-fat coconut milk cream
1 tsp fresh grated ginger
For the garnish: (optional add-on topping)
1 small bundle curly kale, discard stems and roughly chopped
1 large shallot, slice into thin strips
2 tbsp avocado oil
Coarse sea salt, to taste
2 tbsp chicken stock, or water
Sprinkle red pepper flakes
Instructions
For the soup:
Place kabocha on a microwave-safe plate and microwave on high for 3 minutes. This helps to soften the kabocha skin just a bit.

Use a sharp knife to cut the kabocha in half, avoid cutting through the center stem point section. Carefully wiggle your knife in a rocking motion. Do this slowly. Cut the half kabocha further into (4) quarter pieces.

Scoop out the seeds with a spoon and remove the skin with a knife. Dice it further to similar small cube sizes.

Preheat a large (6 qt.) dutch oven or heavy soup pot with ghee. Once melted, add shallots and a small pinch of salt and saute until fragrant, about 1 minute. Add kabocha, season with 2 pinches of salt, and saute until the squash is slightly softened about 5 minutes.

Add stock, it should be just enough to submerge the squash, turmeric, and cinnamon powder. Give a stir and cover with a lid. Cook over medium heat to bring the broth to a boil, Once boiling, reduce the heat to simmer for an additional 12-15 minutes. The squash should be soft when you can easily poke it through with a butter knife or fork.

Slowly and carefully use an immersion blender to blend until creamy and smooth.

Add the milk cream and bring it to a gentle simmer over medium-low heat. Stir in 1 tsp grated ginger. Taste and add more spices or salt to your preference.
For the kale: (Optional add-on)
Preheat a large skillet over medium heat. When it feels warm, add 2 tbsp oil, shallots, and a pinch of salt. Sauté until fragrant.

Add the kale, and sauté for 1 minute then add the broth and lower the heat to medium-low. Cover the skillet with a lid and allow the kale to cook for a few additional minutes until tender but not mushy and still in vibrant green. Season with more salt to taste.
To serve:
Ladle the soup into individual serving bowls. Garnish with a small amount of kale and pepper flakes. Serve hot or at room temperature.
Nutrition
Serving: 1serving, Calories: 247kcal, Carbohydrates: 17g, Protein: 5g, Fat: 20g, Saturated Fat: 16g, Polyunsaturated Fat: 1g, Monounsaturated Fat: 2g, Cholesterol: 13mg, Sodium: 243mg, Potassium: 790mg, Fiber: 2g, Sugar: 4g, Vitamin A: 2067IU, Vitamin C: 20mg, Calcium: 61mg, Iron: 3mg
Made a dish and love it? Please remember to rate the recipe and leave a comment in the comment section below! It helps my blog grow organically so I can continue sharing free and awesome content with you. Thank you!