Thai Basil Beef Stir-Fry (Paleo, Whole30, Keto)
Thai Basil Beef Stir-Fry (Pad Krapow) ) with sweet and savory Paleo Whole30 Thai basil beef sauce. The beef is tender and so flavorful and it comes together in minutes!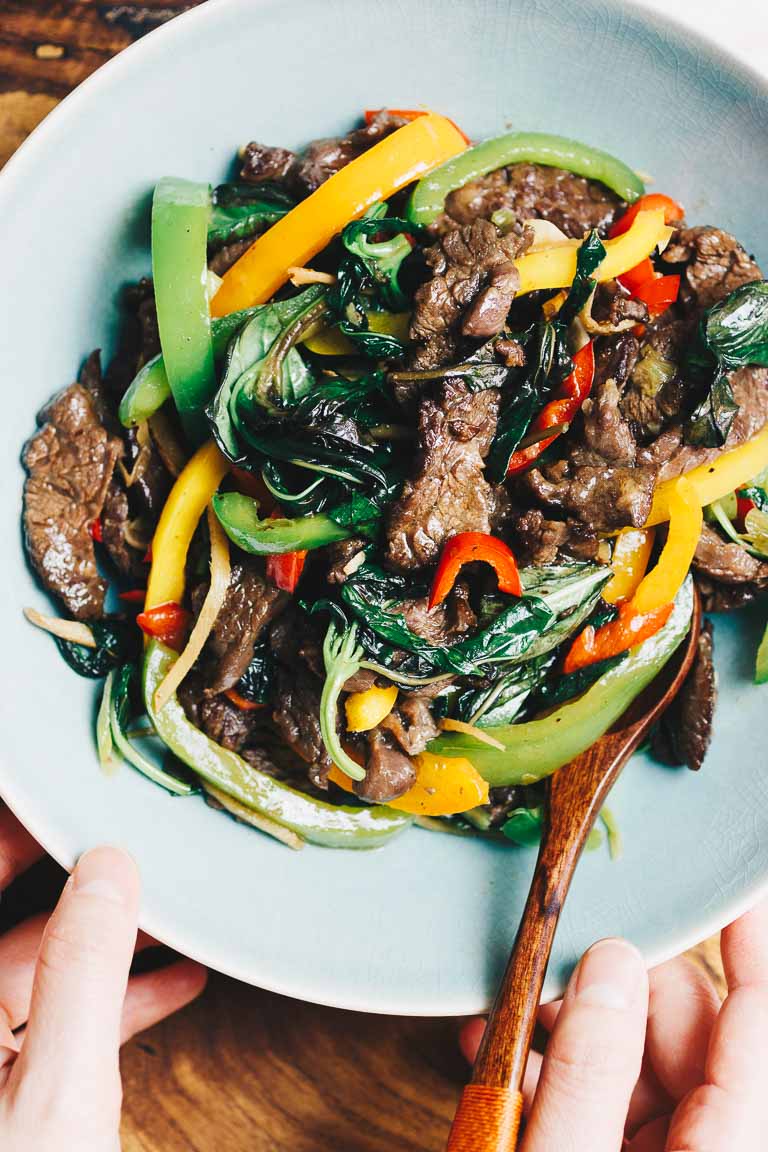 Thai Basil Beef Stir-Fry (Paleo Whole30, Gluten-Free)
If you are familiar with my blog, you probably have guessed how much I adore stir-fry dishes – Paleo Beef with broccoli, chicken and broccoli, Chinese pepper steak, Sweet and Sour Chicken, Chinese Cashew Nut Chicken, Mongolian Beef featured in Whole30's fast and easy cookbook …etc. The list goes on-and-on and with many more that have yet to come to this blog.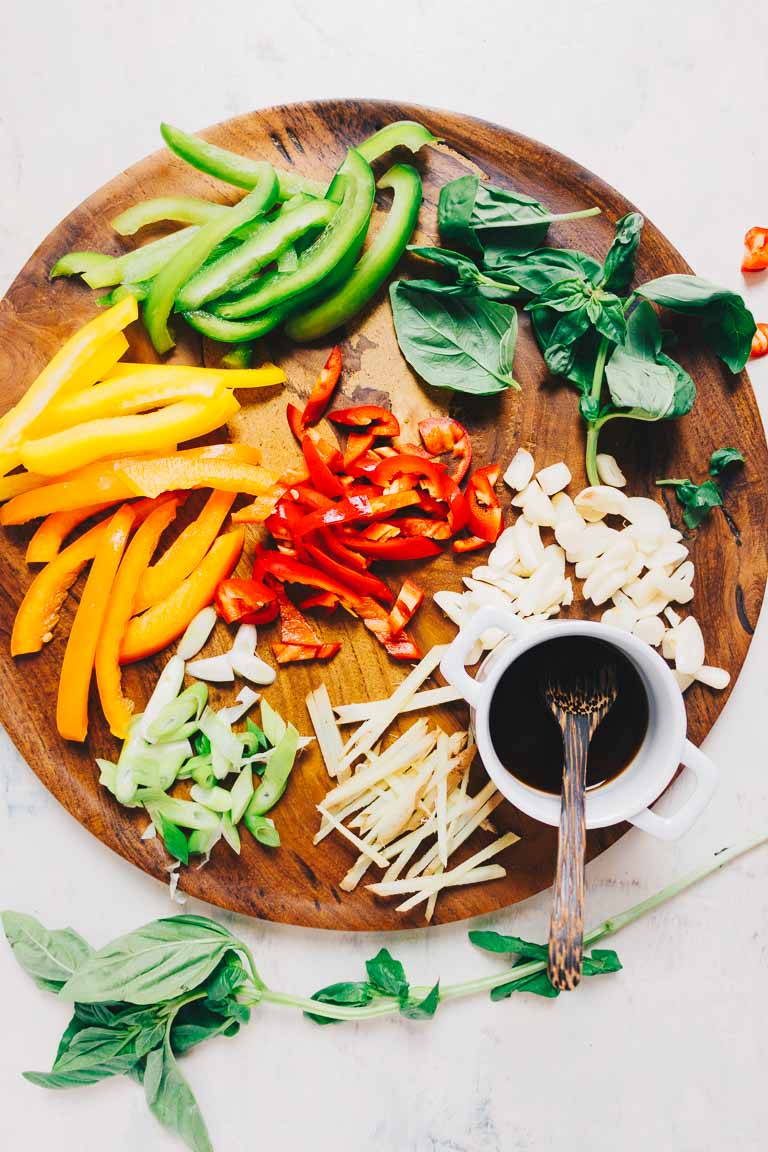 Stir-fries are the equivalent of soul food to many Chinese/Taiwanese people. As a Chinese immigrant growing up in Taiwan, stir-fry dishes remind us of mom's/grandma's cooking.
Although I'm not Thai, there are many Chinese immigrants and descendants living in Thailand. Many Chinese-influenced Thai stir-fry dishes, like today's Paleo Thai Basil Beef Stir-Fry, is just one example that shows how one culture influences another.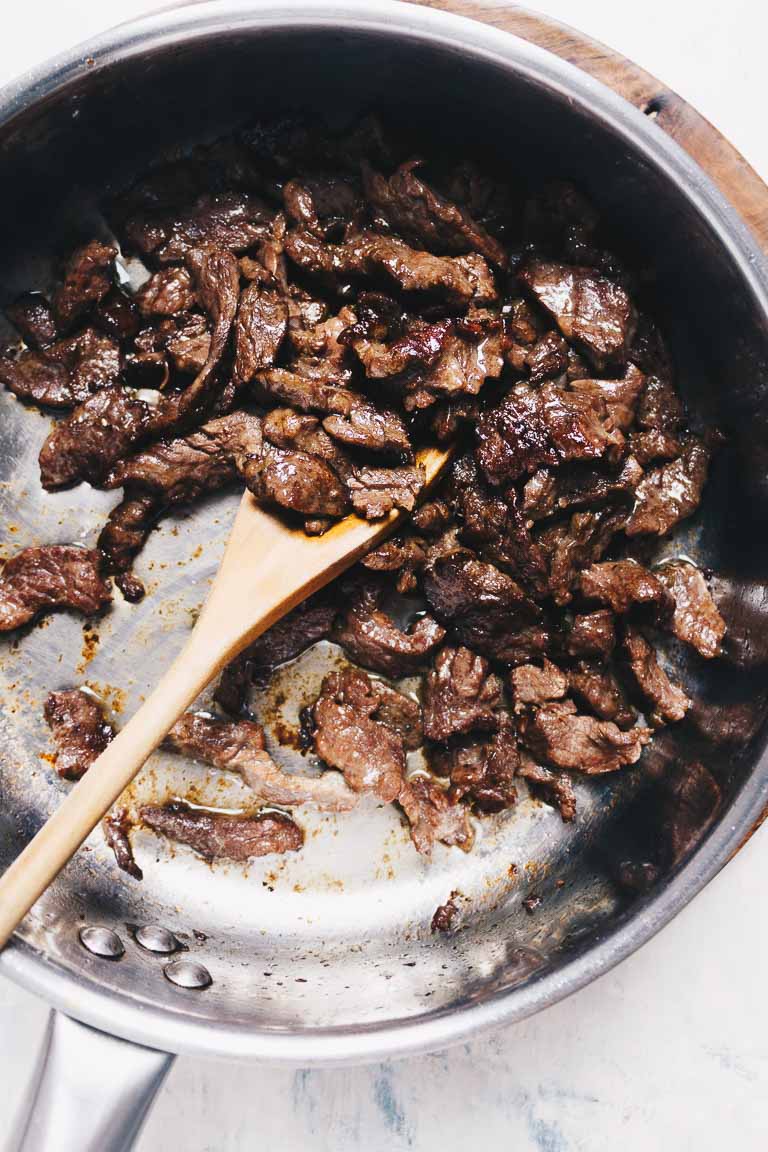 The Best Beef Stir-Fry
Many people love stir-fry dishes because they are easy and quick. However the real difference between a good/authentic stir-fry and a mediocre one lies in the subtlety. It's the temperate, the heat, and the speed in which ingredients are introduced to the wok. There's a rhythm to it that you simply learn by watching and learning how it's been done through centuries.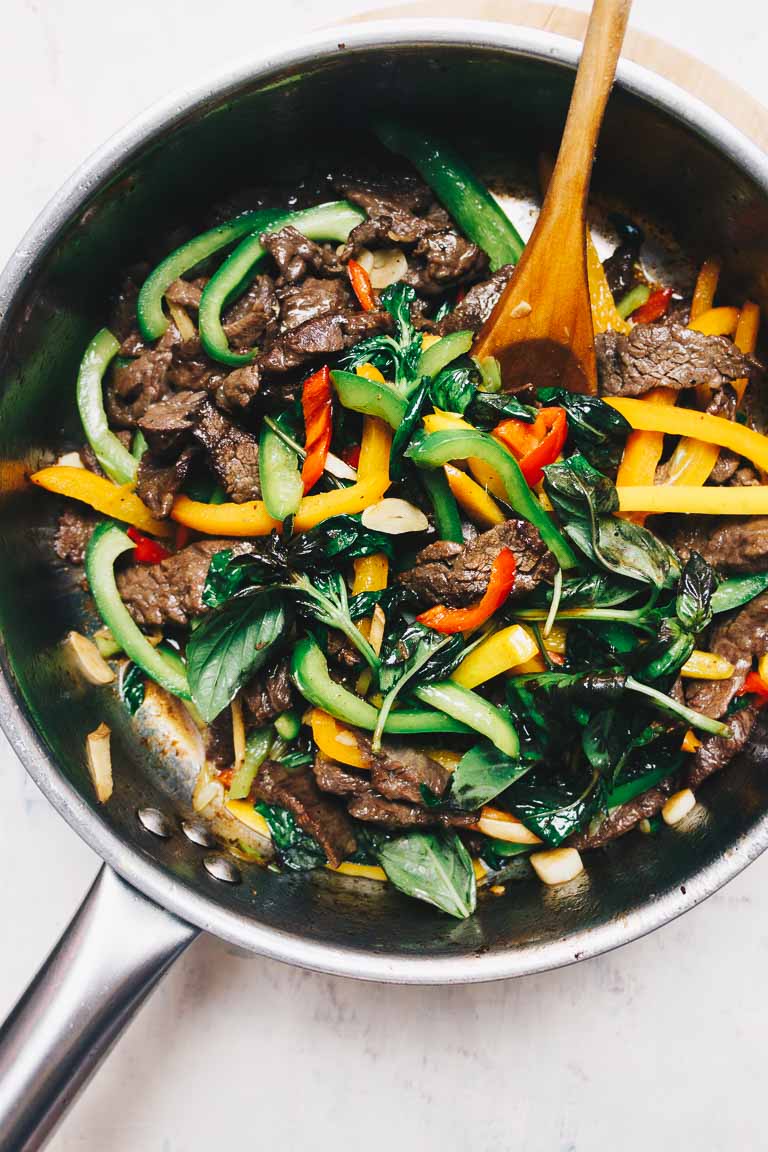 In my opinion, Andy Ricker, the author or the cookbook Pok Pok, makes truly authentic Thai cuisine. He is probably the first westerner that even locals agree his Thai cooking is legit. To come back to talk about today's subject – Paleo Thai Basil Beef Stir-Fry, if you can find Thai or Asian basil I highly recommend you use it for this recipe. It has stronger fragrant and much more sturdy texture than Italian basil. In the recipe below, I adjusted cooking methods in order to accommodate Italian basil.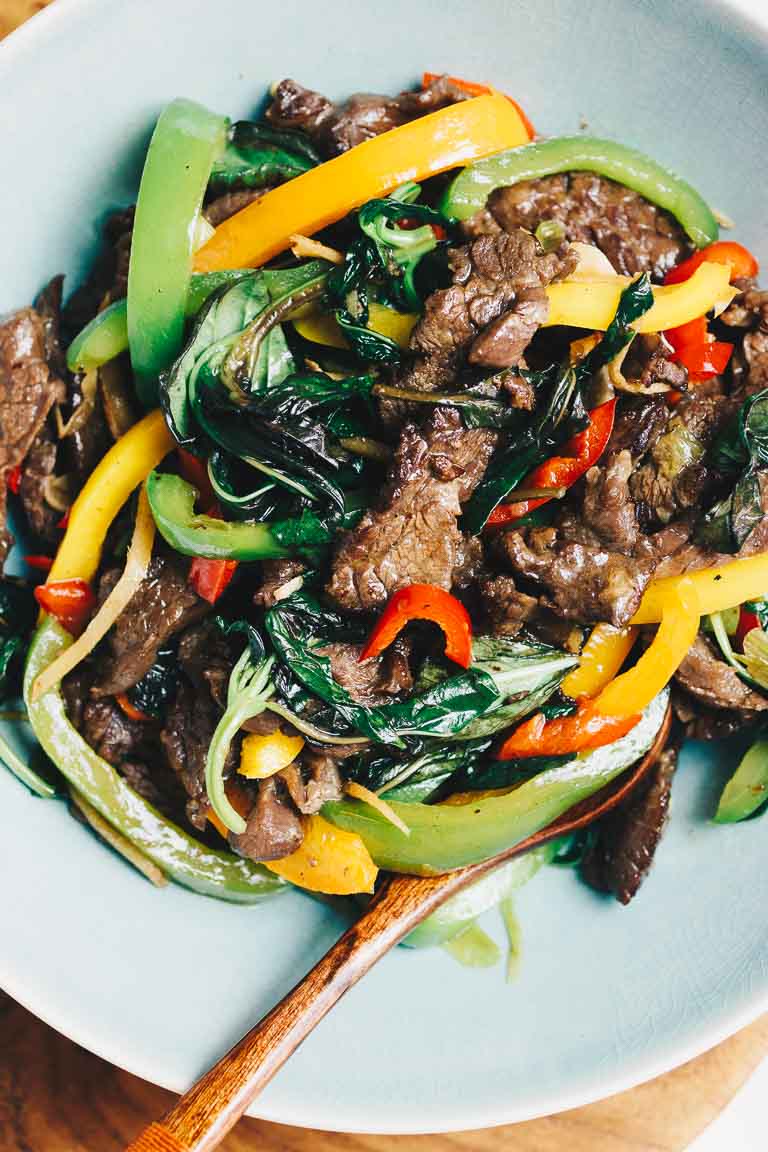 I also added bell pepper (which is not a common ingredient in real Thai cooking) to my Paleo Thai Basil Beef Stir-Fry. I think it adds extra color and vegetables to balance a meat focused dish. Please watch the stir-fry/cook time some the peppers will remain crunchy.
This Pad Krapow Thai Basil Beef is –
Healthy
Easy
Savory beef
Fragrant with basil
Colorful vegetables
Paleo, Whole30 and Keto
Oh I adore stir-fries! If you give this Paleo Thai Basil Beef a try, be sure to rate the recipe and leave a comment below. Use hashtag #IHeartUmami if you share on Instagram. I would love to see it!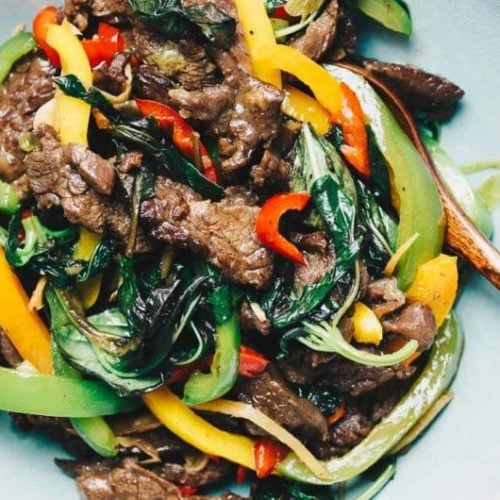 Thai Basil Beef (Pad Gra Prow – Whole30, Keto)
Paleo Thai Basil Beef Stir-Fry (Pad Krapow) ) with sweet & savory Whole30 Thai basil beef sauce. This basil beef comes together in minutes!
Print
Pin
Rate
Ingredients
Thai Basil Beef Marinade:
Aromatics:
2 tbsp sliced garlic cloves
1 to 1 ½ tbsp fresh ginger, julienned
3 bulbs scallions, chopped and separate white and green parts
1-2 chili peppers, serrano, fresno, or jalapeño, seeds removed, optional
Other:
1 to 1 ½ whole bell pepper, slice to thin strips, any color you prefer
1 cup Thai/Asian basil or 2 cups Italian basil
Cooking fat, ghee or avocado oil
Thai Basil Beef Stir-Fry Sauce:
Instructions
Thin slice the beef against the grain to less than ¼-inch thin. Combing and gently mix well the beef with all ingredients under 'beef and marinade'. Set aside in the fridge. Prepare garlic, ginger, scallions, chili peppers (if using), bell pepper, basil, and set aside 'stir-fry sauce'.

In a well heated large stainless steel skillet (or cast iron), add 2 tbsp cooking fat. Try to sear the beef over medium-high heat in one layer so they aren't overlap with each other too much in the skillet. Sear the first side without disturbing for roughly 2 minutes or until golden brown then sear the flip side about 1 minute. Set aside in a large bowl along with the pan juice.

Use the same skillet, add 2 tbsp cook fat, saute garlic, ginger, white parts of scallions, and chili peppers. Season with a pinch of salt and saute until fragrant (about 10 seconds) over medium to medium-high heat. Add sliced bell pepper, season with another pinch of salt. Saute for 5-8 seconds. Add Italian basil and use the heat to extract the basil fragrance/oil. Saute for 5-6 seconds. Add beef back to the skillet and the 'stir-fry' sauce. Give a quick toss this dish is ready!

Serve the dish over cauliflower rice, broccoli rice, lightly sauteed zucchini noodles or steamed rice for a gluten-free meal.
Notes
If use Asian/Thai basil, add them at the beginning of Step 3 to saute with the garlic, ginger, scallions…etc. The texture of Asian/Thai basil is more sturdy and has stronger fragrant than Italian basil. They can take more heat in stir-fries.
Nutrition
Calories: 207kcal, Carbohydrates: 5g, Protein: 25g, Fat: 9g, Saturated Fat: 3g, Cholesterol: 71mg, Sodium: 668mg, Potassium: 402mg, Sugar: 1g, Vitamin A: 420IU, Vitamin C: 4.7mg, Calcium: 31mg, Iron: 2.4mg
More Paleo and Whole30 Thai Recipes –