Asian Chicken Lettuce Wraps (Better Than PF Chang's!)
Asian Chicken Lettuce Wraps are one of those meals that will make you forget you're eating healthy! This one of my favorite Chinese starters – Lettuce wraps with chicken, pork, or shrimp, and loads of crunchy vegetables in a naturally sweet creamy almond butter sauce. These Asian-style lettuce wraps are the ultimate "just happen to be healthy" food in the world!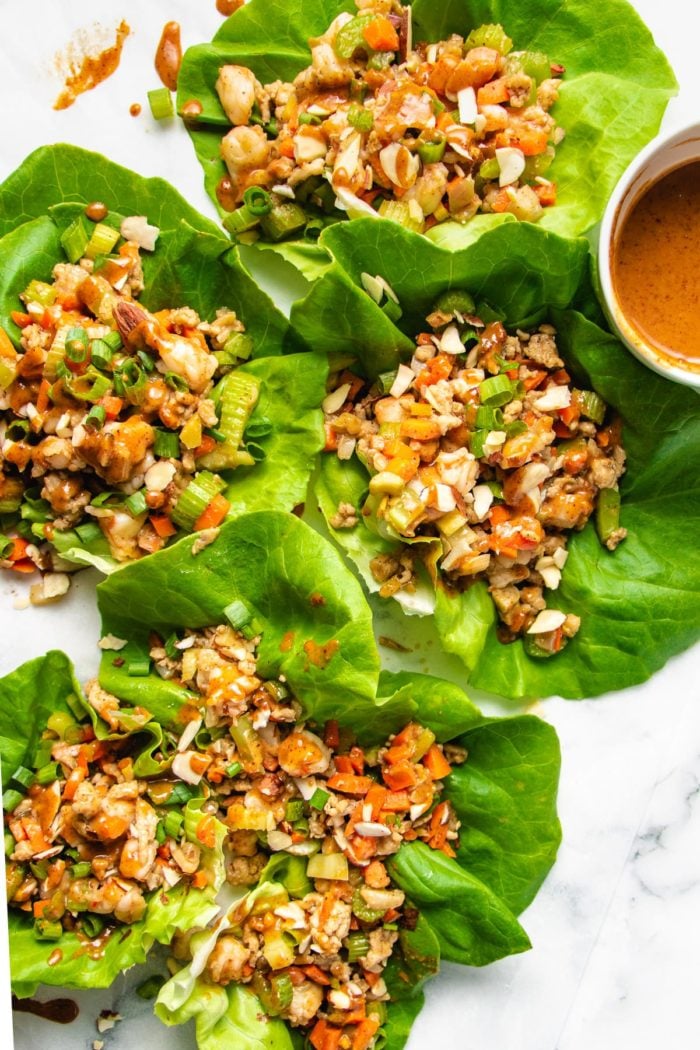 Original recipe published in December 2018. I updated the post with new photos and writing. The recipe remains the same. 🙂
The original Chinese Asian Chicken Lettuce Wraps
Chinese or Asian Lettuce wraps are most often served in banquet occasions as an appetizer. Most often the lettuce cups are filled with shrimp, vegetables, and a very small amount of Chinese fried churros for extra crunch. The flavor and texture are out of this world delicious. It's crunchy, light, and refreshing. Trust me, you won't stop eating them! 😀
Today's version is simplified and with ingredients that you can easily find in western grocery stores. I recreated them from my childhood memory from the wedding banquets or birthday parties with the family.
The flavor and texture of these lettuce wraps are truly excellent. One bite you'll be able to tell the quality difference. I'll show you a few choices and you can decide which version of the Asian lettuce wraps work better for you! p.s. they are also made gluten-free, low carb, paleo, and Whole30, too! 🙂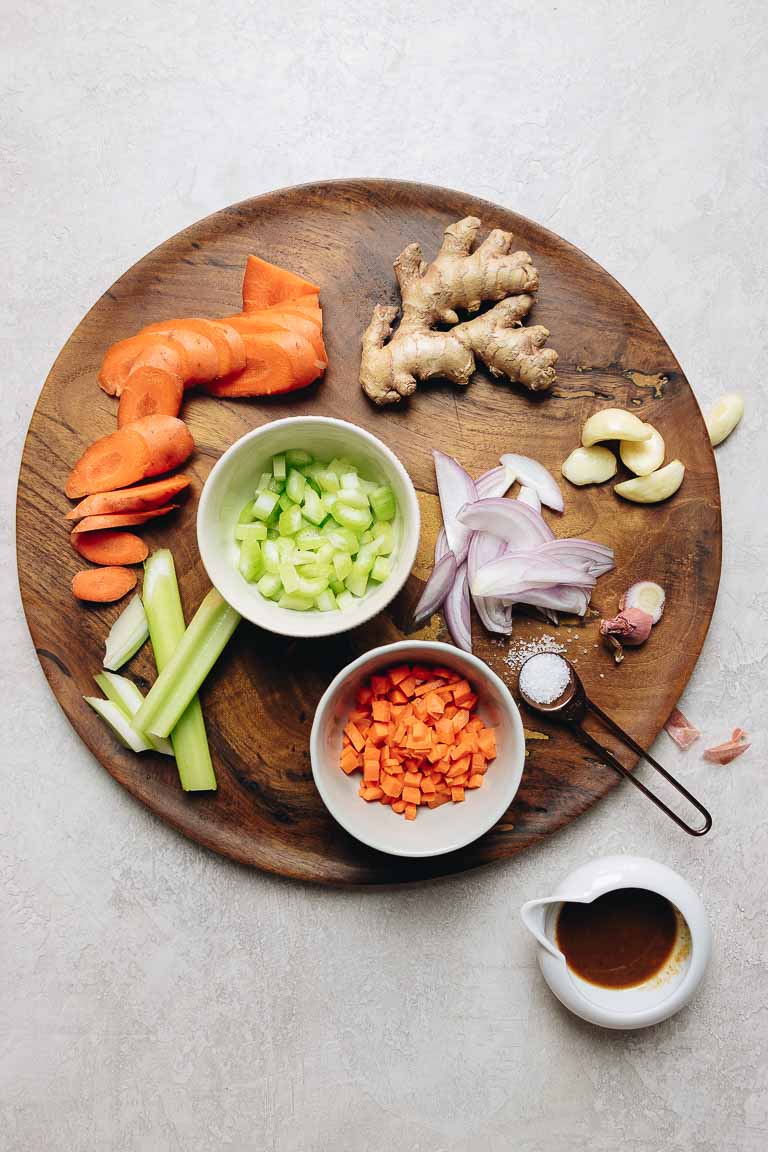 It's All About Fresh Flavors & Crunchy Textures!
To keep the Chinese lettuce wraps healthy, light, and refreshing, I removed the fried churro and added more crunchy vegetables like chopped carrots, celery, and water chestnuts. I also did a mixed combo of ground chicken and shrimp for extra flavor and umami deliciousness!
Chinese style vs. Western style
It's always interesting to see how a dish is interpreted between the West and East. Most Asian lettuce wraps in Asia use shrimp more often than chicken and If you copy and paste this word – 蝦鬆 – to google image, you'll see the ingredients inside the lettuce wraps look quite different from the American-Chinese lettuce wraps.
The Asian-style lettuce wraps are loaded with chopped shrimp and topped with Chinese fried churro. It's not as saucy as the Western version. We emphasize more on the crunchy texture in the mouthfeel and there are more vegetables than meat therefore the texture is very light and airy.
The America-Chinese style lettuce wraps emphasize more on ground meat and a sweet sauce, such as hoisin sauce or gluten free hoisin sauce. There might be carrots and water chestnuts but the meat portion is greater than vegetables. This makes the wraps more filling and can be served as a main dish.
What goes in lettuce wraps: Ingredients & Substitutions
There are a few components to make a truly great quality Asian Chicken Lettuce Wraps –
Protein – ground chicken, pork, shrimp or a combination.
Vegetables – chopped carrots, celery, and water chestnuts.
Sauce – sweet almond butter sauce or my paleo Chinese "Peanut" Sauce.
Substitutions & Recommendations:
You can use all ground meat or chopped shrimp or a combination like I did.
If you can't find water chestnuts, I would skip them. They don't add flavor to the dish only the extra crunchy texture.
I recommend serve the sauce on the side so your guests can decide how much to add to the lettuce wraps.
How to make Chinese Chicken lettuce wraps
This dish comes together really quickly. The actual cook time is short but the preparation takes some patience but trust me it's totally worth it!
Chop all the ingredients – carrots, celery, shallot, ginger, garlic…etc. You can use a food processor to help you speed up the process. Be careful not to over process them if using a machine. You want to keep the texture crisp and not shredded.
Make the sauce – the sweet almond butter sauce is the perfect dipping sauce for chicken lettuce wraps. You can also use my paleo Chinese 'peanut' sauce. If the sauce becomes too thick, add 1 tbsp water a time until your desired consistency.
Stir-fry in layers – saute until the meat is cooked through and no longer watery in the skillet. Then add the vegetables so we don't overcook them. Add 2-3 tablespoons of the sauce in the end to tide the flavors together.
Serve in room temperature and the extra sauce on the side. They are absolutely DELICIOUS!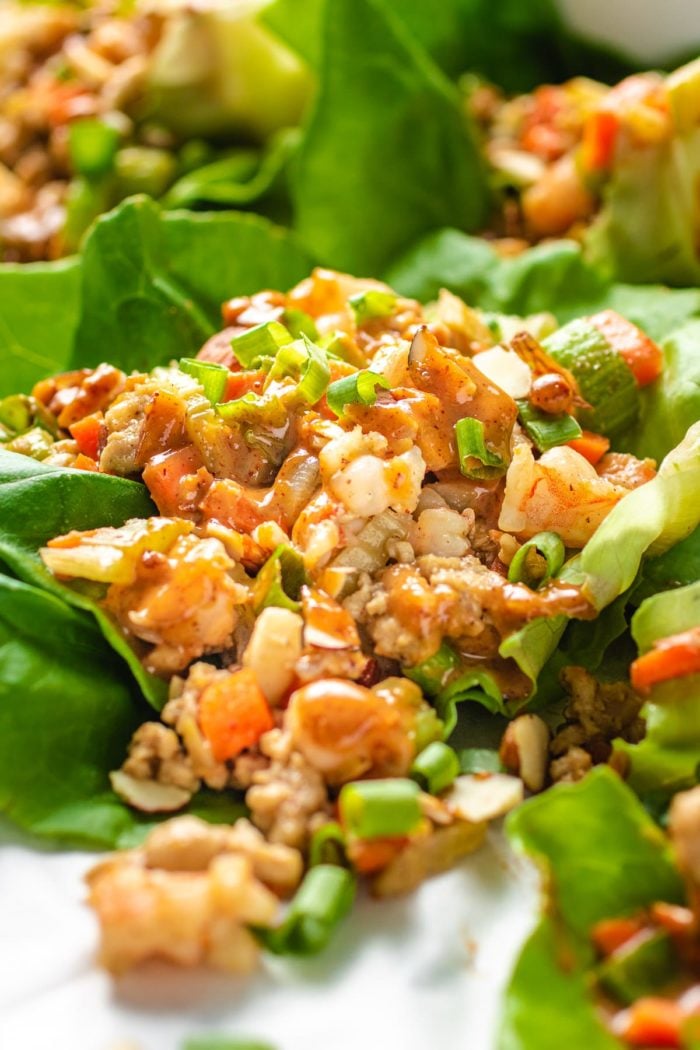 What type of lettuce is best for Asian Lettuce Wraps
Butterhead lettuce
Green or red leaf lettuce
Romaine lettuce
In Chinese banquet restaurants, chefs often use iceberg lettuce. The leaves are trimmed with a kitchen scissor into a cup shape so you can easily hold them in your palm as a serving tool.
I used to make this dish with iceberg but now I feel it takes too much time to separate the leaves and trim them into cup shape. If you are up for an authentic experience and don't mind taking some time, give iceberg a try!
What to serve with Chicken lettuce wraps
They are typically served as a starter in Chinese restaurants. There are two ways to serve them –
Pair with main dishes – To serve it as a starter/appetizer, pair it with keto beef and broccoli, Chinese pepper steak, Sesame chicken, Whole30 sweet and sour chicken, chicken and broccoli, shrimp and broccoli, or Chinese pepper pork.
Pair with side dishes – To make it as a main dish try the following dishes – Keto Potstickers (made with daikon), Whole30 chicken wings, Chinese napa cabbage, bang bang shrimp, shirataki fried rice, Shirataki Noodles with Paleo "Peanut" Sauce, tomato egg drop soup, or Paleo/Whole30 hot and sour soup.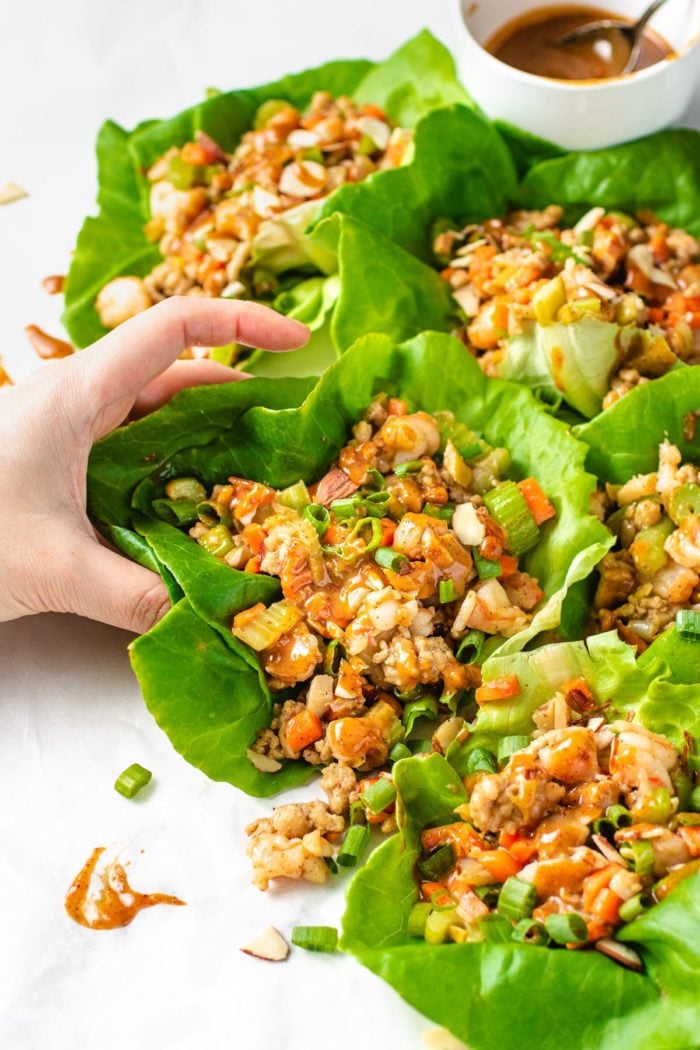 These Paleo Asian Chicken Lettuce Wraps are healthy, crunchy, refreshing, and absolutely delicious. They make the best appetizer or light supper and taste way better than any lettuce wraps you can find on the internet. They are gluten-free, grain-free, low carb, Whole30, and with no added sugar. What a great way to add more vegetables to your meal. They are guaranteed everyone's favorite!
If you give my Paleo Chinese Chicken Lettuce Wraps a try, be sure to rate the recipe and leave a comment below. Also please hit the share button. The more share the more people can see my content. It'll help me and my blog tremendously. Thanks so much in advance, love you, XO ! :))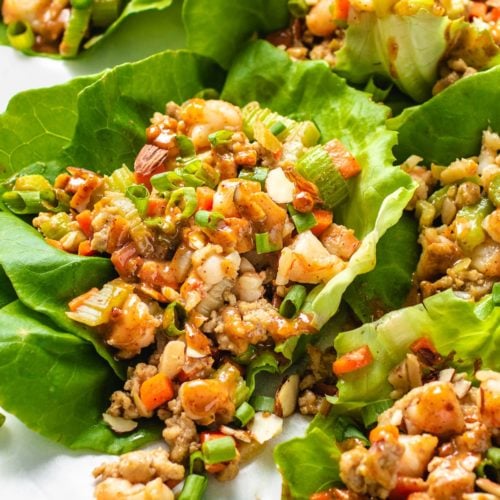 Asian Chicken Lettuce Wraps (Whole30, Paleo, Low Carb)
Asian Chicken Lettuce Wraps are the best Chinese starters with a sweet savory brown sauce. Healthiest Paleo Whole30 Keto Lettuce Wraps!
Print
Pin
Rate
Ingredients
2 tbsp chopped garlic
1 large shallot, chopped
1.5 tbsp chopped ginger, about 3 thin slices
⅔ cup chopped carrots, about 1 medium size carrot
⅔ cup chopped celery
5-6 whole water chestnuts, chopped, optional
½ lb. raw shrimp, peeled, devined, and diced. See notes.
2 tbsp Avocado oil
½ lb. ground chicken breast, (see notes)
¼ tsp coarse salt, or to taste
⅛ tsp white pepper
Serve and garnish:
1-2 heads Butter lettuce
3 tbsp Toasted almond or cashew nuts, chopped
1 bulb scallion, chopped
Instructions
Prepare ingredients from garlic to chestnuts. If use shrimp, dice it to bite size. Prepare the sauce in one bowl. Set them aside ready to use.

In a well-heated large skillet or wok, add 2 tbsp oil. Saute garlic, shallot, and ginger over medium high heat with a pinch of salt until fragrant, about 10 seconds.

Add ground chicken. Season with salt and pepper. Saute until the meat is cooked through, about 2-3 minutes. Then lower the heat to medium, saute for 2 additional minutes. Your skillet should not be wet and watery or the dish will be less tasty.

Turn the heat up to medium-high, add carrots and celery. Season with a pinch of salt. Saute for 1 minute. Add chestnuts and shrimp, if using. Saute for another 1 minute.

Add 2 tbsp sauce and stir-fry for coat it all over, about 10 seconds. Keep the sauce minimal so the texture remains crunchy and not soggy. Taste and make seasoning adjustments to your liking. Off heat.

To serve, place the lettuce wraps over a large serving tray/plate. Load each lettuce cup with several tablespoons of the mixture into the center. Garnish with scallions and nuts. Serve the extra sauce on the side. Serve in room temperature.
Notes
The texture of this dish should remain crunchy and not watery/soggy. It's important to have all the ingredients prepped before you start stir-frying. If use all chicken (i.e. without shrimp) and if you'd like to increase the meat quantity, please use no more than 1 lb ground chicken. The texture balance is the key in Chinese lettuce wraps. If the dish has more meat than vegetables, it's likely that the texture of this dish will not be as crunchy in the mouthfeel. Most often, you'll find this dish in China/Hong Kong/Taiwan with shrimp. It might mix with a little pork mince. If use all shrimp (i.e. without chicken), please use up to 1 lb raw shrimp that are peeled and deveined. During stir-fry, if the skillet gets too dry, add more oil – 1 tbsp extra a time.
Nutrition
Serving: 1serving, Calories: 180kcal, Carbohydrates: 7g, Protein: 13g, Fat: 11g, Saturated Fat: 2g, Cholesterol: 96mg, Sodium: 421mg, Potassium: 376mg, Fiber: 2g, Sugar: 2g, Vitamin A: 2495IU, Vitamin C: 4mg, Calcium: 91mg, Iron: 2mg
Love Chinese food? Check out my Orange chicken, Instant Pot Chinese Chicken Sparerib Soup, Chinese Shrimp and Tomato Stir-Fry, Chinese Steamed Cod Fish , Mongolian Beef, and baked crispy sesame tofu (soy-free)! :))