Keto Stuffed Mushrooms
These Keto stuffed mushrooms are cheesy delicious and vegetarian-friendly! With 6 ingredients only, this low carb appetizer is easy to make and requires minimal prep time, and I'll show you how to make them dairy-free. They are the perfect finger food for the holiday season!
If you are looking for a vegan version, my Paleo stuffed mushrooms are loaded with fresh herbs. Browse my Asian-inspired Thanksgiving recipes for more terrific ideas!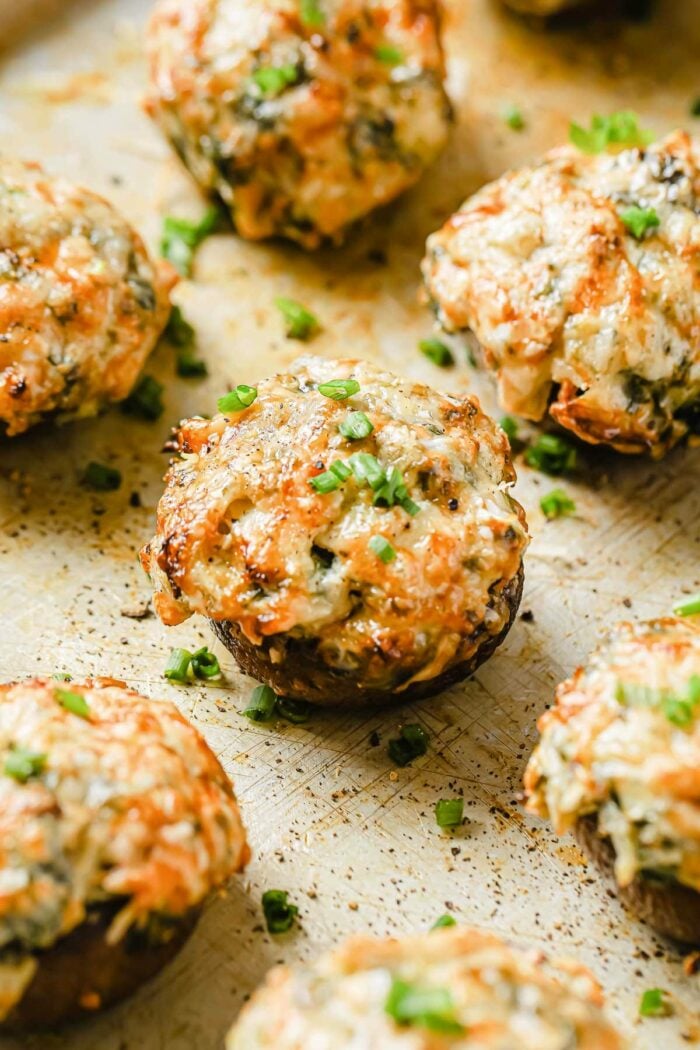 Why will this be your go-to recipe
My keto stuffed mushroom recipe will guide you to create little bites of heaven perfect for any occasion. Flavorful and filling ingredients will keep you coming back for more.
Cheesy delicious: A great dish for cheese lovers and simply swap to cashew cream cheese filling for dairy-free cheese lovers.
Easy to make: An easy-to-prepare appetizer that can be pre-made the night before!
Loaded with hidden veggies: Mushrooms, artichokes, and spinach all in one dish!
Ingredients
These keto stuffed mushrooms with cream cheese require simple ingredients found at most grocery stores.
Mushrooms and fillings: cremini mushrooms, frozen spinach, artichoke, (cashew) and cream cheese.
Other items: salt, garlic powder, black pepper, olive oil, shredded parmesan cheese, and chive.
Ingredient Substitutions
This amazing appetizer can be adapted to suit everyone's tastes.
Dairy-free, use cashew or any plant-based cream cheese.
Extra savory flavor – mix the filling with a bit of spicy sausage or mild Italian sausage for keto sausage stuffed mushrooms.
You can omit the shredded parmesan cheese. They will still be very tasty.
How to make the dish
These delicious low carb stuffed mushrooms make the perfect keto appetizer in just 15-20 minutes. For detailed instructions, please see my recipe card below.
Defrost spinach and wring out the liquid using a cheesecloth.
Drain the artichoke and finely chop the artichoke heart.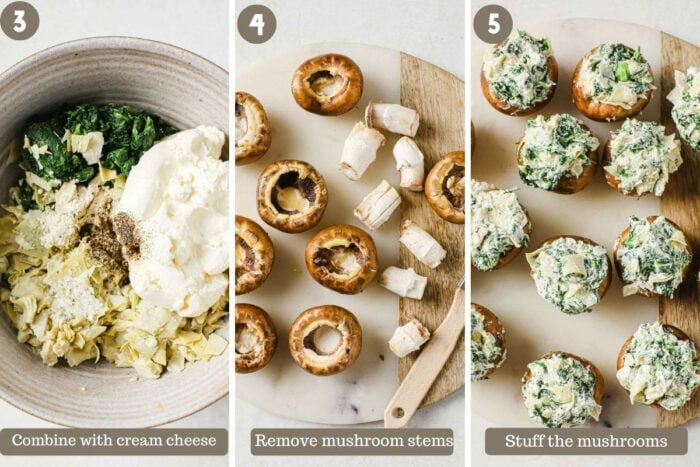 Mix spinach, artichoke, cream cheese, garlic powder, and salt and pepper in a large mixing bowl.
Use a damp paper towel to clean mushrooms and remove their stems. Lightly brush all mushrooms with olive oil
Stuff each mushroom with filling. Use the back of a teaspoon to press in the filling.
Dip the stuffed mushrooms into the parmesan cheese.
To air-fry: Cook for 12 minutes at 360℉ or bake at 400℉ for 18-20 minutes until golden brown.
What type of mushroom to use
Cremini, white button mushrooms, or baby bella work best. Look for mushrooms with large caps and of a similar size. You can also use portobello mushrooms to make really big bites of healthy stuffed mushroom recipes!
Variations
If you are looking for more types of stuffed mushroom recipes keto friendly, here are some ideas you can try.
Mediterranean flavor – Add chopped olives, sun-dried tomato, mozzarella cheese, and fresh basil.
Spice it up! Make it a little bit spicy with your favorite hot sauce, red pepper flakes, or cajun seasoning.
Add a tablespoon of my Garlic chili sauce to the mushroom filling for an extra flavor boost!
Extra savory – Mix the filling with any cooked sausage you like. Pair this with Kabocha squash soup for a balanced and warming meal.
How to make ahead, store, and reheat
If prepping in advance, store the mushroom filling – spinach, artichoke, and cream cheese filling – in the refrigerator in an airtight container a day before baking. Stuff the mushrooms when you are ready to bake.
After cooking, store the cooked keto stuffed mushroom in the fridge for 2-3 days. To reheat, send them to the microwave on high for 30 seconds.
Common FAQ
Are stuffed mushrooms healthy?
Yes! Loaded with iron-rich spinach and vitamin B-packed mushrooms!
Carb count for stuffed mushrooms
Low in carbs and the total stuffed mushrooms carbs will depend on your choice of filling.
Can I double this recipe?
Yes! You can easily scale up or down this appetizer.
Can I freeze the mushrooms?
No, I do not recommend freezing the mushrooms as they don't freeze well.
Related recipes
There are many different ways to enjoy this yummy appetizer. Here are some ideas to get started:
Umami Tips
This dish is Keto, low carb, and easily adaptable for dairy-free.
Use cremini or white mushrooms and look for larger mushrooms.
Use the back of a small spoon to help press the filling onto mushroom caps.
Select mushrooms with larger caps and in similar sizes so they cook evenly.
Oven or Air fry! The recipe comes with instructions for both the oven and air fryer.
Keto stuffed mushroom recipe
Keto stuffed mushrooms with cream cheese, spinach, and artichoke is an easy low-carb appetizer. You can easily adapt this dish with dairy-free cream cheese. Air fryer and oven instructions included!
Print
Pin
Rate
Ingredients
14 oz Chopped frozen spinach
9 oz canned artichoke hearts, either soaked in oil or water
8 oz Cream cheese, or dairy-free cream cheese
½ tsp coarse sea salt
¼ tsp garlic powder
¼ tsp ground black pepper
20 – 22 caps cremini mushrooms, larger caps preferred
½ cup olive oil, to brush the mushrooms
⅔ cup Shredded parmesan cheese, not grated
Garnish Chopped chive, optional
Instructions
To prep –
Defrost the spinach in a microwave following the package instructions until it's no longer frozen then, use a cheesecloth to wring out the liquid.

Drain the artichoke and either use a mini food processor or finely chop them.

In a large mixing bowl, add the spinach and artichoke and the rest of the ingredients from cream cheese to black pepper. Combine well. You can taste the mixture and adjust the seasonings to taste.

Gently clean the mushrooms with a dry paper towel and remove the mushroom stems. Lightly brush each mushroom with olive oil on all sides – insides and outside.
To assemble –
Use a small teaspoon to stuff the spinach mixture into each mushroom cap. A little top-over is totally okay. Use a little gentle pressure to press it in to help it adhere.

Place the parmesan cheese in a small bowl, dip the stuffed mushrooms – topping side – into the cheese, and use a little pressure to press it in.
Air fry –
Preheat the air fryer according to your default setting. Mine is a Cosori and the default is 400F (204C) for 5 minutes.

Place them into the air fryer basket with a little space between them. Air fry at 360F (182C) for 12 minutes. You might need to make it in two separate batches.
To bake –
Bake at 400F (204C) for 18-20 minutes or until the mushrooms are lightly golden brown on top.
To serve –
Carefully transfer the mushrooms onto a serving plate. It'll be hot. Wait for a few minutes before serving and garnish with chive, if using.
Notes
It's likely that you'll have extra spinach cream cheese spread left over. Use it for a bagel spread or mixed into scrambled eggs for breakfast!
To make ahead, you can prepare the mushroom fillings first – spinach with water wrung out, chopped artichoke, and cream cheese filling – a day in advance. Cover the bowl with saran wrap and store it in the fridge. Only stuff the mushrooms when you are ready to bake.
You can also use white buttons and baby bella mushrooms.
For dairy-free, use dairy-free cream cheese. You can either skip the parmesan topping or use dairy-free parmesan cheese. 
Nutrition
Serving: 1mushroom, Calories: 111kcal, Carbohydrates: 2g, Protein: 2g, Fat: 10g, Saturated Fat: 3g, Polyunsaturated Fat: 1g, Monounsaturated Fat: 5g, Cholesterol: 13mg, Sodium: 196mg, Potassium: 91mg, Fiber: 1g, Sugar: 1g, Vitamin A: 2396IU, Vitamin C: 3mg, Calcium: 63mg, Iron: 1mg
Made a dish and love it? Please remember to rate the recipe and leave a comment in the comment section below! It helps my blog grow organically so I can continue sharing free and awesome content with you. Thank you!