My Chocolate Goji Berry Cookies (Paleo)
Paleo Chocolate Goji Berry cookies. Delicious Paleo cookies filled with unsweetened dark chocolate, goji berries.
I feel like I'm in a battle to prove to people that you can eat well while on a diet !
And these cookies are the proof of that.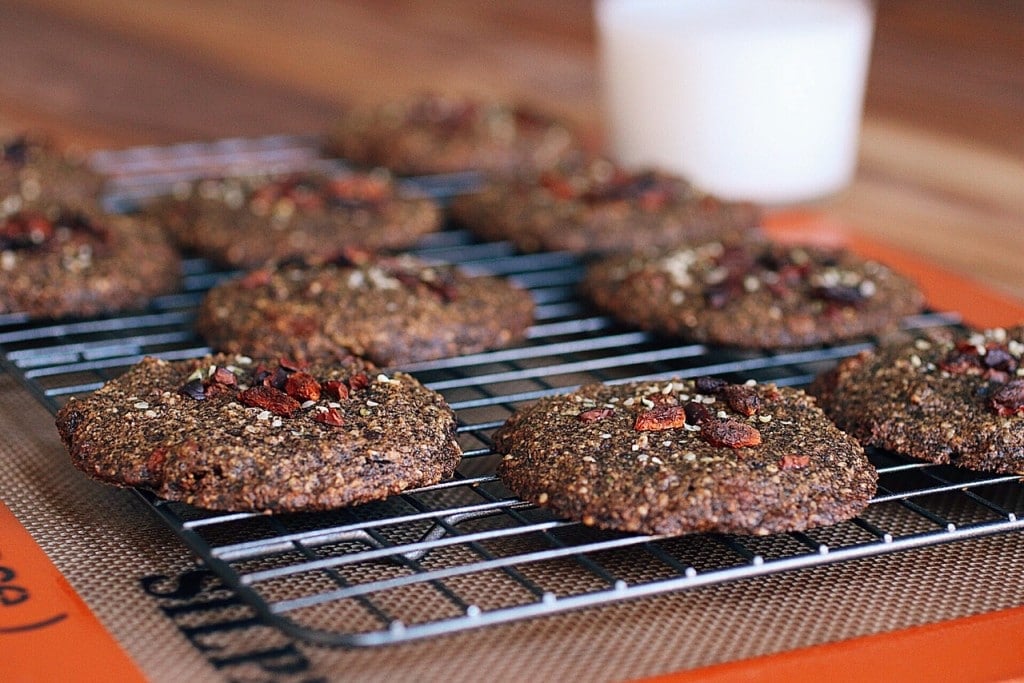 I love the health trend we are currently embracing in the America – to eat better and to learn how to read our food labels.
But believe it or not, most people in Asia still believe that anything that comes with fat is bad for us.
Well, as we know it depends on what kind of fat we are consuming, and what else we're consuming it with.
So when I went back to Asia this past year, I had a hard time understanding how people fixated on low-fat and zero-fat foods while on the other hand completely ignoring tons of sugar and unnatural ingredients loaded in sweets.
In a way, it's actually harder to eat clean in Asia.
Anyway, back to our main star here – Chocolate Goji Berry Cookies!
These cookies are very versatile.
If you are vegan, change the maple syrup to agave.
The first time I tried making these Chocolate Gory Berry cookies I accidentally used whole instead of blanched almond flour. The cookies tasted good but the color was way too dark. So if you can, opt for the blanched almond flour. Set your oven to 350F (no higher than that) so the cookies won't get burned.
A reader asked me the other day how to substitute almond flour for coconut flour because her daughter is allergic to almonds. Do any of you know how to work with coconut flour ? If I still want to yield 10-12 cookies based on the recipe below, how do I adjust the measurements ?
Just hit reply, or leave a comment below.
I'd love to know !
Paleo Chocolate Goji Berry Cookies
Paleo chocolate goji berry cookies ! We know goji berries are so good for us and if you love chocolate, this recipe is the perfect combination of healthy and delicious Paleo cookies for you and your loved ones !
Print
Pin
Rate
Ingredients
⅔ cup almond flour, from blanched whole almonds
2 tbsp arrowroot powder
2 tbsp cacao powder
6 tbsp unsweetened coconut milk
4 tbsp coconut oil, melted
2 tbsp organic maple syrup, use 3-4 tbsp if prefer sweeter taste
1 tsp baking powder
2 tbsp hemp seeds
3 tbsp dry goji berries
2 tbsp cacao nibs, raw chocolate
Extra cacao nibs, hemp seeds, and goji berries on top of cookies
Instructions
Preheat oven to 350F/180C.

Mix all ingredients in a large size bowl

Your dough will be slightly wet but don't worry.

Let the dough sit in room temperature for 2 minutes to absorb the liquid. If it's still too wet after 2 mins, sprinkle 1-2 tsp almond flour.

Line a non-stick baking mat over a large size baking sheet.

Divide the dough into 10 -12 equal pieces.

Gently press or push down each piece with a non-stick spatula to about ½ inch thick (1 cm thick) *leave some space between each cookie. They will melt a bit in the oven!

Bake at 350F for 20 minutes.

Let cool on a cooling rack.

Enjoy with a glass of cold coconut milk ! Yum !!
Nutrition
Calories: 96kcal
Also check out my Paleo no bake christmas cookies, paleo hot chocolate, sweet basil rosemary cookies, and keto chocolate almond butter crepes.