Paleo Fish Tacos
Paleo fish tacos with gluten-free tortillas, stuffed with flaky and juice tempura-inspired fish fillets. You don't need to deep fry to make terrific fish tacos. These fish tacos are loaded with all the best toppings and simple salsa, and they can be ready in less than 30 minutes!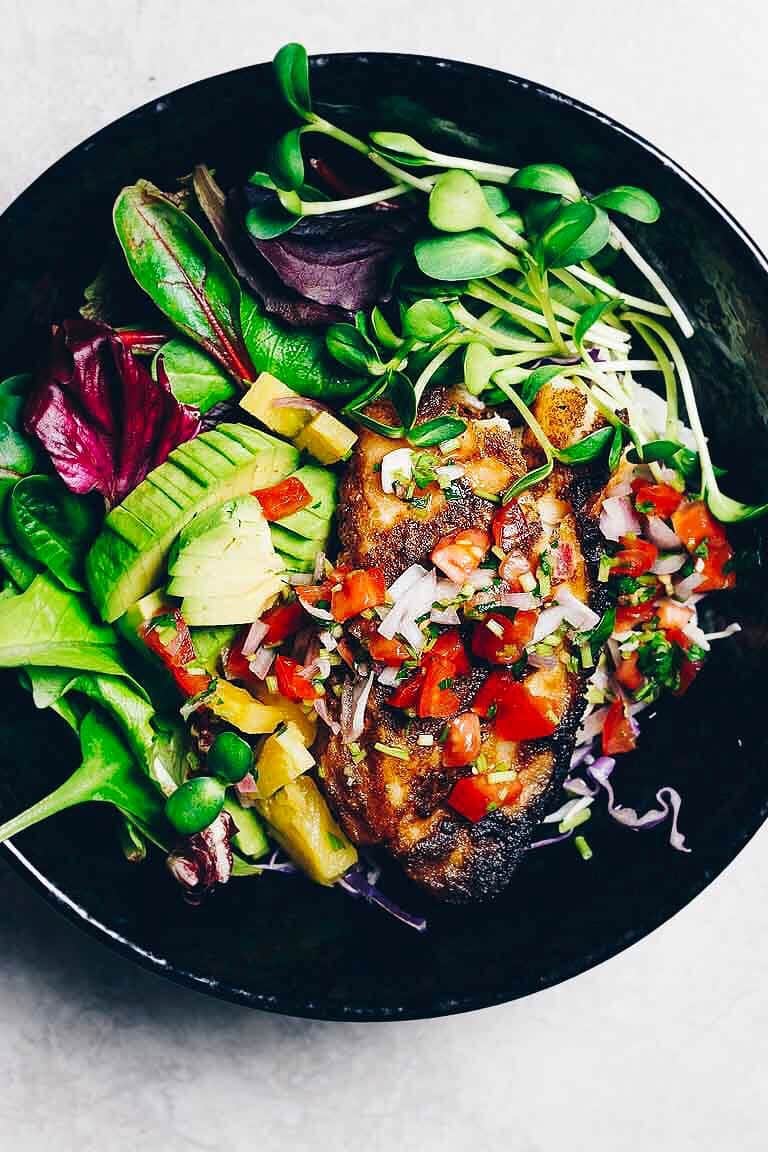 Paleo Fish Tacos and Fish Taco Bowls
Fish tacos are probably one of my favorite items whenever Nate and I visit a taco joint. I'm particularly fond of meaty and flaky white fish fillets, loaded with crunchy veggies and tons of lime juice. Today I'm sharing two versions – Paleo Fish Tacos with gluten-free and grain-free tortilla wraps & a Fish Taco Bowls that are Whole30 friendly.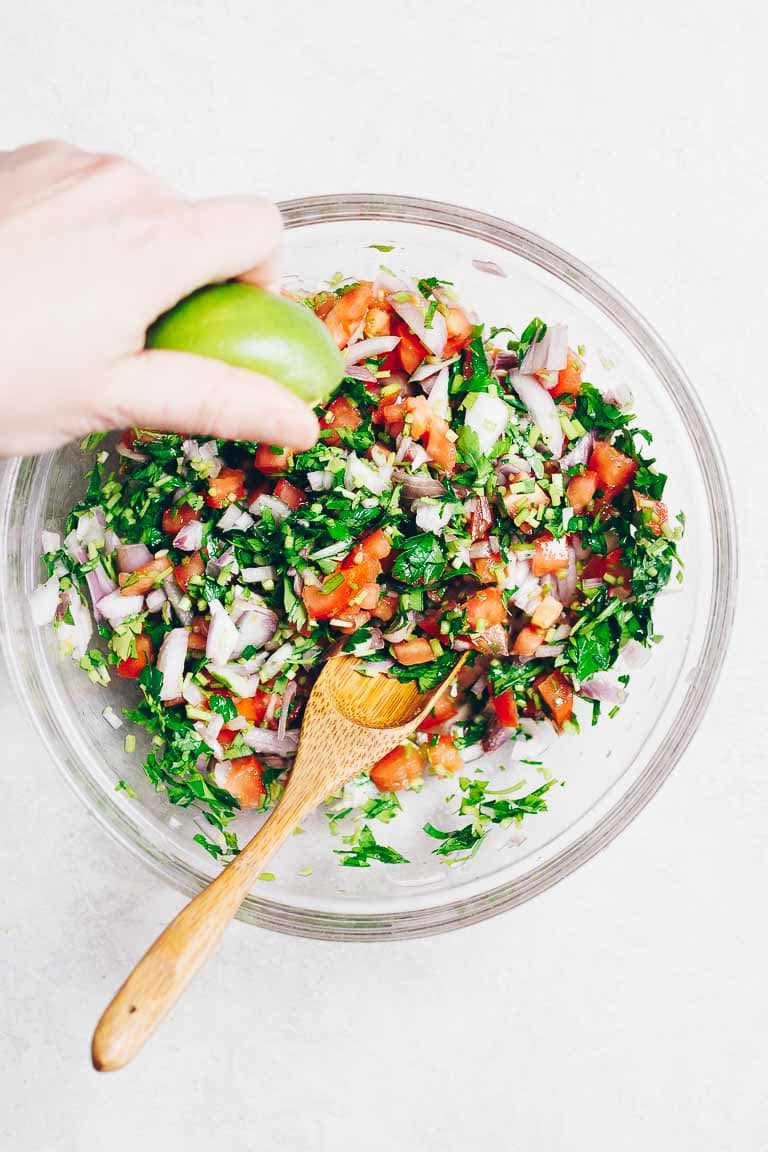 Paleo Tempura Batter
I love Japanese tempuras and before I learned that I'm allergic to shellfish tempura shrimp was my go-to whenever we visit Japanese restaurants. To make Paleo tempura batter is actually really simple. The trick is to use really cold sparkling water and only combine the dry and wet ingredients right before you are about to pan fry the fish.
The result is a light and thin golden crust. The texture won't be super crisp because they aren't deep fried. However, they are absolutely delicious. The fillets are so flavorful and juicy!
How to make paleo fish tacos
My Paleo fish tacos have Japanese-inspired tempura fish fillets, avocado slices, shredded cabbage, pineapple cubes, simple salsa, and a ton of lime juice, wrapped in slightly charred warm tortillas. 🙂
Prepare the salsa and all the toppings first and pan fry the fish only before serving so that the fillets won't turn too soaky. Look at that golden light crust!
Simple & quick meal
You can make the salsa up to 3 days ahead and store it in a glass container in the fridge. The toppings are completely up-to-you and it's easy to find shredded vegetables in the market if you are in a hurry. When you are ready, dip the fish in the batter and pan fry them to a golden brown, the meal is ready!
I love that salsa so much that I even drizzle it over my breakfast – check out my Whole30 breakfast sausage with simple salsa!
I'm contemplating all the foods I can make with my Paleo tempura batter with an air fryer. Do you own an air fryer? Leave a comment below. I'm curious to know.
So, my friends, this Paleo Fish Tacos recipe comes with 2 versions – Paleo & Whole30 – and for anyone who loves juicy flaky fish fillets I highly recommend that you give this recipe a try!
If you love healthy delicious seafood, also see my Baked Cod with Herb Lemon Butter, Air Fryer Chinese Steamed Cod, Air Fryer Salmon Teriyaki, The Best Bang Bang Shrimp, and Chinese Ginger Scallion Salmon.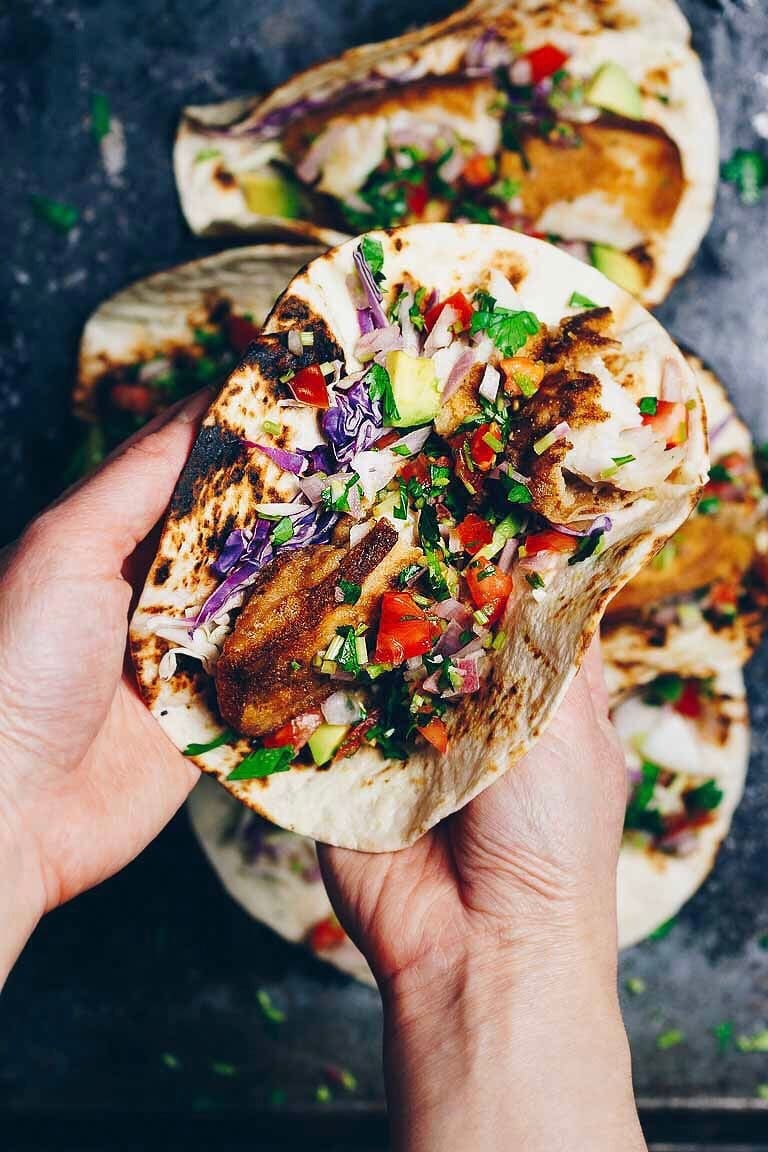 Leave a comment below and rate the recipe. Your vote and shares are so important to me. Thanks so much in advance!
Subscribe to my blog I Heart Umami to receive free weekly awesome new recipes!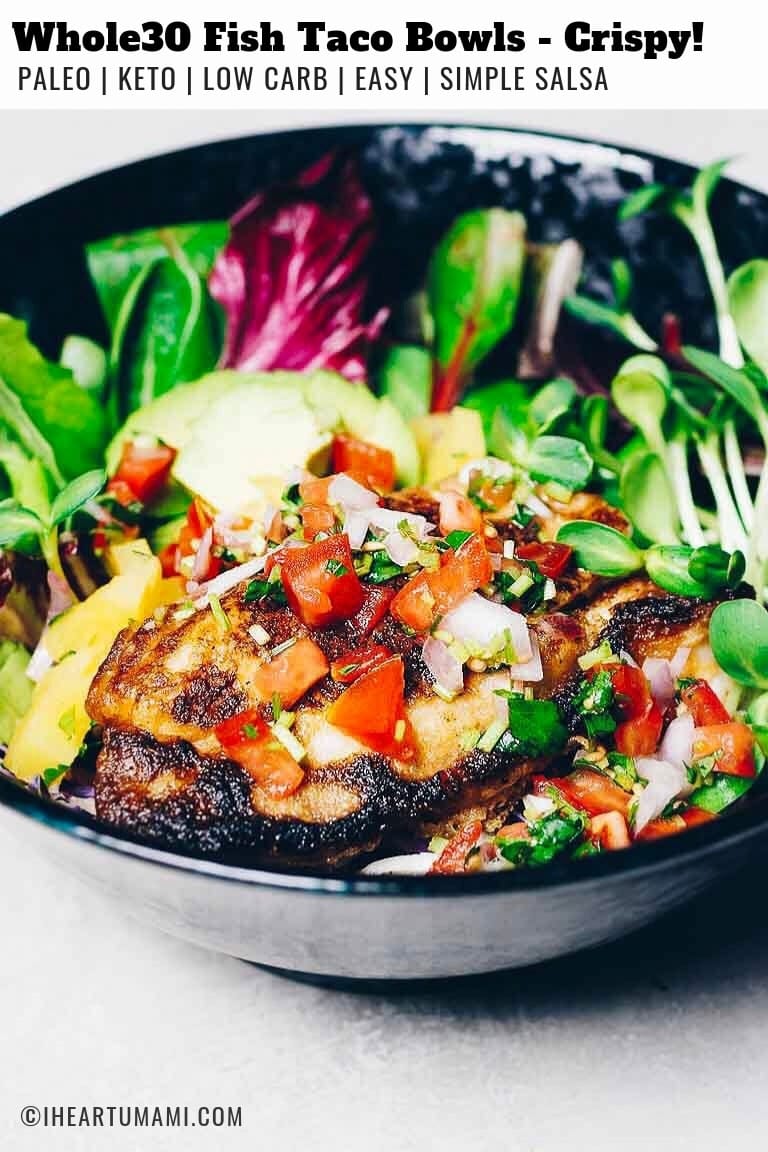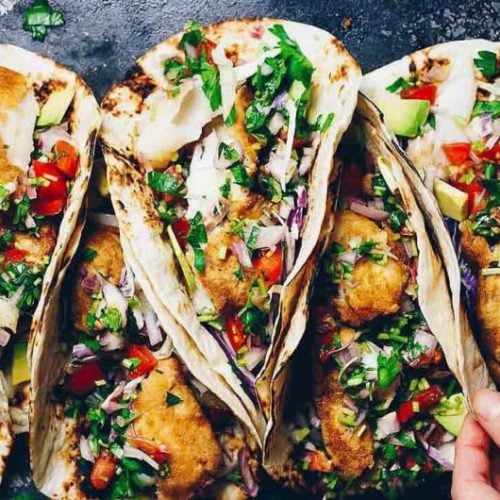 Paleo Fish Tacos
Paleo fish tacos with gluten-free tortillas, stuffed with flaky and juice tempura-inspired fish fillets and simple salsa.
Print
Pin
Rate
Ingredients
Simple salsa (makes 1 ¼ cups):
2 medium Roma tomatoes, , finely chopped (alt. Persian mini cucumbers)
3 oz. shallots, , finely chopped
½ cup flat parsley or cilantro, , finely chopped
1 whole lime juice or to taste, , plus extra wedges for serving
½ tsp coarse salt or to taste
Gluten-free fish taco batter:
4 tbsp cassava flour
2 tbsp arrowroot or tapioca starch
½ tsp smoked or sweet paprika
¼ tsp ground black pepper
1 tsp baking soda
1 tsp coarse salt
1.5 lb firm white-fleshed fish fillets such as cod, tilapia, or halibut (1.5-inch thickness)
2 large eggs, , whisk well
1/2 cup + 4 tbsp ice cold sparkling water, lime flavor or original no flavor
Instructions
Salsa: In a bowl, make simple salsa with ingredients from tomatoes to salt. Gently mix, cover and set aside in the fridge ready to use.

Dry ingredients: In a large mixing bowl, combine the dry ingredients from cassava flour to coarse salt.

Fish: Gently pat dry the fish and cut across the grain of the flesh into strips about 1 inch wide by 3-inches long.

Pre-heat skillet: Preheat a large non-stick frying pan/skillet over medium-high heat until the skillet is well heated. Add 2 tbsp avocado oil.

Wet ingredients: Whisk eggs in a separate bowl then pour it into the mixing bowl with the dry ingredients. Add sparkling water. Mix well the batter until there are no lumps. The consistency should be like melted ice cream.

Pan-fry: Dip the fish into the batter. Coat well and shake off a bit and place it into the oil. Pan fry first side about 3 minutes, depending on the thickness of the fish, or until you see a light and thin golden crust. Carefully flip to fry the flip side for another 2-3 minutes. Lay it over a plate and store in the oven to keep warm. Do this in separate batches so to not overcrowd the skillet.

Assemble: top the tortillas with fish fillets and garnish with simple salsa, avocado, pineapple, and shredded cabbage, if using. Serve with a lime wedge for squeezing.
Notes
If you prefer to char the tortillas, place directly over a gas flame to char the edges, about 1-2 minutes per side. Place on a plate and cover with a foil to keep them soft and warm.   For an egg-free batter: omit the eggs. The color of the crust will be less yellow/golden color and the texture will be thinner and less firm.   The fillet crust is light and airy. The texture won't be super crisp because they aren't deep fried. However, the fillets are juicy and absolutely delicious. They taste best when you serve right out of the skillet.
Nutrition
Serving: 1serving, Calories: 134kcal, Carbohydrates: 8g, Protein: 14g, Fat: 4g, Cholesterol: 71mg, Sodium: 541mg, Potassium: 358mg, Sugar: 1g, Vitamin A: 295IU, Vitamin C: 3.5mg, Calcium: 33mg, Iron: 0.9mg