Panda Express almond chicken
You'll fall in love with my Panda Express Almond Chicken fast! Crispy almond chicken breasts coated in signature puffed-rice breading, it is seriously crunchy and gluten-free! Topped with almonds and scallions in a savory sweet soy garlic sauce that will get everyone asking for seconds.
Made healthier without deep frying, you can air fry or oven-bake the chicken to a golden brown. If you enjoy this dish, you'll also love my Panda Express orange chicken and string bean chicken panda express.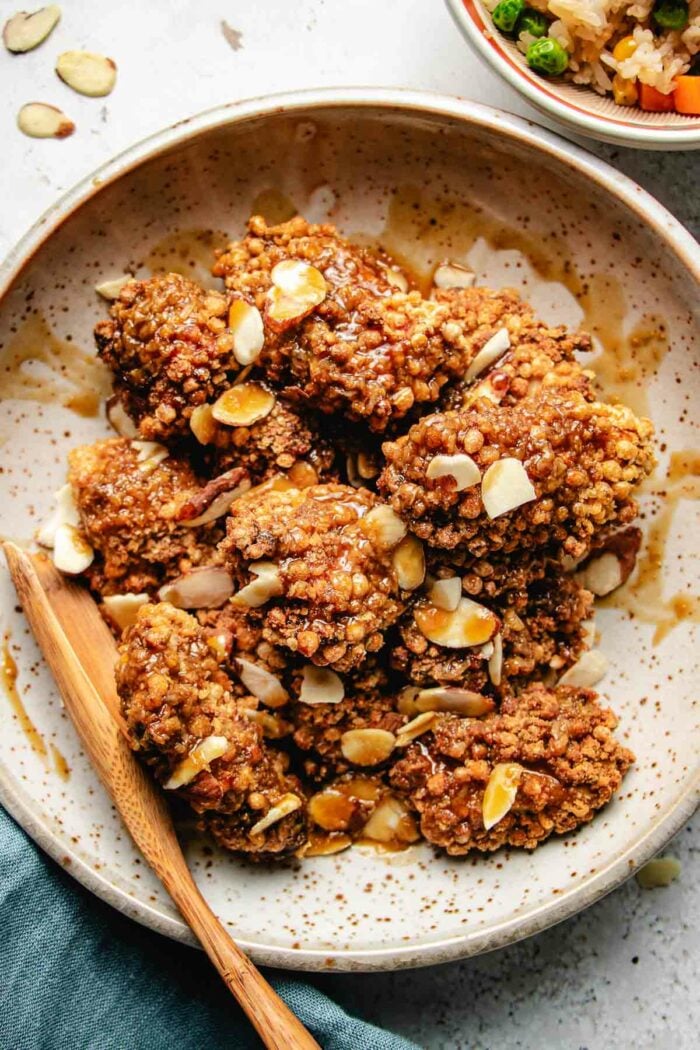 Ingredients
Here are the ingredients you'll need to make this copycat crispy almond chicken panda express for your next meal: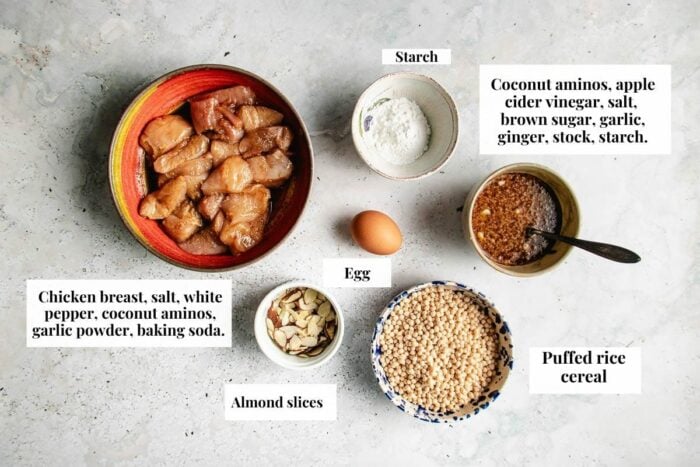 For the chicken:
Chicken breast — The original dish uses chicken breast. Dice them into 2-inch chunks to ensure they cook evenly.
Coarse sea salt, white pepper, coconut aminos
Garlic powder — Add a dash of onion powder for a sweet onion flavor.
Baking soda — helps to tenderize chicken. I use it in all chicken breast stir-fry recipes. See my guide on chicken stir fry marinade (coming soon)!
Tapioca starch – helps to form a litter batter. You can also use potato starch or arrowroot starch.
Egg — The egg acts as a binder and helps the chicken stick to the puffed rice.
Puffed quinoa rice or rice cereal — Signature Panda Express coating is used to make an ultra-crunchy exterior.
For the sauce:
Coconut aminos, apple cider vinegar, coarse sea salt, coconut brown sugar, garlic cloves, ginger, chicken stock or chicken broth, tapioca starch
Other:
Avocado oil spray — You can use it for both air fryer and oven bake chicken. Olive oil is also a good option for oven bake.
Unsalted sliced almonds
Substitutions and variations
Skinless and boneless white meat chicken parts, such as chicken thighs or chicken tenders also work great for this recipe.
Use light soy sauce or Tamari to substitute coconut aminos. You can learn more about these ingredients in my guide to Chinese pantry staples.
Different starches like potato starch, arrowroot starch, or cornstarch are all good for creating a crispy exterior.
For an extra savory flavor, add a dash of Vegan oyster sauce.
Add 1 tbsp almond flour to combine with the starch to increase the almond flavor. Swap it with all-purpose flour if you don't have any.
Garnish with chopped scallions or green onion for a touch of sweetness.
How to make the dish
Follow these simple instructions to make almond chicken panda express at home: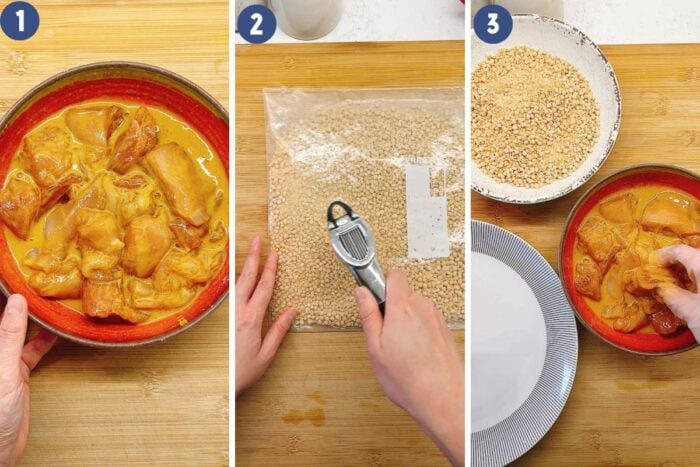 Slice the chicken into 2-inch chunks. Mix the chicken with salt, white pepper, coconut aminos, garlic powder, baking soda, starch, and egg in a large bowl. Rest it in the fridge for 10 minutes.
Meanwhile, add puffed rice to a large zip lock bag, lightly pounding it. This will make the breading process easier later on.
Drench the chicken in the whisked egg. Then, dredge the pieces in puffed rice while pressing gently to ensure the rice puffs stick all over the chicken.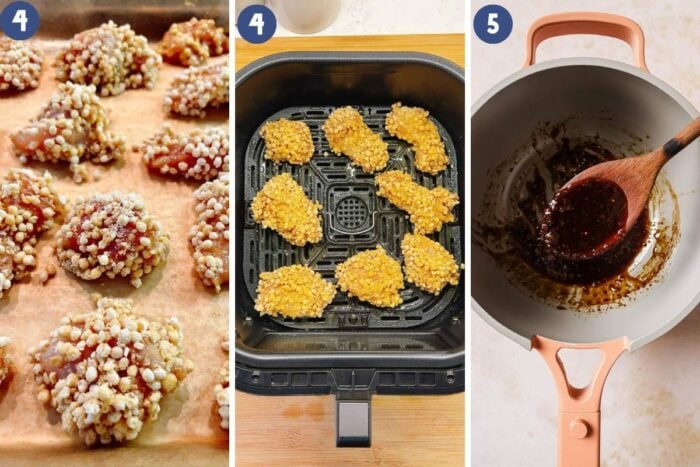 Air fry at 400°F (204°C) for 8 minutes or Bake at 375°F (191°C) for 25-30 minutes. Test the internal temperature with a digital thermometer. The chicken is cooked thoroughly when it reaches 165°F (74°C).
Dry roast the almond slices for 3 minutes over low heat and thicken the sauce in a pot over medium heat, stirring often for 3 minutes.
Combine the toasted almond slices with fried chicken. Drizzle the sauce all over the dish before serving it.
Note: I do not recommend making this dish on a stovetop as it will be very difficult to control the temperature. By the time the chicken is cooked through, the puffed rice coating will get burnt.
---
How to make ahead, store, and reheat
Here are some tips on how to pre-make almond-diced chicken from Panda Express in advance. They are perfect for meal prep, too!
Make-ahead: Marinate the chicken the night before. Combine the sauce and pack it separately.
Storage: Use a cooling rack to cool down the chicken before keeping them. Store the chicken leftovers in a separate airtight container from the sauce. It's good for up to 4 days in the fridge.
Freeze: Freeze the cooked chicken nuggets on a sheet pan for 1 hour, then put them in a freezer bag. Freeze for up to 3 months.
Reheat: Air fry at 320°F (160°C) for 3 minutes or bake at 375°F (191°C) for 10-15 minutes in the oven.
---
What to serve it with
Serve up panda express almond chicken with other side dishes or with wholesome dishes for a full meal:
Tips for success
Chicken Selection & Preparation: Cut the chicken into even-sized 2-inch chunk pieces. This ensures that they cook evenly. Marinate the chicken and allow it to rest in the fridge for 10 minutes for the batter to form.
Breading: Lightly smash the rice cereal and use starch instead of flour for crispy chicken coating.
Air frying or Baking: Air frying is the best way to make Panda Express crispy almond chicken breast as it requires less oil and the chicken tastes crunchy and light. The second best choice is using an oven. Both methods will give you a crispy and crunchy crust-like coating.
The sauce: It should taste savory, garlicky, and a little sweet. Thicken the sauce in a small saucepan on a stovetop before combining it with the chicken.
Almonds: Toast the almonds lightly to bring out their flavor. Toast nuts in a dry skillet on medium heat, shaking or stirring often, until golden and fragrant.
Serving: Only combine the chicken with the sauce right when you are ready to serve. Once the sauce is added, serve the dish immediately. This ensures the chicken remains crispy.
Stovetop: I do not recommend making this dish on a stovetop as it will be very difficult to control the temperature. By the time the chicken is cooked through, the puffed rice coating will get burnt.
Use a digital meat thermometer: Always use a digital thermometer to measure the cooked chicken temperature. The internal temperature should reach 165°F (74°C).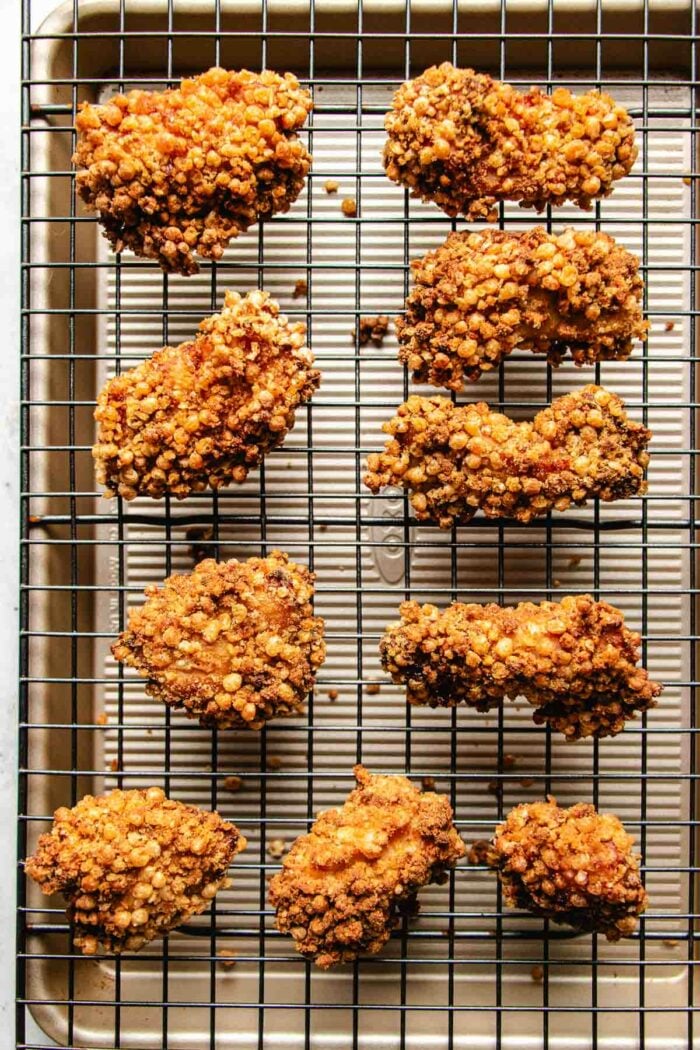 FAQs
Did Panda Express discontinue almond chicken?
Yes, Panda Express discontinued their Crispy almond chicken breast. While the exact date of discontinuation varies by location, it's no longer a staple on their menu as of 2021. However, you can make it at home with my simple recipe using an air fryer or baked in the oven.
Why is almond chicken called almond chicken?
Almond Chicken is called so because it features toasted almonds. It's a Chinese-American adaptation, distinct from traditional Chinese dishes. Panda Express's version had chicken breasts coated in puffed rice and toasted almonds, wok tossed in a savory garlic sauce.
Does Panda Express use almonds?
Yes, Panda Express used almonds in their Almond Chicken dish. However, the dish was discontinued in many locations. The dish — crispy almond chicken breast — featured chicken, toasted almonds, and a sweet-savory sauce.
Can I make the Panda almond chicken on a stovetop?
I do not recommend it. This is because the chicken breasts are diced into 2-inch large chunks and are breaded with puffed rice cereal.
It'll be difficult to control the stovetop temperature to ensure the chicken is cooked through without burning the rice puffs. You can make it in an oven or an air fryer with my recipe.
More copycat Panda Express recipes you might like
If you love this copycat recipe on Panda Express almond diced chicken, you'll want to try these delicious dishes: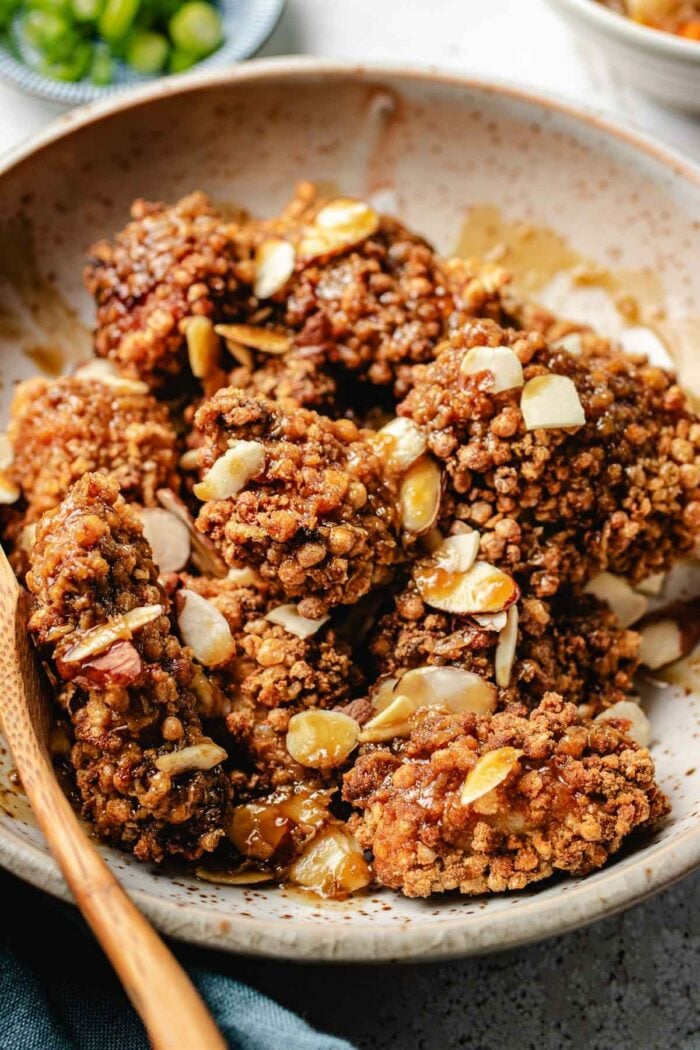 Panda Express almond chicken recipe
Panda Express Almond Chicken is crispy to perfection! Made in an Air Fryer or Oven, flavorful crispy chicken breast & gluten-free!
Print
Pin
Rate
Ingredients
For the sauce:
3 tbsp coconut aminos
2 tsp apple cider vinegar
½ tsp coarse salt
2 tsp coconut brown sugar
0.3 oz garlic cloves, 5 small cloves, grated
0.06 oz ginger, ⅛ tsp grated
¼ cup chicken stock
1 tsp tapioca starch
Other:
3-4 tbsp almond slices, unsalted
Instructions
Slice the chicken to 2-inch (5 cm) chunks. In a large mixing bowl, add the chicken and and season with ingredients from salt to egg. Mix well.

Allow the batter to rest in the fridge for 10 minutes. It will form a thin batter-ish texture consistency. If not, add half more tablespoon of starch to the mix.

In the meantime, add the puffed rice to a large zip lock bag, lightly pound it a few times so some puffed rice remains whole and some are smashed up. This will make it easier to "bread" the chicken. Gather them into a large separate bowl.

Combine the sauce in another bowl.

Set up your workstation with one bowl for puffed rice, the second bowl for the chicken, and a third large plate to catch the chicken. Lightly drench the chicken and dip it into the puffed rice bowl. Gently press using a little pressure to help the rice puffs adhere to the chicken on all sides. Place the chicken on the big plate. Repeat the process until you finish all the pieces.

Spray the air fryer basket with oil. Add the chicken in a single layer with space between each piece. You might need to separate them into two batches. Do not overcrowd the basket. Spray with more oil on top.

Air fry at 400°F (204 °C) for 8 minutes. Test the internal temperature with a meat thermometer. The chicken should be cooked through when the internal temperature reaches 165°F (74°C). If not, send them back for another 4 minutes at 380°F (193 °C). Set them aside on a cooling rack.

In the meantime, dry roast the almond in a small pan for 3 minutes over low heat. Thicken the sauce in a sauce pan over medium heat. Stir often for about 3 minutes.

When you are ready to serve, add the chicken to a large plate with toasted almonds, and drizzle with the sauce over. Toss to combine. Serve immediately.
Notes
Since the chicken is not deep fried, only combine it with the sauce right before serving so that the chicken will remain crunchy.
TO BAKE: Preheat oven to 375°F (191°C). Coat the chicken with puffed rice over a large lined sheet pan, and spray with more oil on top of each piece. Bake for 25-30 minutes. Use a digital thermometer to check internal temperature at the thickest part. The USDA recommends cooking chicken to an internal temperature of 165°F (74°C).
TO REHEAT: Air fryer at 320°F (160°C) for 3 minutes.
Please do not make this dish on a stovetop as it will be very difficult to control the temperature. By the time the chicken is cooked through, the puffed rice coating will get burnt.
Nutrition
Serving: 1serving, Calories: 242kcal, Carbohydrates: 13g, Protein: 23g, Fat: 11g, Saturated Fat: 2g, Polyunsaturated Fat: 2g, Monounsaturated Fat: 6g, Trans Fat: 0.02g, Cholesterol: 91mg, Sodium: 607mg, Potassium: 427mg, Fiber: 1g, Sugar: 1g, Vitamin A: 74IU, Vitamin C: 2mg, Calcium: 27mg, Iron: 1mg
Made a dish and love it? Please remember to rate the recipe and leave a comment in the comment section below! It helps my blog grow organically so I can continue sharing free and awesome content with you. Thank you!