Cauliflower Yam Cream Chowder (Paleo, Whole30)
Easy and hearty delicious Paleo Cauliflower Yam Cream Chowder ! Enjoy a bowl of creamy delicious chowder that's dairy and gluten free. Make a big pot for the entire family to enjoy !
This is the first time I've shared my take on Cauliflower Yam Cream Chowder and boy I have to say IT IS SO GOOD !!
I always use my husband Nate as the Guinea pig to taste-test my new inventions since he has had his fair share of traditional Asian food plus his Irish American heritage.
So when I see him continuing to go back to the kitchen to get his 2nd and 3rd refills of my Paleo chowder I know I've hit the jackpot ! 🙂
What makes my Cauliflower Yam Cream Chowder better than others ?
You've seen your fair share of Paleo chowder on the net, but what made my chowder way creamier and sweeter than others was the type of yam I used.
Japanese yam (with white color flash inside) has a slightly sweeter and denser texture than other type of yams so when you use this type of yam, there's no need to use flour or starch powder. Less carb for the win !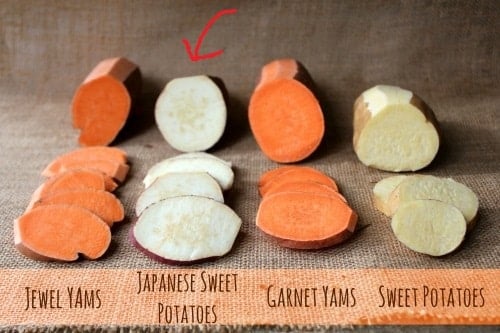 So what if you can't find Japanese yam ?
Try russet potatoes. They have a soft and creamy texture but are slightly less dense than Japanese yams.
Paleo Cauliflower Yam Cream Chowder – my ultimate leftover saver
Speaking of the versatility and convenience of this chowder, I like to add leftover chicken, turkey, grilled white fish, or ham to make it hearty and protein-rich.
You can also add crispy bacon like I did in the 1-minute video demo below, to give some crunchy texture in the mouthfeel, or even add diced avocado for extra good fat.
Hmm… super uber yum !
Share and watch the 1-minute video below.
The chowder is so sweet and creamy smooth. You'll be hooked after one sip !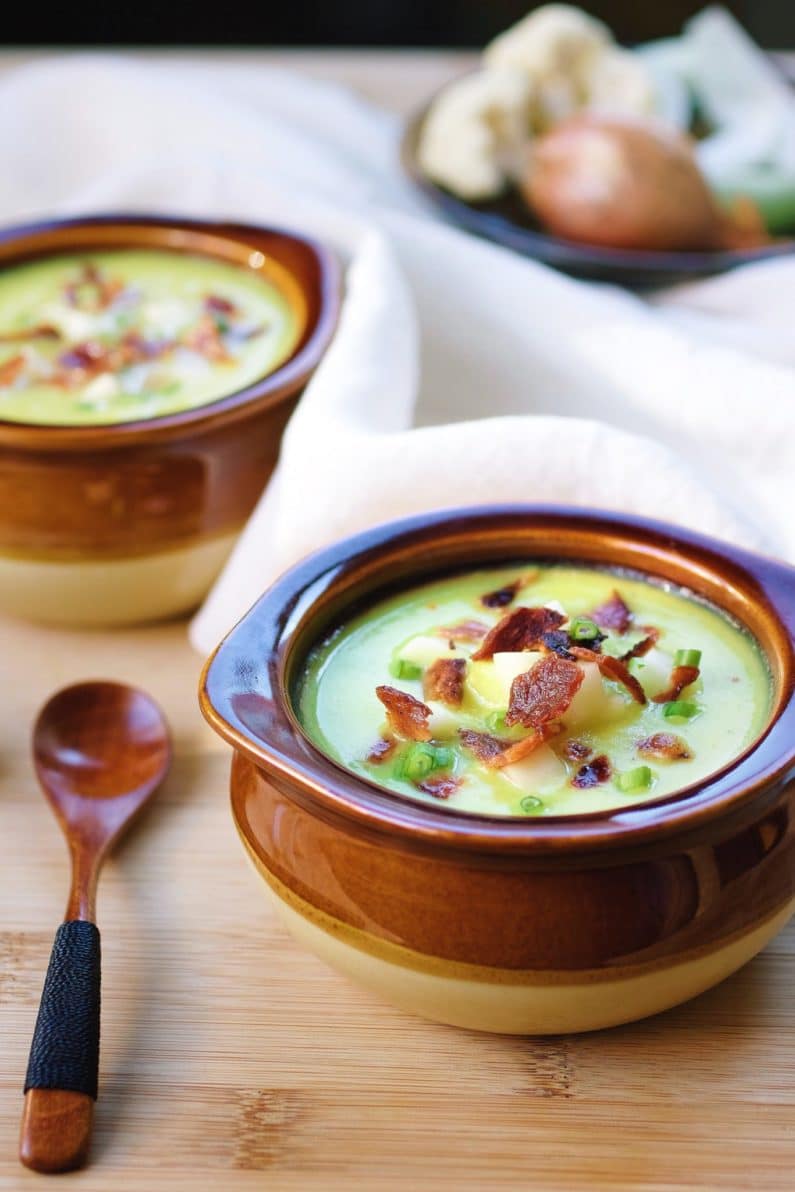 [embedyt] https://www.youtube.com/watch?v=i1ujxbqsOEQ[/embedyt]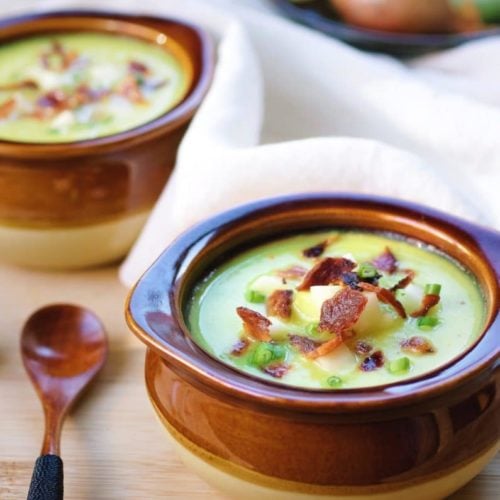 Cauliflower Yam Cream Chowder (Paleo, Whole30)
Delicious and creamy Paleo cauliflower yam cream chowder that's gluten free and dairy free ! It's also vegetarian friendly. Add crispy bacon and avocado for extra crunchy and some good protein !
Print
Pin
Rate
Ingredients
2 cups Japanese yam with red/purple dark color skin and white flesh inside*, peeled and diced to 1-inch small cubes
1 ½ cups cauliflower, roughly chopped
Half one whole yellow onion, chopped
2 cloves small garlic, , finely chopped
2 cups chicken stock/broth, low sodium
1 cup full fat coconut milk from a can
¼ tsp turmeric powder
¼ tsp ground black pepper
Sea salt to taste
1 ½ tsp ghee, saute use. Alt. avocado oil
Optional add-on:
Crispy bacon
avocado
shredded chicken, turkey, or ham
Instructions
Heat 1 ½ tsp ghee over a medium size soup pot. When hot, lower the heat to medium, add chopped onion and garlic. Season with a small pinch of salt. Saute until fragrant and the onion turns slightly translucent.

Add cubed Japaneses yam, cauliflower, ¼ tsp turmeric powder, and ¼ tsp black pepper. Keep sauteing for another 3-4 mins. Season with a tab more salt.

Add chicken stock. Cover the post and bring the soup to boil then lower the heat to medium low and simmer for about 10-15 mins or until the yam turn very soft. Taste and see if more salt or pepper is needed.

Add 1 cup full-fat coconut milk. Blend/puree the soup until creamy and smooth.

(optional) serve with crispy bacon, avocado, and shredded chicken, turkey, or ham.
Notes
If you cannot find Japanese yam or sweet potatoes, use  2 ½ cups Russet potatoes instead.
Nutrition
Calories: 174kcal