Paleo Dan Dan Noodles
Easy and healthy Paleo Dan Dan Noodles in creamy sesame sauce topped with crispy pork crumbles and blanched bok choy vegetables to satisfy your cravings and keep your tummy happy and healthy. Don't miss this super YUM and DELICIOUS recipe! You are going to LOVE It ! :))

If you love Chinese noodles as much as I do, I guarantee you'll also love my Garlic chili noodles!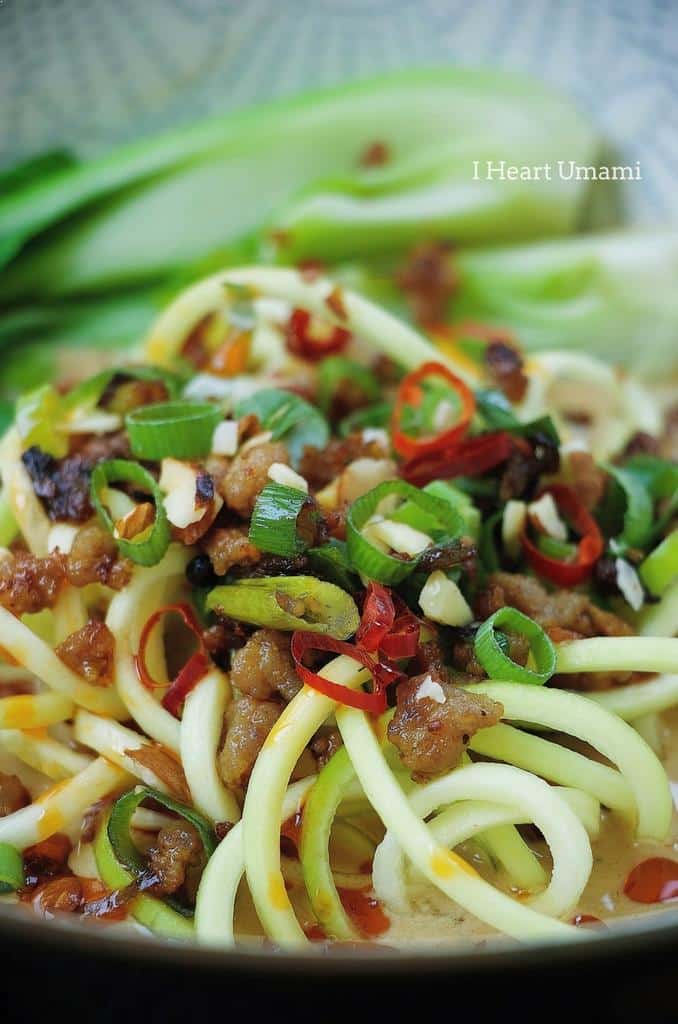 I'm so happy to share a low-carb and easy version of the Paleo Dan Dan Noodles recipe with you today. After several test runs, I finally was able to recreate my childhood comfort food for you! Dan dan noodles have many versions across Asia and the version I share is influenced by Taiwan and Japan. It's lighter, less spicy (or non-spicy at all), and creamy and delicious.
Check out how delicious and easy it is to make a bowl of creamy delicious Paleo Dan Dan Noodles!
What is dan dan noodles ?
擔擔麵 [Dàn dàn miàn] is a noodle dish originally from Sichuan province. It consists of preserved mustard greens, pickles, and crispy pork crumbles (pork mince) in chili oil sauce. The Taiwanese version (as well as Chinese American version) adapted a less spicy, creamier, and slightly sweeter taste and used sesame paste (Tahini) and/or peanut butter to create a creamy buttery texture.
In the street food culture in Taiwan you often find that dan dan noodles are served in bowls in small quantities, almost like an appetizer. People enjoy them sometimes between meals or use them as a quick pick-me-up and go meal to satisfy hunger. After several trial runs to make it Paleo and Whole30 and without diverting too far away from its original flavor, I can finally rest and say I'm satisfied with my take on the Paleo Dan Dan Noodles.
Chinese food (as well as Taiwanese food) emphasizes taste, flavor tone (one unified theme to make the dish stand out), and texture. Creamy buttery dan dan noodle sauce goes superbly well with crisped-up meat crumbles. Because the dish is influenced by Sichuan cuisine, Sichuan flower peppercorns are often used in the dish to give a lemony and tingly effect in the mouthfeel.
Similar to my Paleo Sichuan Dry-Fried Green Beans, I crisped up the pork mince to add protein and deliciousness to the dish. You can swap pork mince for chicken or turkey if preferred. Sichuan peppercorns are a must-have in the kitchen if you are an enthusiast in Asian cuisine and I bet you are if you are reading this blog post. If you can't order online or can't have peppercorns, I provided an alternative work around below that will give you an approximate flavor to sub Sichuan peppercorns.
Easy Paleo Dan Dan Noodles
So now if you crave a good bowl of creamy sesame dan dan noodles you have no excuse not to make one ! And if you love my recipes be sure to give a 5-star rating and leave a comment below. I'd love to hear from you !
Paleo Dan Dan Noodles
Easy and healthy Paleo Dan Dan Noodles in creamy sesame sauce with crispy pork crumbles and blanched bok choy to satisfy your cravings and keep your tummy happy and healthy. Don't miss this delicious Sesame Noodles Recipe. Follow the instructions below for a bowl of creamy deliciousness !
Print
Pin
Rate
Ingredients
1 fat shape zucchini or 2 medium ones, spiralized
½ to ¾ lbs ground pork, or chicken or turkey
1 + 1 tbsp coconut aminos
½ tbsp toasted sesame oil
Avocado oil, sauté use
Almond slices, roughly chopped (optional, serving use)
Aromatics:
2 garlic cloves, finely chopped
2-3 bulbs scallions, chopped separate white and green parts
½ tbsp ginger, finely chopped
1 to 1 ½ tbsp pickled cucumbers, chopped
1 tsp Sichuan peppercorns, Ground it first if worry too much punch in mouthfeel. Alt. Use ¼ tsp ground black pepper + 2 tsp lemon zest
Instructions
Marinate ground pork with 1 tbsp coconut aminos + ½ tbsp sesame oil. Mix well and set aside in the fridge for 10-15 mins. Make dan dan zoodle sauce, mix well and set aside.

Crisp up pork: Preheat a large skillet or wok over medium-high heat, when hot, lower the heat to medium. Add 2 tbsp avocado oil. Swirl the oil around the skillet. Add aromatics (garlic, white parts of scallions, ginger, and Sichuan peppercorns). Season with a small pinch of salt and lightly sauté until fragrant (about 8-10 seconds). Add marinated ground pork. Keep sautéing until the pork breaks further up into finer pieces. Add chopped pickles and 1 tbsp coconut aminos. Sauté over medium heat and uncovered the skillet until the moisture content has evaporated and the ground pork gets crisp up but not burnt and almost close to fried bacon bits texture. Turn off the heat. Mix-in a handful of green parts of scallions (save some for topping). Set aside.

Assemble: divide dan dan sauce into two large bowls. Add zucchini noodles, top with 2-3 tbsp crispy ground pork per serving bowl, chopped almonds, and green parts of scallions. Drizzle with a bit more hot sesame oil (optional) if you like. Serve immediately.
Nutrition
Serving: 159g, Calories: 433kcal, Carbohydrates: 9g, Protein: 18g, Fat: 37.1g, Saturated Fat: 7.3g, Trans Fat: 0.1g, Cholesterol: 51mg, Sodium: 437mg, Fiber: 2g, Sugar: 1g, Vitamin A: 150IU, Vitamin C: 5.8mg, Calcium: 80mg, Iron: 2mg