Paleo Green Buddha Bowls
Paleo Green Buddha Bowls – this is a tribute to mother's day and to inspire people have fun eating more veggies!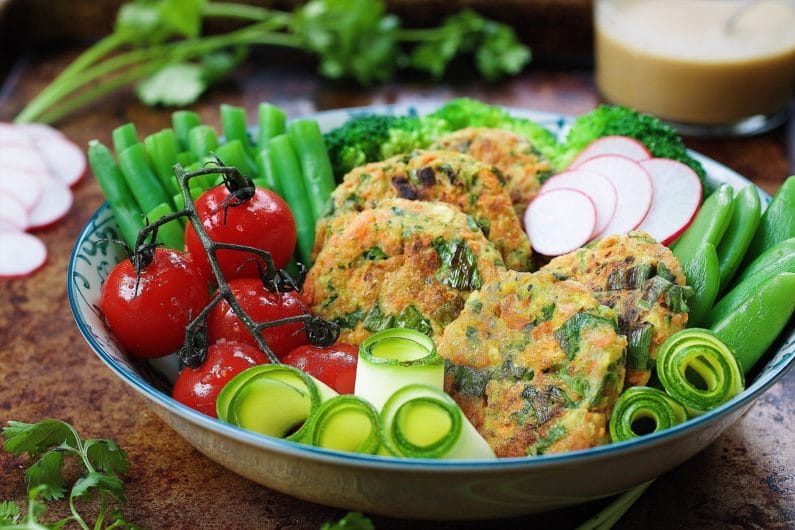 Mother's Day is right around the corner. If you are looking for a simple and yum (plus healthy + gorgeous looking) recipe, these Paleo Green Buddha Bowls will be a good template to get you started!
What are Paleo Green Buddha Bowls ?
According to BonAppetit.com, Buddha Bowls first appear in Martha Stewart Living back in 2013, "with whole grains, plant proteins, and vegetables".
Since then Buddha bowls have evolved into various forms and it has become more of a general formula which you can swap out for different ingredients and make use of whatever you have on hand.
A variation to my Paleo Zucchini and Carrot Fritters
This time I changed up the flour from almond to cassava. I've been meaning to experiment with cassava so it was quite a fun experience to work with a new type of root vegetable flour !
Unlike almond flour, cassava has a higher starch content and the texture is slightly denser than almond flour. So if you prefer the lighter texture of my Paleo fritter patties, you can follow the link HERE to find a similar version of the recipe.
But if you are allergic to nuts or simply want to give cassava a try, read on !
It's muscle time !
I first used a food processor to chop the carrots and zucchini until fine little pieces that are similar to the size of rice grain then used a cheesecloth to squeeze out as much liquid as possible. You can also grate them too. Good for muscle training :))
Then I added full-fat coconut milk and gently used my hands to combine the ingredients well. Take about 2 tbsp per-fritter and form them into small round shapes. Gently press down into patties.
Use a cast iron for that ultimate golden crispy surface !
Here I used avocado oil for a more neutral taste. You could also use coconut or ghee. They are quite gorgeous looking, aren't they ? :))
In my Paleo Green Buddha Bowls, I also grilled the tomatoes with a little bit sea salt and olive oil. The tomatoes are so cute so I decided to keep them on the vine. A quick grill made these tomatoes even more sweet and yum !
I quickly blanch the sugar snap peas, green beans, and broccoli florets. And rinse them in ice cold water to keep them crisp and vibrant green.
Use a peeler to make zucchini ribbons and roll them up to make it fun !
Two types of dressing
I prepared two different dressings for you to choose from – creamy sesame tahini dressing & lemon balsamic dressing.
Both are my favorite homemade dressings. So pick and choose which one suits you and your mom the best !!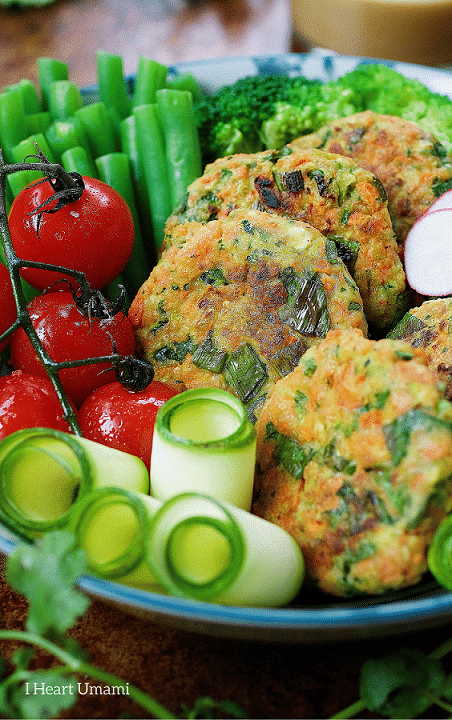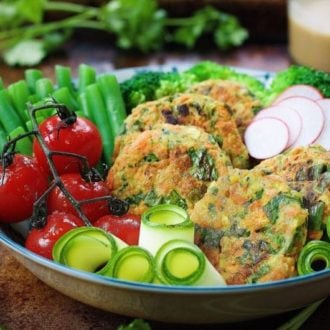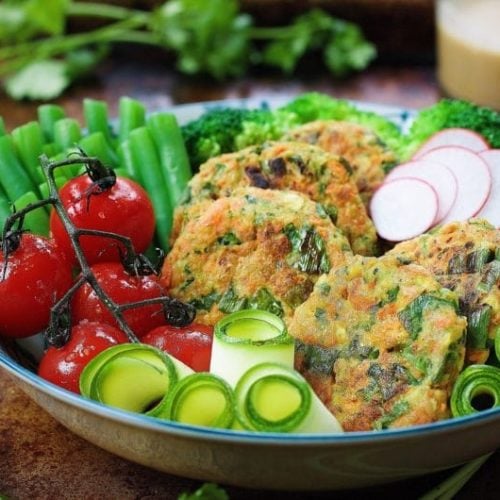 Paleo Green Buddha Bowls
Paleo Green Buddha Bowls. Healthy and light Paleo recipes with golden crispy veggie fritters to help you eat more leafy greens !
Print
Pin
Rate
Ingredients
For the patties:
2 cups shredded/grated zucchini
2 cups shredded/grated carrots
⅔ cup cassava flour
3 large eggs
3 tbsp full-fat coconut milk
1 cup scallions, , chopped (or add more if you like)
½ tsp coarse sea salt
Black pepper to taste
Sesame Tahini Dressing:
3 tbsp tahini
1 ½ tbsp coconut aminos
½ tsp balsamic vinegar
½ tsp organic rice vinegar
1 tsp garlic, , grated
3 tbsp water
Lemon Balsamic Dressing:
2 tbsp balsamic vinegar
2 tbsp olive oil
4 tsp fresh lemon juice
4 small garlic cloves, , minced
2 tsp finely grated lemon zest
Salt and freshly ground pepper
Other items I used for my buddha bowls: (water blanch them quickly in hot boiling water then shock/rinse them in cold water to stop cooking and maintain vibrant green color)
Green beans
Sugar snap peas
Grape vine tomatoes
Zucchini for zucchini ribbons
Radish
Broccoli florets
Instructions
Shred/grate zucchini and carrots. You can also use a food processor/chopper to chop them until really fine (similar to rice grain size). Sprinkle lightly with salt and set aside for 10 minutes.

Use a cheesecloth to squeeze out as much liquid content as possible. Add the rest of ingredients listed under "Patties". Use a wooden spoon or your hands to gently mix them well.

Scoop about a little more than 2 tbsp filling and use your hands to shape them into small patties. Form about 10-12 mini patties.

Heat a large saute pan over medium high heat with 1 tbsp coconut oil/avocado oil/ghee. When hot, lower the heat to medium, pan fry patties in separate batches until both sides are golden brown and cooked through. Add a bit more oil if needed. Transfer the patties to a large plate lined with paper towel.

Serve with blanched veggies of your choice with the dressing on the side.
Nutrition
Serving: 74g, Calories: 93kcal, Carbohydrates: 10g, Protein: 4g, Fat: 4.9g, Saturated Fat: 1.7g, Cholesterol: 56mg, Sodium: 213mg, Fiber: 2g, Sugar: 2g, Vitamin A: 3850IU, Vitamin C: 9.9mg, Calcium: 50mg, Iron: 1.1mg
Also check out my Chicken with olives stir-fry, 5 Whole30 salad dressings, Zucchini pasta shrimp, and Korean chilled zucchini sides.