Paleo Asian Taco Meal Prep Bowls
Paleo Asian Taco Meal Prep Bowls! Savory Chinese-inspired meat sauce with melt-in-your-mouth eggplants and tons of fresh veggies. Shop once, prep once, and eat healthy all week!

If you love Chinese eggplants, you'll also love my Chinese steamed eggplant salad! It's the perfect pairing for one another!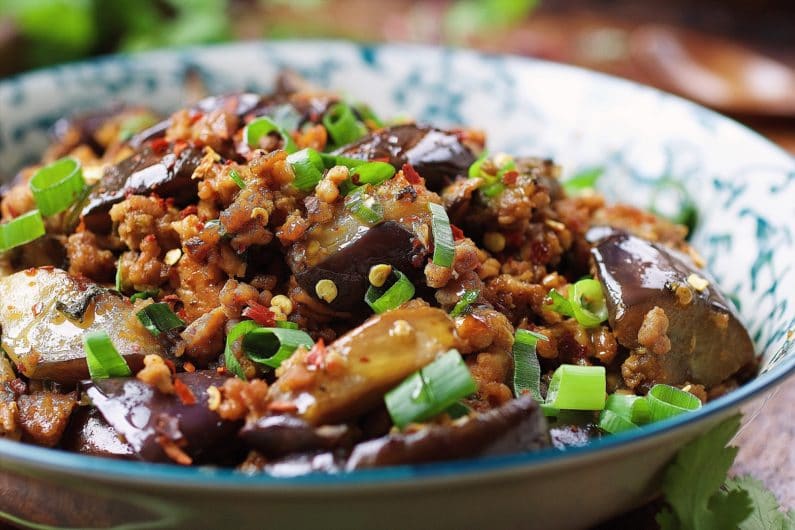 Love coming home to dinner like this ready for you to devour ?? Then you certainly don't want to miss this Meal Prep perfect Asian Taco Meal Prep Bowls!
Add An Egg On It …Paleo Asian Taco Meal Prep Bowls
This is a serving day suggestion. I poached an egg until the egg white was cooked yet the yolk was still soft and tender. The melted egg yolk goes perfectly with the savory meat sauce and sweet eggplants.
I'm so hungry just thinking about it!
Ever since I started the Sunday Meal Prep Challenge group on Facebook, I'm totally sold on paleo meal prep!
I set aside between 1 ½ to 2 hours on a Sunday morning to get everything ready for the week. Since everything's ready, I don't need to rush home and reinvent the wheel just to figure out what to put on the dinner table. It saves me time, money, and most importantly gives me peace of mind.
To make an extra yummy Paleo Asian Taco Meal Prep Bowls…
I used a combination of ground pork and ground chicken for a more complex flavor. First, I sauteed the meat with aromatics and broke it down further into small pieces.
Then I added my homemade Asian Taco meat sauce to make it extra flavorful. Cover it with a lid and slow simmer over low heat.
I diced the eggplants into slightly larger bite-sized chunks so they would maintain their shape better once softened.
Pan-sear the eggplants in a separate large sauté pan until they turn slightly softer but not mushy or watery.
Combine the slow simmered ground meat with perfectly grilled eggplants. Give a quick toss and you've got a perfect pot of Asian-style Taco meat sauce! If you love this dish, you'll also love my Chinese eggplant with garlic sauce. It's one of my readers' favorites!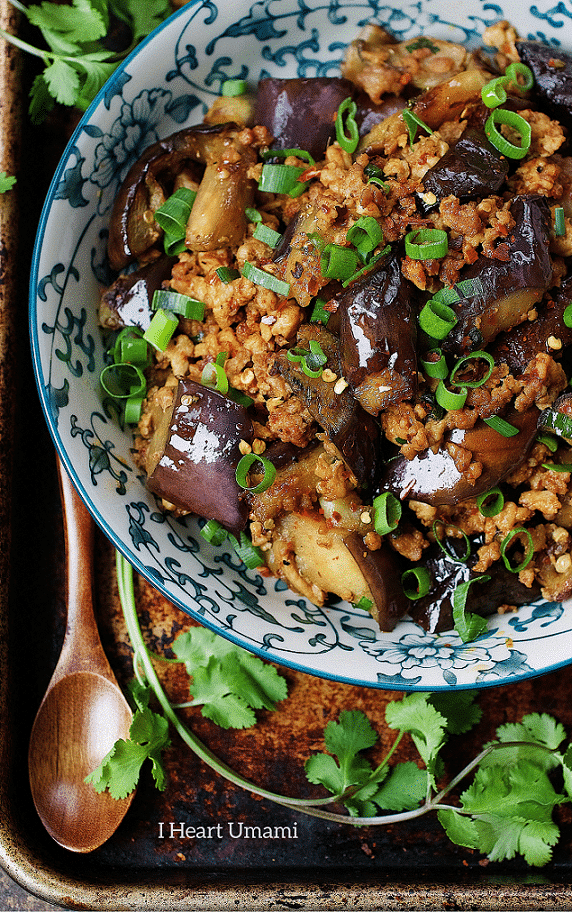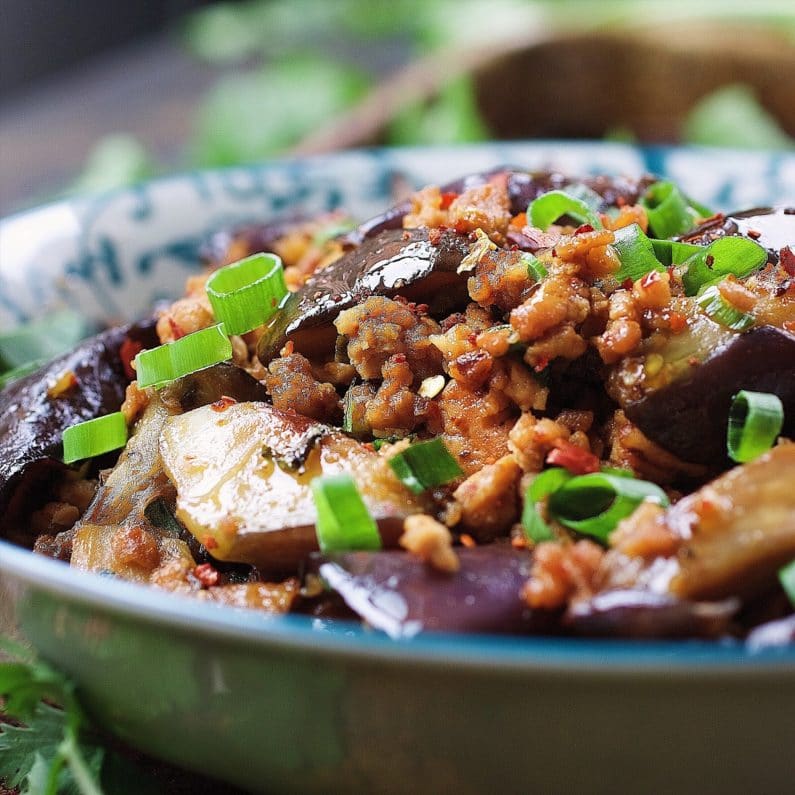 Paleo Asian Taco Meal Prep Bowls
Chinese-inspired eggplant meat sauce with tons of fresh veggies. Perfect Paleo and Whole30 meal prep dish!
Print
Pin
Rate
Ingredients
½ lb ground pork + ½ lb ground chicken or turkey
2-3 medium size Italian eggplants, , diced to larger bite size cubes
Broccoli florets, cherry tomatoes, cauliflower rice, , as much as you like
Aromatics:
2 large garlic cloves, , minced
1 large shallot, , minced
1 ½ tbsp ginger, , chopped finely
3 bulbs scallions, (separate white & green parts), chopped
½ tsp chili pepper flakes, (optional)
Instructions
Ground meat: Melt 1 tbsp ghee in a large saute pan. When hot, add ingredients under "aromatics". Season w/ a small pinch of salt. Saute until fragrant (about 10 secs.) Add ground meat and use a wooden spoon to further break up the meat into finger pieces. Season w/ 1 tsp sesame oil, 1 ½ tsp tomato paste, and a small pinch of salt. Cook until the meat is no longer pink. Add ingredients under "sauce". Lower the heat to medium-low. Cover with a lid.

Eggplants: In the meantime, heat 1 ½ tbsp ghee in a separate large saute pan. When hot, add diced eggplants. Cook until the eggplants become soft and withered but not mushy (about 6-9 mins.).

Combine: Add cooked eggplants to the meat sauce. Give a few quick toss. Garnish with green parts of scallions.

To make meal prep bowls: Once the meat sauce is cool to room temperature, add cauliflower rice, meat sauce, broccoli florets, and chopped cherry tomatoes. Seal the containers and store in the fridge for up to 4 days
Nutrition
Serving: 330g, Calories: 364kcal, Carbohydrates: 14g, Protein: 24g, Fat: 24.6g, Saturated Fat: 8.4g, Trans Fat: 0.4g, Cholesterol: 96mg, Sodium: 348mg, Fiber: 7g, Sugar: 5g, Vitamin A: 400IU, Vitamin C: 9.9mg, Calcium: 60mg, Iron: 2.2mg