My Mom's Green Chicken Recipe (Paleo Holiday Recipe)
My mom's Grilled Green Curry Chicken Recipe with chicken drumsticks!
So far I've tried a fair amount of green chicken recipes from the web. Some good. Some with ample room for improvement.
But I've got to tell you that unless you've tried my mom's, you haven't truly had green chicken in your life.
It is so finger licking good that you'll want to use this marinade over and over whenever you prep chicken.
Most of the green chicken recipes on the web come with some herbs such as parsley, cilantro, basil …. etc. with lemon/lime and salt and pepper.
Well, that's a decent marinade but if you want to kick your chicken to another level, you need some additional help here.
You can use my recipe below and marinate the chicken for up to 2 days in advance – just make sure you turn the chicken around at the halfway point so both sides get to drink that yummy juice.
This is also a perfect holiday and party dish – just please remember to save some for yourself first: otherwise you'll be hating yourself for not doing that !
I'm starting to sound like my mom here, going on longer than usual, but I want you to enjoy my mom's recipe right.
One other bit of good old wisdom to share is Don't Get Greedy about piling up tons of marinade on top of the chicken when you are ready to bake.
I made the mistake first time around thinking the more the merrier. If you pile too much sauce on top, the meat will turn soggy instead of crispy. So drench the meat lightly and dust only a tiny bit of green herbs and sauce and you are on your way to a plate of yummy goodness.
Send me a note & Let me know how it goes.
Happy Holiday everyone!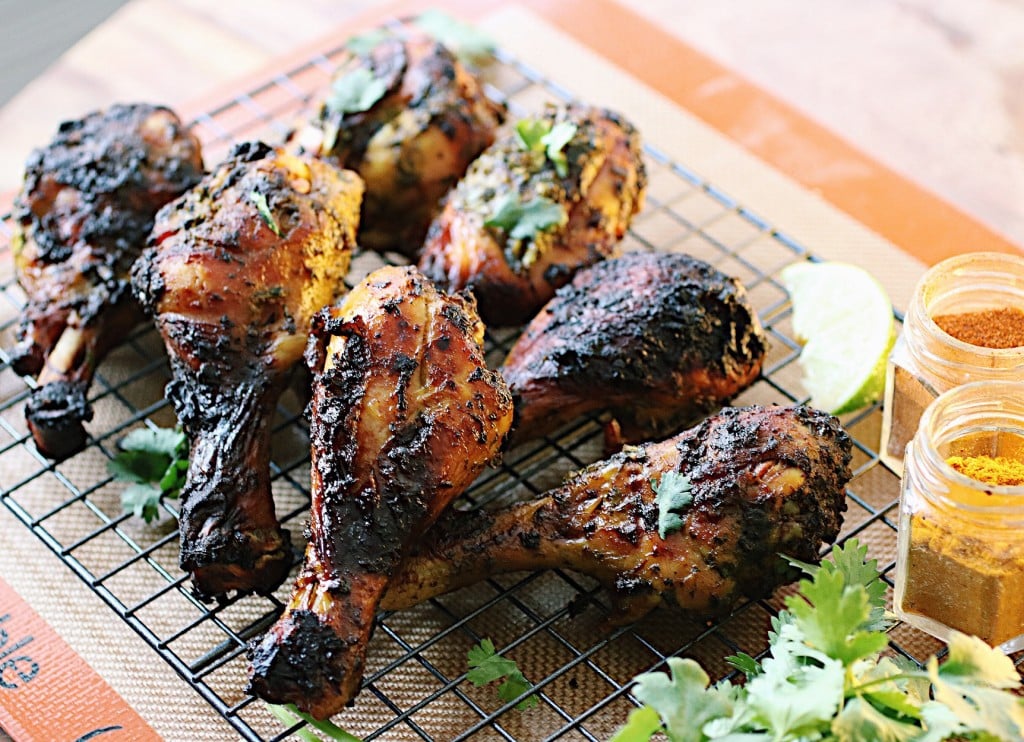 My mom's green chicken recipe (Paleo Holiday Recipe)
Print
Pin
Rate
Ingredients
12 chicken drumsticks
Extra lime for serving
Green marinade: (At least overnight. Up to 2 days)
1 whole bunch of fresh cilantro, including stems
¾ cup fresh parsley
5 garlic cloves
2 tbsp EVOO
½ tbsp red chili powder
½ tsp cayenne pepper
1 tsp turmeric powder
2 ½ tsp sea salt
½ tsp black pepper
2 tbsp Red Boat fish sauce
1 tbsp good honey, optional but strongly recommended!
5 tbsp coconut milk, full-fat
Juice of 1 lime
Instructions
Prep:
Combine all ingredients under "Green marinade" in a food processor. Blend until everything is smooth.

Seal the container and store in the fridge for up to 2 days. Make sure to turn the meat around at the halfway point to marinate both sides.

Day of baking:
Preheat the oven to 450 F

Place a layer of aluminum foil over a baking tray & Lightly drench the chicken before placing on a baking wire.

Bake the first side for 20 mins.

Then turn the tray 180 degree to bake the opposite side evenly for another 15 minutes.

Flip the drums to bake the other side and lower the heat to 420 F for an additional 15 minutes or until both sides are golden brown.

Serve with fresh lime wedges. Enjoy, Eat, and Watch them disappear quickly ! :))
Also check out my Grilled Chicken Drumsticks with Viet BBQ Sauce!