Homemade Chicken Korma (Paleo, Whole30)
Homemade Chicken Korma with Butternut Squash or Pumpkin in creamy coconut milk broth. It's Paleo, Whole30, and Keto friendly.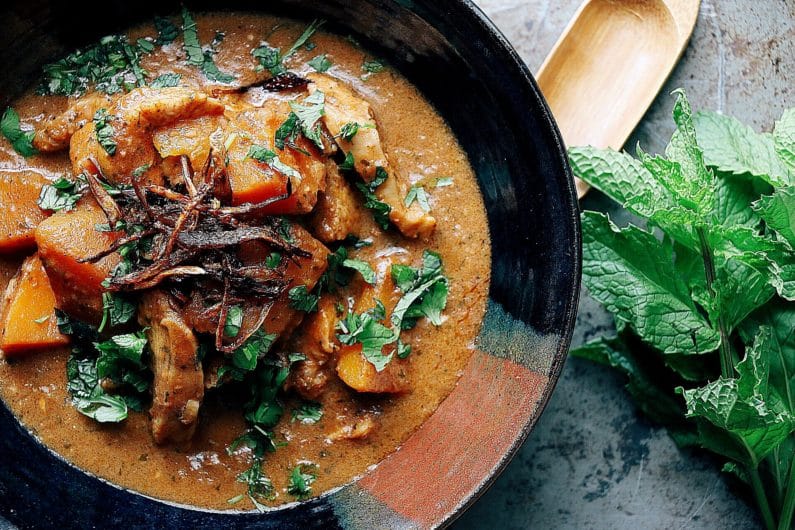 I love autumn. Beautiful tree leaf colors and there are about 3-4 weeks of what I call the perfect time to be in New York, when the weather is not too hot or cold.
Pumpkins and various squashes are everywhere in farmers' markets and grocery stores. I thought of sharing a fall weather friendly dish with you – Homemade Chicken Korma.
This is one of the dishes that was featured in my latest Whole30 blog post. As soon as I submitted this post, the next thing I know, Jen –  the content editor/manager in the Whole30 – sent a lovely picture of her take on the Homemade Chicken Korma to me and I was so delighted to see how much she loves the dish !
This insanely delicious Homemade Chicken Korma is savory, creamy, and deeply-satisfying. Best of all, it's quick to put together and you can use either pumpkin or butternut squash. Perfect savory fall meal !
I love making this delicious Homemade Chicken Korma in large quantities and portioning it into individual servings before freezing.
I'm going to quickly show you how to make your own homemade korma paste that's filled with tons of fresh herbs and spices. You can store the extra paste in an ice cube tray and freeze it so when you are craving a warm and creamy meal after work, dinner will be ready in less than 20 mins !
If you love eating good food but have limited time making homemade meals, be sure to subscribe to my blog for more healthy cooking tips and recipes!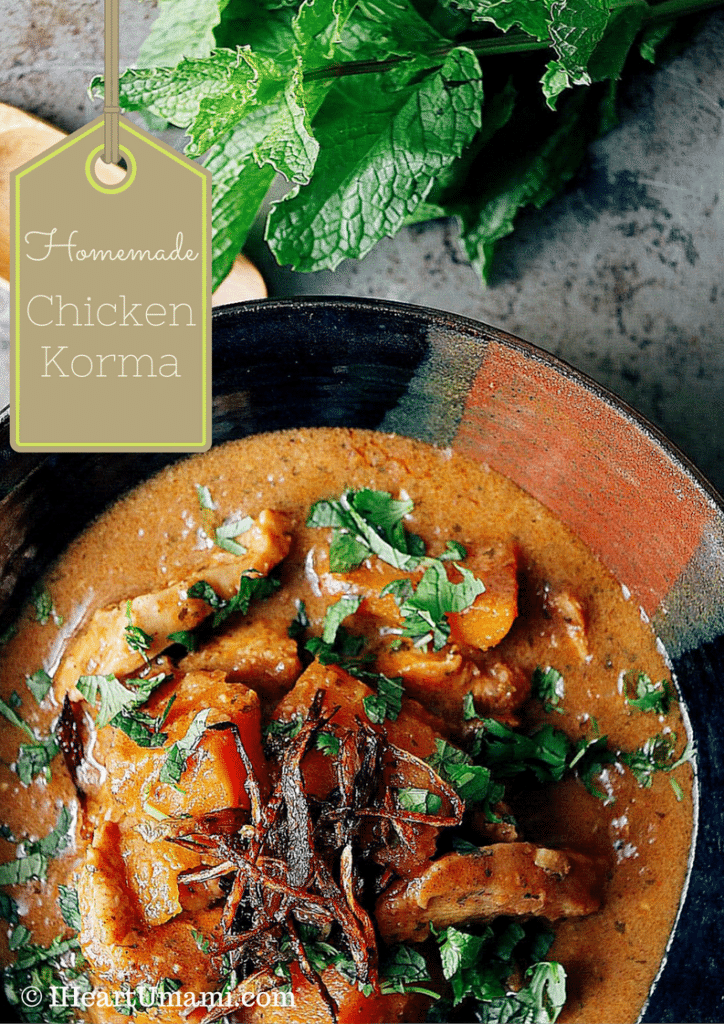 Homamde Chicken Korma
Delicious Homemade Chicken Korma, made with tons of fresh herbs and my secret homemade curry flavor booster that adds so much more flavor to any Paleo curry dish. This dish is also Whole30 curry recipe friendly !
Print
Pin
Rate
Ingredients
2 tbsp Coconut or avocado oil
2 large shallots, , sliced to thin strips lengthwise
5 1/2 tbsp homemade korma paste, , see below
1 ½ lb chicken breast or thighs, , thinly sliced to bite sizes
1 lb pumpkin or butternut squash, , cut into bite-size chunks
14.5 oz full-fat coconut milk
1 tbsp mint leaves, , garnish, finely chopped (optional)
Optional garnish (if making crispy shallots):
1 large shallot, , slice to thin strips lengthwise
Coconut or avocado oil
Instructions
Homemade korma paste:
Use a food processor to blend all ingredients under 'Korma paste' until it becomes a smooth paste. We are going to use about 5-5 ½ tbsp korma paste for 1 ½ lb chicken. Store extra korma pate in the freezer for future use.
Make Chicken Korma Curry:
Heat 2 tbsp oil in a large saucepan or deep frying pan over medium-high heat, when hot, add sliced shallots and 5 to 5 ½ tbsp homemade korma paste. Keep stir-frying the ingredients to prevent them from burning for about 2 minutes until fragrant.

Add sliced chicken. Stir-fry for 4-5 minutes. Add pumpkin or butternut squash and coconut milk. Give it a gentle stir. Cover the pan with a lid and bring to a gentle simmering. Stir the bottom of the pan periodically to prevent food from sticking. Cook until the chicken is cooked through and the squash are fork tender.

(optional) To serve, sprinkle finely chopped mint/cilantro/parsley and topped with crispy shallots.
(Optional Step) Make Crispy Shallots:
Slice 1 large shallot into long thin strips. Heat 2 tbsp coconut or avocado oil in a wok or frying pan over medium/medium-high heat. When hot, add the sliced shallots, season with a small pinch of salt. Pan fry and stir frequently for 8-10 mins or until golden brown. Be careful not to burn the shallots. Use a slotted spoon and scoop them onto a tray lined with paper towel. Spread them out to crisp up further.

Nutrition
Serving: 429g, Calories: 499kcal, Carbohydrates: 16g, Protein: 40g, Fat: 31g, Saturated Fat: 24g, Cholesterol: 108mg, Sodium: 282mg, Potassium: 1425mg, Fiber: 2g, Sugar: 4g, Vitamin A: 10045IU, Vitamin C: 18.6mg, Calcium: 67mg, Iron: 6.6mg
Got an Instant Pot at home? Check out the Instant Pot version of this recipe – Instant Pot Pumpkin Chicken Curry.