Paleo Ginger-Spiced Mixed Nuts
These Paleo Ginger-Spiced Mixed Nuts are perfect for the holiday that is right around the corner. They are fragrant with fresh ginger, Vietnamese cinnamon and lightly toasted in the oven. If you are looking for a perfect holiday gift or even just a lovely treat for yourself, these Paleo Ginger-Spiced Mixed Nuts will be an awesome choice!

Baked v.s. Non-baked items
I love using a variety of nuts and seeds to add color, flavor, and texture. So how to tell what types are good for lightly toasting in the oven and which not ?
An easy way to tell is by the moisture content of the nuts, seeds, or even fruits of your choice.
For example, I use goji berries in the recipe below. Berries contain more water so naturally you'll want to keep them dry without turning soft and mushy.
In this case, bake the goji berries with the nuts together in the oven to reduce the moisture content.
On the contrary, I love adding a bit of cocoa nibs (or unsweetened chocolate) to my mixed nuts. But since chocolate melts under heat and since this is not a chocolate flavor coated mixed nuts, I sprinkle the chocolate over the nuts after they are baked in the oven.
So think of your own choice of ingredients and if you are still not quite sure what to do, test with a small batch before making larger quantities.
Perfect entertaining Snacks
These Paleo ginger-spiced mixed nuts are economical, good for shopping, and a good alternative to many Paleo sweets/desserts.
And they are just simply gorgeous to look at and fun to make.
Watch and share the 1-minute video demo below. It will become one of your favorite homemade holiday spiced nuts recipes!
Save the lovely picture to as many Pinterest boards as you like !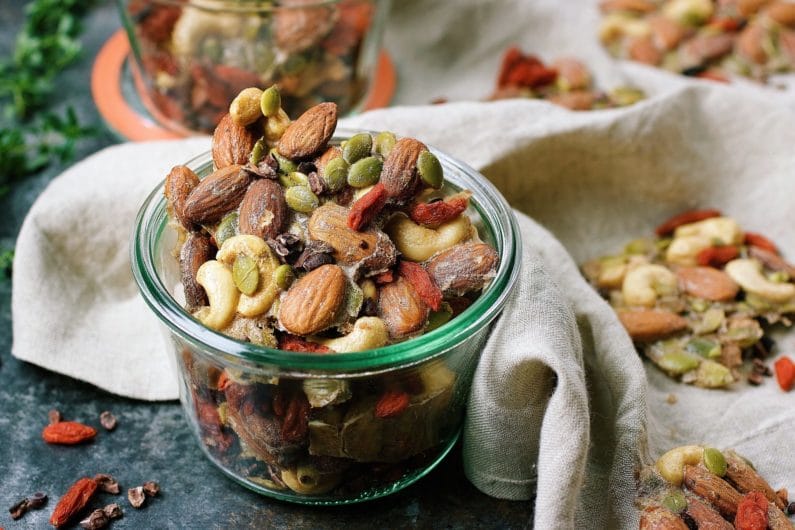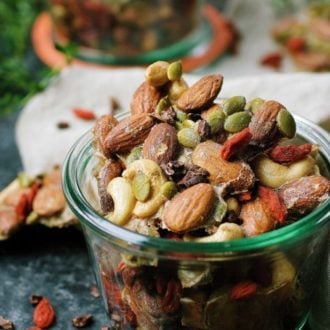 Paleo Ginger-Spiced Mixed Nuts
Delicious homemade Paleo Ginger-Spiced Mixed Nuts with no added sugar, nutritious and delicious. Perfect for holiday and everyday healthy snacks !
Print
Pin
Rate
Ingredients
2 large egg whites
2 cups mixed nuts, raw almonds, cashew, pumpkin seeds, goji berries etc
1 tsp fresh grated ginger
1/2 tsp fine sea salt
1/2 tsp ground Vietnamese cinnamon
Coconut oil spray
Parchment paper
Instructions
Preheat oven to 250F.

Whip egg whites until frothy. Add grated ginger, fine sea salt, and Vietnamese cinnamon. Keep whipping until the mixture is combined well.

Add raw mixed nuts of your choice to the egg white mixture. Stir to coat.

Spray the parchment paper lightly with coconut oil spray. Spread the nuts evenly onto the baking sheet. Bake at 250F for 40 mins until fragrant, rotate the baking sheet pan at half point.

Once the mixed nuts are cooled and hardened, break them into pieces. Store in an airtight container. If the weather is hot, store them in the refrigerator.
Nutrition
Calories: 202kcal