Paleo Curried Chicken Kale Fennel Salad
Paleo Curried Chicken Kale Fennel Salad with Lemon Tahini dressing ! An everyday healthy and delicious grilled curry chicken with thin sliced kale, fennel, and Granny Smith apples in lemony tahini dressing !
This Paleo Curried Chicken Kale Fennel Salad was inspired by a lunch I had the other day nearby the upper west side.
It's simple, light and refreshing. You can enjoy the salad as a main dish or serve it on the side.
This is the dish you'll actually make and include in your meal planning menu for the whole family to enjoy.
So let's get started !!
A quick way to thin slice/chop Kale
I first used a chef's knife to cut/slice the stems away from the Kale leaves. The large full piece of kale leaves make it easier to roll and slice into fine pieces.
Soak the sliced leaves in cold water to loosen any dirt. The leaves will remain vibrant and fresh while you prepare other items. :))
Secret To Tender Juicy Chicken Breast – Paleo Curried Chicken Kale Fennel Salad !
Yes. You need to pound them…Relax chicken ! 😀
Pound the chicken breasts with a flat bottle or a meat pounder. If the chicken breasts are too thick, butterfly them first before pounding. According to the kitchn, this is a great way to make tender juicy chicken breast !
Have You Tried My Famous Curry Flavor Enhancer ?
I marinated the chicken breasts with my homemade curry flavor enhancer plus a few tablespoons of store-bought curry paste.
If you haven't tried my curry flavor enhancer, you are missing out ! I add it to curry stew, hamburger patties, and use it as meat marinade for an insanely delicious flavor punch.
My curry flavor enhancer goes well with green, red, or even yellow curry paste. You can find more recipe examples here and here.
Please be sure to smear/coat the marinade evenly over the chicken breasts and marinate them overnight. It's going to be the best grilled curry chicken breasts you've ever had, really !
Now The Dressing That Tied The Entire Dish Together
You don't think I'll let you go without sharing a killer salad dressing, do you ?
I mixed fresh lemon juice with tahini (pure sesame paste) and a few tablespoons of full fat coconut milk.
It's creamy, smooth, and lemony delicious, and goes perfectly with crunchy Kale, fennel, and slightly tart Granny Smith apples.
So add this Paleo Curried Chicken Kale Fennel Salad to your weekly meal planning. It's going to be so good that you and your family will truly enjoy !!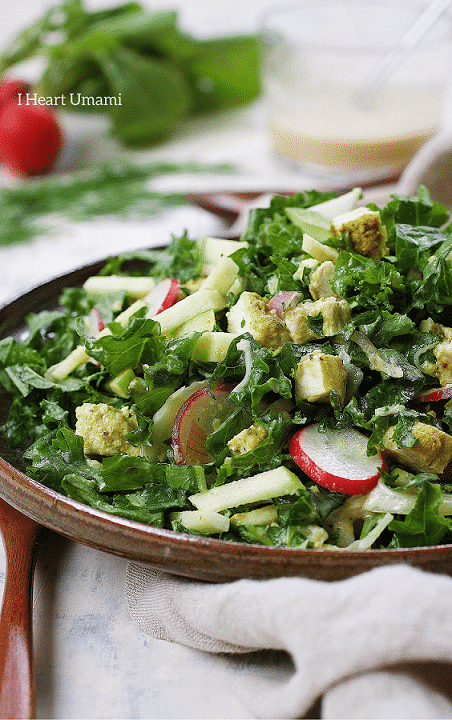 Paleo Curried Chicken Kale Fennel Salad
Light and refreshing Paleo summer kale salad recipe. Perfect meal prep and Whole30 salad recipe !
Marinate the chicken overnight for extra flavor !
Print
Pin
Rate
Ingredients
1 ½ lbs chicken breasts, , boneless skinless
1 bunch curly kale, (about 23 oz. / 1.5 lbs)
Half of one bulb fennel, , thin sliced
2-3 red radishes, , thin sliced
¾ to 1 small granny smith apple, , thin sliced & diced
1 small shallot, , finely chopped
Green curry chicken marinade (for 1.5 lbs chicken breasts):
2 tbsp green curry paste, , store bought (alt. red/yellow curry paste)
3 to 3 ½ heaping tbsp, , homemade curry flavor enhancer *(see recipe below)
Paleo lemon tahini dressing:
3 tbsp tahini paste, , stir-well
3 tbsp lemon juice
2 tbsp water, (use 3-4 tbsp for thinner dressing)
2 tbsp full fat coconut milk, , stir-well
⅛ + ¼ tsp garlic powder
⅛ + ¼ tsp cumin powder
Fine sea salt to taste
Instructions
Chicken: Flatten the chicken breasts and pound to an even thickness with the bottom of a wide jar. Add 2 tbsp store-bought curry paste + 3 to 3 ½ heaping tablespoons homemade curry flavor enhancer. Coat/smear the paste over chicken breasts evenly. Seal and store in an airtight glass container or ziplock bag. Marinate overnight in the fridge.

Grill: Heat the saute pan over medium-high heat with 1 1/2 tbsp ghee. When hot, lower the heat to medium. Slightly drip off the marinade. Add the chicken breasts. Cook for just about 1 minute to get a little golden on one side then flip to cook the other side for another 1 minute. Turn the heat to low, cover the pan, and cook until the chicken is completely cooked through. After the chicken is cooked through, leave the breasts in the pan, cover with a lid, and set aside to cool.*

Chop/Slice/Dice: Fold each kale leaves in half and cut along the stem. Discard the stem and chop leaves to desired size and rinse in a bowl of cold water. Dice/slice apple and radish into thin/small bite sizes. Finely mince 1 shallot. Cut the fennel bulb into quarters and slice crosswise*

Serve: Slice chicken breasts into bite size cubes and toss over kale, apple, radish, shallots, and fennel with lemon tahini dressing. Serve in room temperature or cold.
Notes
Homemade curry flavor enhancer:
(blend everything in a food processor/blender until smooth. Store extra in ice cube trays in the freezer for up to 4 week.)
3 large garlic cloves
1 large shallot
1 small thumb size ginger
1 cup fresh cilantro
2 red or green fresno chili pepper, remove seeds (optional)
Half lime zest + Half lime juice
1 tsp sea salt
½ tsp Red boat fish sauce
2-3 tbsp extra virgin olive oil
TIP: My curry flavor booster is meant to be a bit salty. This mixture will enhance any store-bought curry paste (red, green, or yellow curry paste). Use it with store-bought curry paste and there's no need to add extra seasonings or salt. Add it curry pot, ground meat for burger patties, or chicken/pork marinade.
*How to tell when the chicken breasts are cooked through? Well, it depends on the quantity, thickness of the chicken breasts, the type of saute pan (cast iron or stainless steel), and the stovetop/grill temperature. In general, thin cut (or butterflied) chicken breasts will cook faster than thick slices. When in doubt, use an instant-read thermometer to check (the thickest part of the chicken should be at least 165°F/74°C).
* Use a mandolin slicer for an even finer and thinner cut fennel slices.
Nutrition
Serving: 446g, Calories: 419kcal, Carbohydrates: 29g, Protein: 49g, Fat: 14.1g, Saturated Fat: 3.4g, Cholesterol: 124mg, Sodium: 250mg, Fiber: 13g, Sugar: 9g, Vitamin A: 17350IU, Vitamin C: 293.7mg, Calcium: 370mg, Iron: 5.2mg