Paleo Worcestershire Sauce Hamburger Steak
Paleo Worcestershire Sauce Hamburger Steak ! Super juicy and tender Japanese-style hamburger steak with homemade easy Paleo Worcestershire sauce!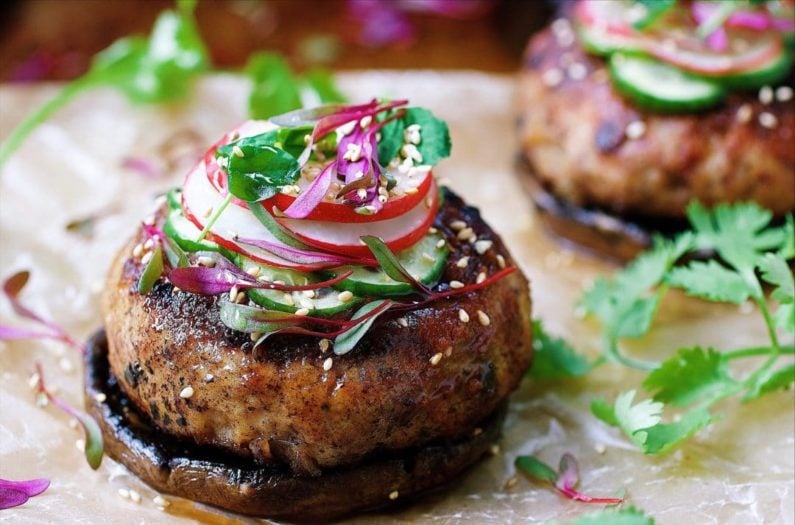 I'm so excited to share this umami-packed Japanese-style hamburger steak with Paleo and Whole30 friendly Worcestershire sauce. Let's just say… one bite and it will change your life. Yup, its that good !
So Hit Play Button below. You absolutely don't want to miss it !
Japanese style Paleo Worcestershire Sauce Hamburger Steak !
I think we all are quite familiar with burger patties and Worcestershire sauce but you probably haven't had Japanese-style Paleo Worcestershire sauce hamburger steak.
If you have had them before, then you know how good they are and I'm here to show you how to make them Paleo, Whole30, and Keto friendly.
Soft, melt-in-your-mouth, hamburger steak
To make the burger patties as soft as baby bottoms, I combine two types of ground meat – 50% ground beef + 50% ground pork.
I sautéed the onions with ghee butter until they're caramelized, before mixing them with the ground meat. It adds extra aroma and sweetness to the patties.
To make the softest, most melt-in-your-mouth burger patties, carefully throw the patty from one hand to the other like the video instructions above. I know it sounds a bit weird – but this will help your hamburger steak stay soft and tender like a baby bottom. :))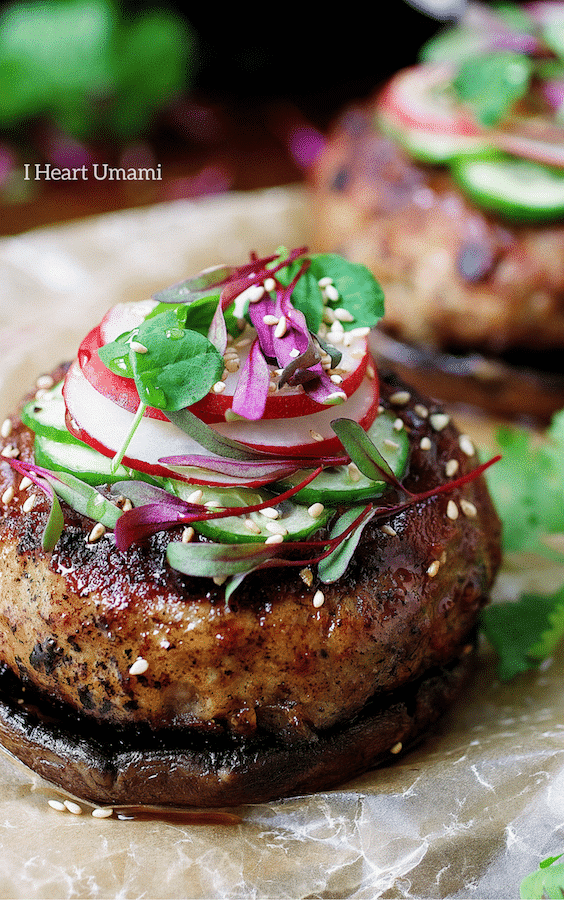 Paleo Worcestershire Sauce
The sauce is traditionally fermented sauce using anchovies and the sugar/molasses/corn syrup contents are really not that great for you – barley malt vinegar, spirit vinegar, molasses, sugar, high-fructose corn syrup, salt, anchovies, tamarind extract, onions, garlic, spice, soy sauce, lemons, pickles and peppers.
That's why I made something better…
I did a little research and found that the Worcestershire sauce recipe from Paleo Leap seems like a great replica version. However, I found that apple cider vinegar is too sharp and sour for a homemade version without adding any sugar/sweeteners. In this case, I used aged balsamic vinegar that gives a much smoother and natural hint of sweetness to the homemade Paleo Worcestershire sauce. Much tastier and healthier for you.
You can make the sauce ahead and use it for any occasions you prefer. Refrigerate the sauce in a glass airtight container. They are good for up to 2 weeks.
So follow the instructions below. Make a big batch of the Paleo Worcestershire Sauce Hamburger Steak. Store and freeze them with parchment or wax paper layered between each patty. When you are ready to eat just defrost and grill !
Leave a comment and rate the recipe below if you've tried any of my recipe(s) so others can learn from you too !

Paleo Worcestershire Sauce Hamburger Steak
Paleo/Whole30/Keto Worcestershire sauce with Japanese-style Hamburger steak. Easy, tasty, juicy hamburger with no added sugar Worcestershire sauce. Perfect for batch cooking and meal planning.
Print
Pin
Rate
Ingredients
Hamburger patties:
2/3 lb ground beef
2/3 lb ground pork
1 small onion, , minced
1 large egg
1/2 cup almond flour
4 tbsp full fat coconut milk (from a can)
1/2 tsp ground nutmeg
Salt and pepper to taste
Homemade Paleo/Whole30 Worcestershire Sauce:
1/2 cup beef stock
3 tbsp tomato paste, , no salt and sugar added
1 tbsp aged balsamic vinegar
2 tbsp coconut aminos
1/4 tsp granulated onion powder
1/4 tsp garlic powder
1/4 tsp granulated mustard powder
1/8 tsp sea salt
1/8 tsp cinnamon powder
1/8 tsp black pepper
Optional add-on items:
4 caps Portobello mushrooms
Cucumber slices
Small red radish slices
Instructions
Make burger patties:
Dice 1 small onion into small chunks. Saute in a skillet over medium heat with ghee until golden and soft. Season with a small pinch of salt and black pepper.

In a large mixing bowl, combine ground beef and pork, sauteed onion, 1 egg, ½ cup almond flour, coconut milk, and nutmeg. Season with salt and pepper. Mix everything well with your hand.

Take a portion and form into a patty, then throw it from one palm of your hand to the other several times as if you are hitting the patty. This will enhance the texture of the patty and hold its shape during the cooking. Repeat the rest of the patties (about 5-6 patties). Gently press the center of the patties with your finger to leave indentation.
Cook patties:
Cook: Heat a large skillet with 1 tbsp ghee or cooking fat of your choice. When hot, lower the heat to medium. Add the patties to sear the outside, about 2-3 mins. Per side.

Reduce the heat to medium-low and continue to cook until the patties are completely cooked through. You can cover with a lid leaving a little opening for the steam to escape. This will ensure to cook the patties all the way. Remove the patties to a plate and keep warm.
Paleo/Whole30 Worcestershire Sauce:
Combine all ingredients listed under "Paleo worcestershire sauce"below in a saucepan. Bring to a simmer over medium-low heat, uncovered,and stir frequently. Let simmer for a couple of minutes. Remove from heat, let cool.
Add-on: (optional items)
Mushrooms: Brush the portobello mushroom caps with olive oil. Season with salt and pepper. Grill over medium heat until the mushrooms turn softer. Serve immediately with Worcestershire sauce, sliced cucumbers and small red radishes (optional).
Notes
Tip: if the ground meat mixture is too wet to form patties, let it sit in the fridge for 5-10 minutes. If it's still too wet, add a bit more almond flour. The texture should be soft - like a baby bottom :))
Nutrition
Serving: 165g, Calories: 270kcal, Carbohydrates: 4g, Protein: 21g, Fat: 18.8g, Saturated Fat: 7.6g, Trans Fat: 0.5g, Cholesterol: 96mg, Sodium: 344mg, Fiber: 1g, Sugar: 2g, Vitamin A: 150IU, Vitamin C: 4.1mg, Calcium: 30mg, Iron: 2.3mg
Nutrition Facts
Paleo Worcestershire Sauce Hamburger Steak
Amount Per Serving (165 g)
Calories 270 Calories from Fat 169
% Daily Value*
Fat 18.8g29%
Saturated Fat 7.6g48%
Trans Fat 0.5g
Cholesterol 96mg32%
Sodium 344mg15%
Carbohydrates 4g1%
Fiber 1g4%
Sugar 2g2%
Protein 21g42%
Vitamin A 150IU3%
Vitamin C 4.1mg5%
Calcium 30mg3%
Iron 2.3mg13%
* Percent Daily Values are based on a 2000 calorie diet.