Whole30 Oven Roasted Crispy Potatoes
Real Crispy Whole30 Oven Roasted Crispy Potatoes infused with rosemary and thyme. These Whole30 crispy roasted potatoes are crispy outside and creamy inside. Perfect healthy Thanksgiving/ Holiday side dish everyone will love in the family!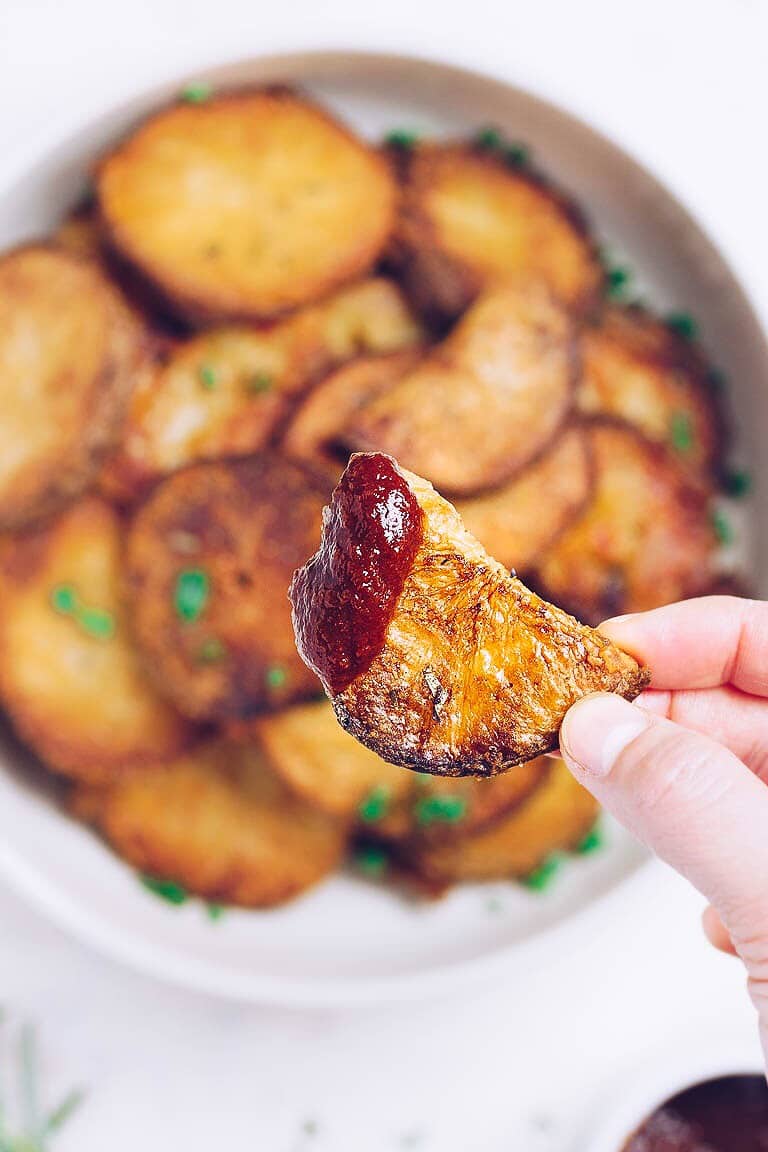 Whole30 oven roasted crispy potatoes
I love oven roasted crispy potatoes and today's recipe is adapted from America's test kitchen with my own twist to make the potatoes truly flavorful and irresistible!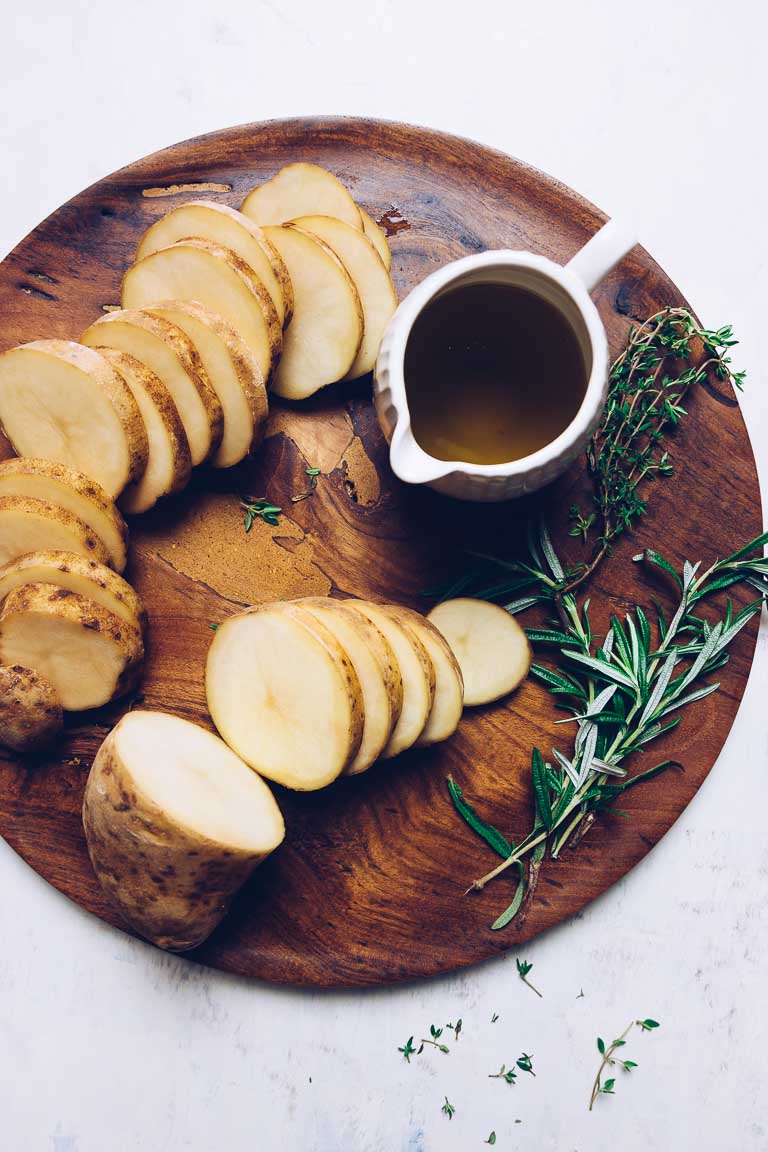 Super Crispy Outside & Creamy Inside
There are many ways to roast potatoes however to make them truly crispy without deep frying it requires a few simple techniques. These Whole30 oven roasted crispy potatoes are super crispy outside and creamy inside. I love how healthy they are, using simple ingredients and fragrant with rosemary and thyme.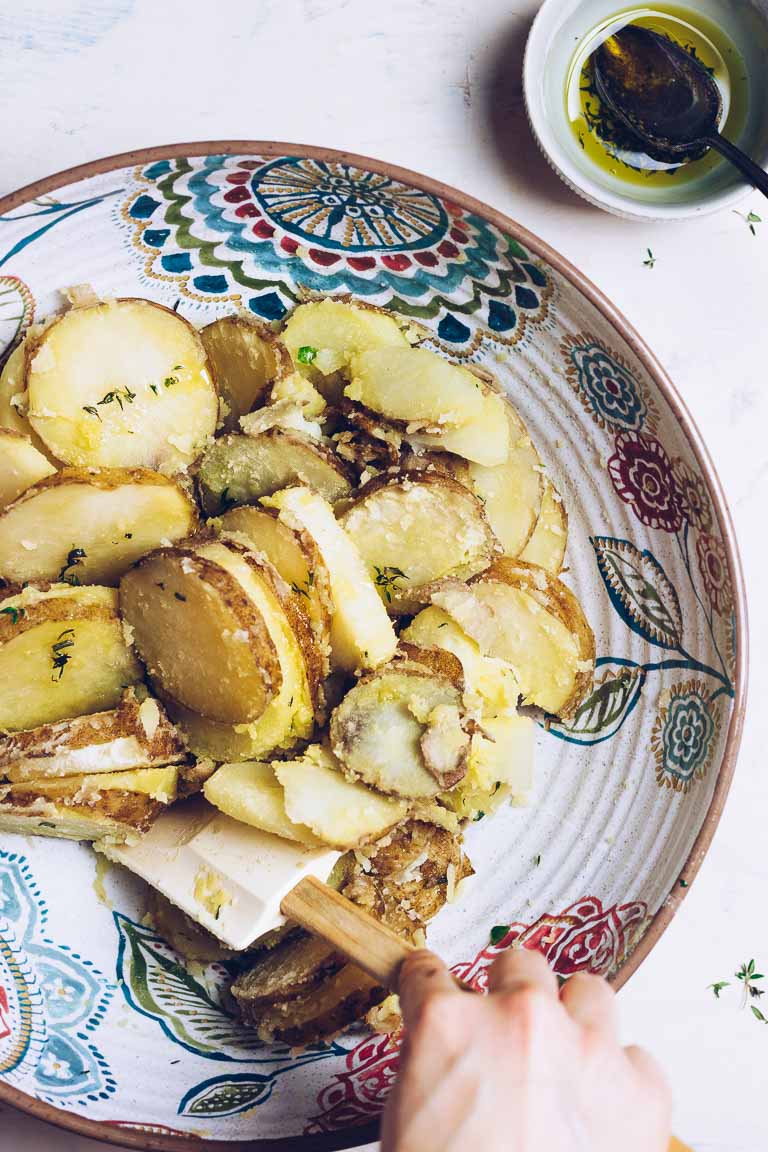 How to make crispy oven roasted potatoes
To make real crispy roasted potatoes it relies on two elements – real hot sheet pan & badly boiled potatoes. What does that mean?
When warming up the oven, place the sheet pan in the oven at the same time so that the pan will be nice and hot. The pan will act as a hot plate to help crisp up the potato surface.
Partially boiled potatoes will help release the starch content.
Vigorously tossing the potatoes to create rough potato surface and along with the starch they turn crispy in the oven.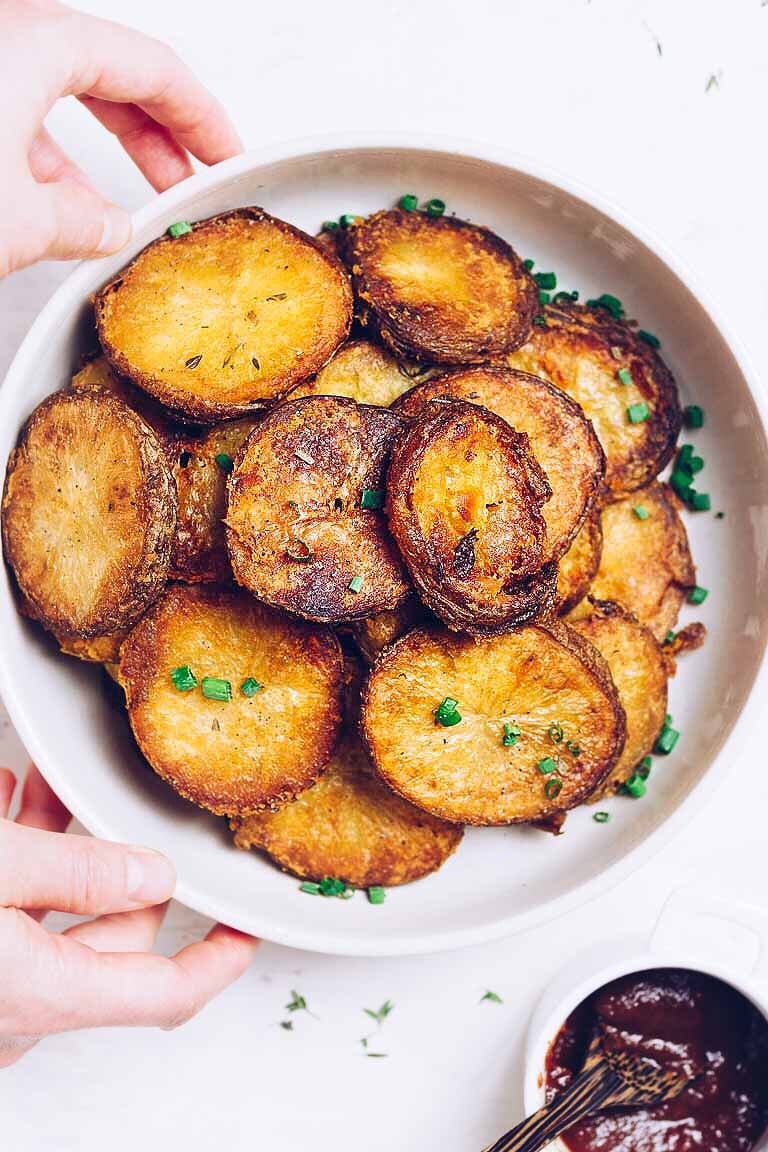 Rosemary and Thyme Fragrant Crispy Potatoes
To give the potatoes extra flavor, I slightly warm up the olive oil with rosemary and thyme and use the fragrant oil to toss the boiled potatoes. You can smell the lovely herb fragrant as you toss and coat the oil over each potato rounds and once they are in the oven, it makes the house smell so good!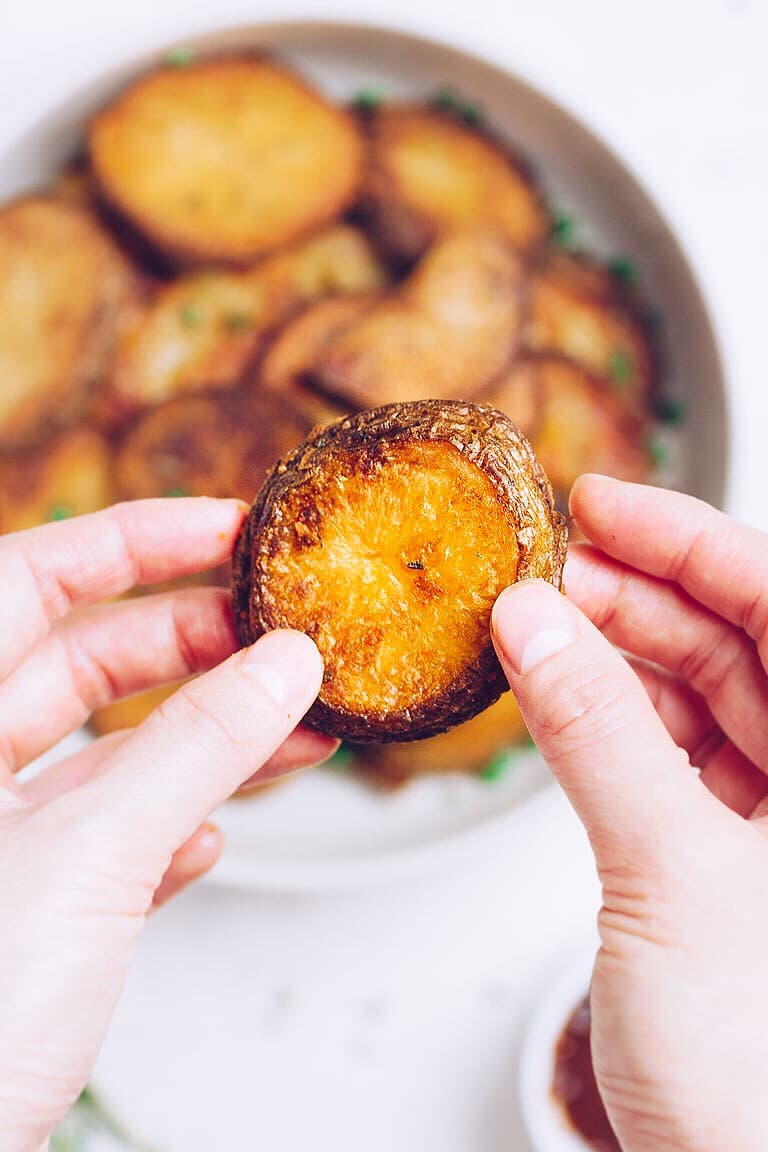 Perfect Whole30 Thanksgiving/Holiday Sides
I recommend using oven mitten the whole time when handling super hot sheet pan and hot boiled potatoes. You can use any dipping sauce you like from Paleo Ketchup to my Paleo and Whole30 Korean  Gochujang or simply enjoy them alone without any dipping sauce.
Best of all, they are perfect for make ahead thanksgiving holiday meals. A quick reheat in the oven they are bounce back to life. How awesome is that?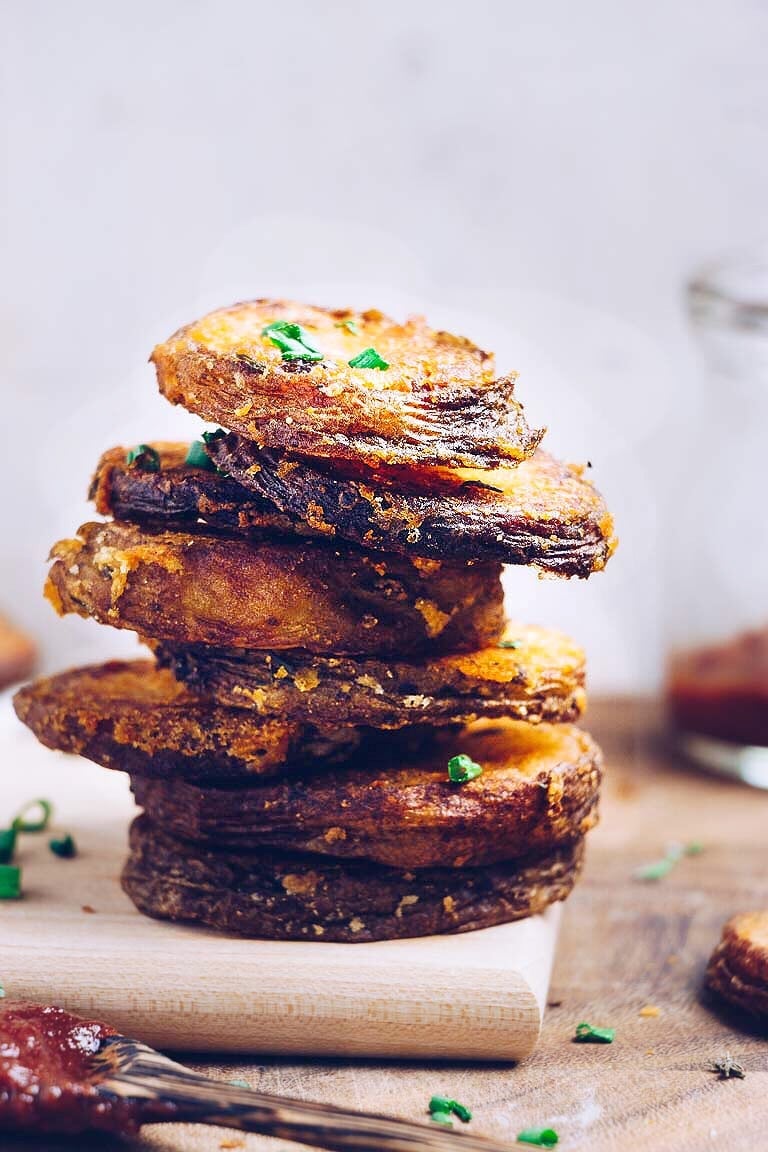 So my dear readers these Whole30 oven roasted crispy potatoes are
Oven roasted
Crispy outside & creamy inside
Fragrant with rosemary & thyme
& perfect thanksgiving and holiday side dishes!
If you give this Whole30 oven roasted crispy potatoes a try be sure to rate the recipe and leave a comment below. It'll help me and my blog tremendously. Thanks in advance!
Like what you see? Subscribe to my blog to get my Free 3-part video training guide on How to make 10 mouthwatering Paleo meals in less than 10 minutes each!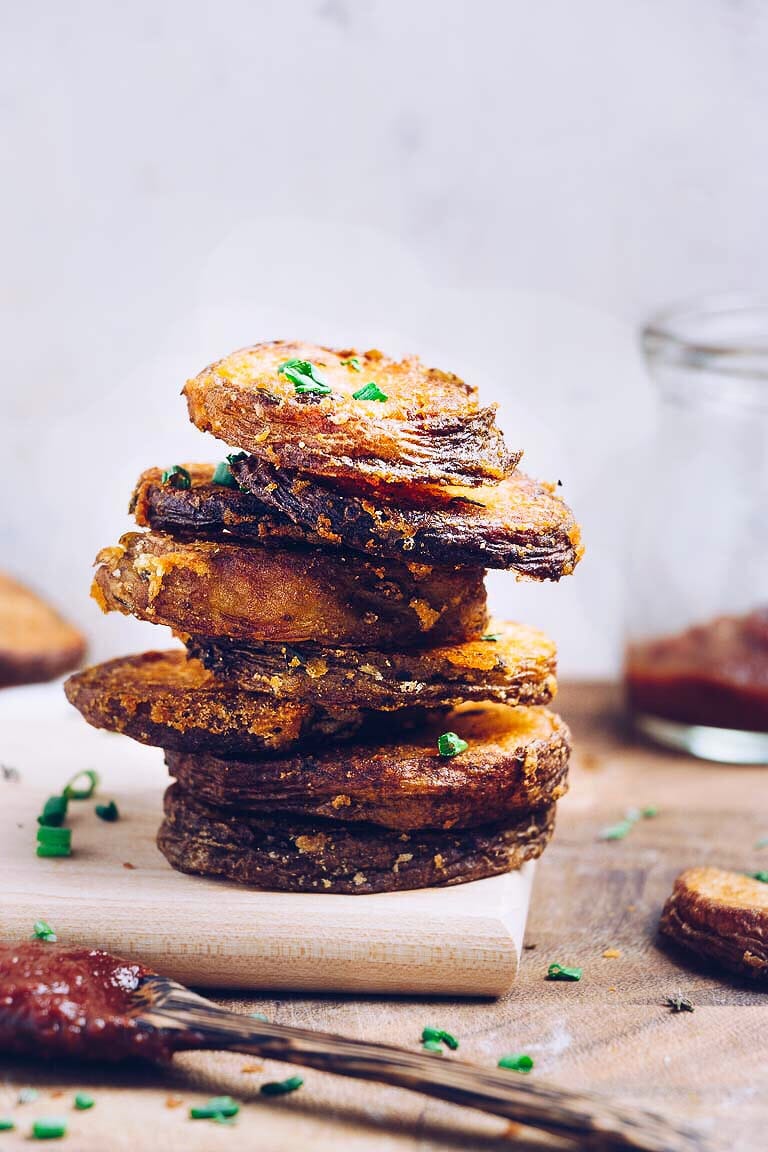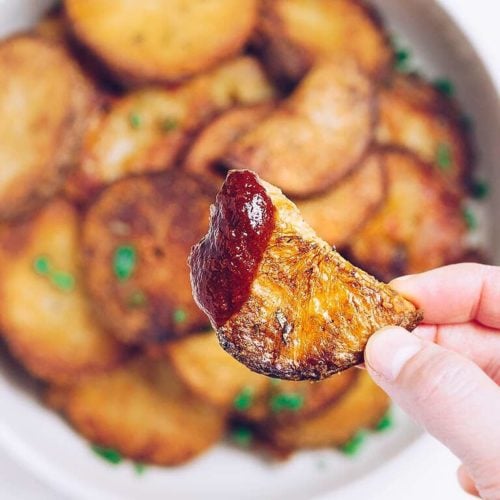 Whole30 Oven Roasted Crispy Potatoes
Whole30 Oven Roasted Crispy Potatoes with rosemary and thyme flavor. These Whole30 roasted potatoes are crispy outside and creamy inside. Perfect healthy Thanksgiving/Holiday side dish!
Print
Pin
Rate
Ingredients
2.5 lbs russet potatoes, un-peeled, cut into ½-inch thick slices (pick potatoes on the smaller side tube shape)
½ tsp baking soda
5 tbsp extra virgin olive oil, ghee, or duck fat
1 tbsp Fresh rosemary, finely chopped
½ tbsp Fresh thyme, finely chopped
2 tbsp Fresh chives, chopped (garnish)
Instructions
Preheat sheetpan & Boil water: Adjust oven rack to lowest position. Place large rimmed baking sheet pan on the bottom rack, unlined, and heat oven to 450F. Bring a large pot of water (about 2 liters) to boil.

Part-boil potato rounds: Add ½ tsp baking soda and potato slices to the boiling water. Stir, cover, and return to boil (about 7-8 mins), lower the heat to simmer, and cook for 1 minute or until the center of the potato offers resistance when poked with a paring knife. Set the potatoes aside to drain well.

Make herb infused oil: In the meantime, slightly warm up olive oil, ghee, or duck fat in a saucepan with rosemary and thyme. Season with a small pinch of salt, stir constantly so that the herbs won't get burnt, about 30 seconds.

Toss & rough up the potato rounds: While the potatoes and the oil are still hot, in a large heatproof bowl, toss boiled potatoes with 2 tbsp rosemary & thyme infused oil and ½ tsp coarse salt, use a rubber spatula to vigorously toss and combine. The salt and oil in combination with the toss will create rough potato surface thus they turn crispy in the oven. Repeat the step with 2 more tbsp infused oil and ½ tsp coarse salt. Toss and combine until the exterior of the potatoes are coated with starchy paste (about 1-2 minutes).

Bake: Use an oven mitts to carefully take the hot sheet pan out of the oven. Grease the sheet pan with the remainder of the infused oil. Spread the potatoes evenly over with some gap between each slice and try not to overlap. Bake for 15 to 20 minutes, rotate the sheet pan after 10 minutes.

Bake flip side: Remove sheet pan from oven and use a metal spatula to loosen and flip the potatoes. Continue to roast until the flip side (second side) is golden crispy, about 10 to 20 minutes.

Garnish: Season with salt and pepper to taste and garnish with chive. Serve hot and immediately.
Notes
The crispy potatoes taste great without any dipping sauce but feel free to dip them in any sauce you like!   To make ahead - complete the entire cooking steps. Let cool and pack the potato slices in freezer friendly bags or containers. To reheat - bake at 450F (or 425F for convection oven), middle rack for about 10 minutes total, flip after 5 minutes to reheat the second side.
Nutrition
Serving: 1serving, Calories: 253kcal, Carbohydrates: 34g, Protein: 4g, Fat: 11g, Saturated Fat: 1g, Sodium: 114mg, Potassium: 788mg, Fiber: 2g, Sugar: 1g, Vitamin A: 70IU, Vitamin C: 12.3mg, Calcium: 27mg, Iron: 1.8mg
Looking for more healthy Thanksgiving or Holiday side dishes? Check out my Bacon Wrapped Green Bean Bundles, Herb Stuffed Cheesy Mushrooms, and Lemon Garlic Broccoli Florets!