Paleo Thai Sweet Chili Salmon Tabbouleh
Paleo Thai Sweet Chili Salmon Tabbouleh – a perfect dish that looks great for the holiday but also works perfectly for "everyday".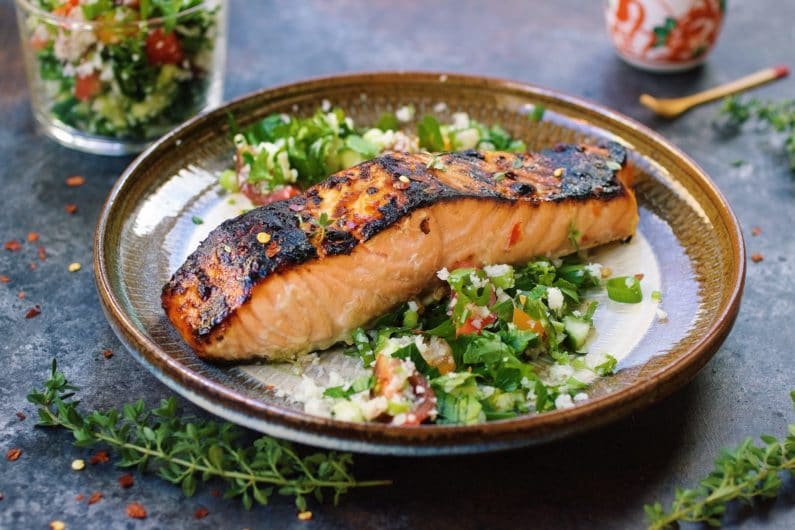 I've been meaning to share more Paleo Asian-inspired seafood dishes on the blog. Given that I didn't grow up in the U.S., I was struggling to figure out what people usually eat on Christmas Eve and Christmas Day.
I quietly took a picture of this Paleo Thai sweet chili salmon Tabbouleh and tested it with my friends on Facebook to see what people's reactions were about serving baked salmon on holiday.
Do you love salmon ? Or are you perhaps thinking you'll serve another main dish to accommodate your guests for the holiday ?
Save my recipe to as many Pinterest boards as you like for later !
This Paleo Thai Sweet Chili Salmon Tabbouleh is a nutritious and delicious dish that requires minimal effort to impress your seafood loving friends!
I even paired it with an super uber delicious side dish – Paleo Tabbouleh – that tastes just like the real tabbouleh but which is grain and wheat free.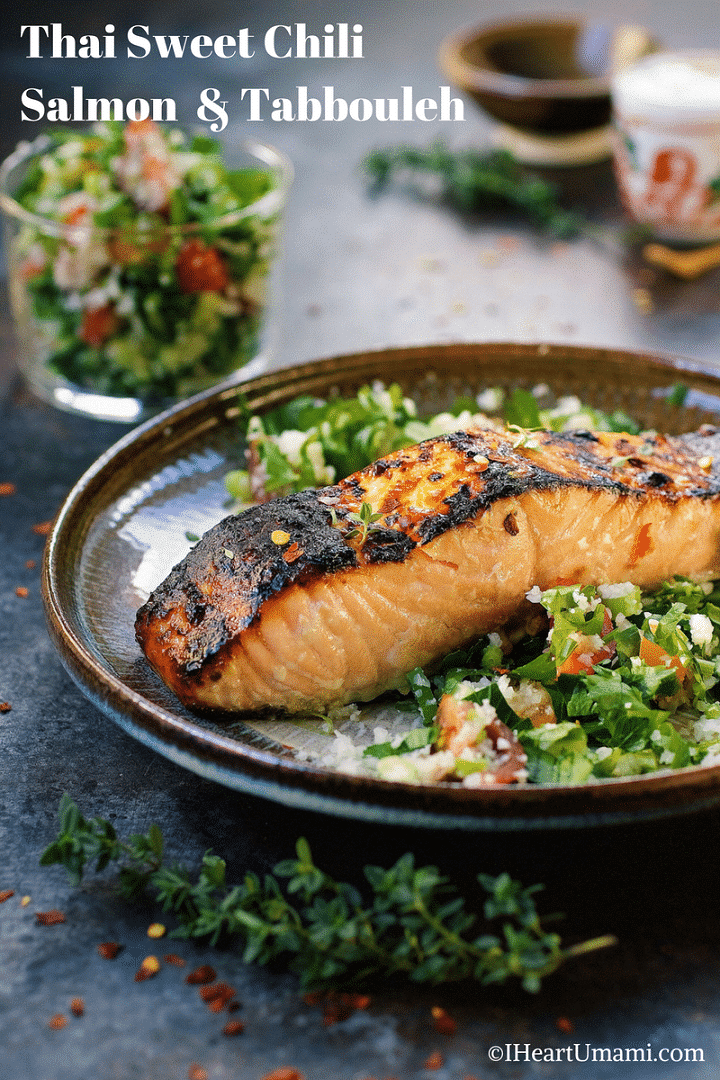 Read on to get the Thai Sweet Chili Salmon Tabbouleh – two recipes!
How to watch your sugar intake and still enjoy Thai Sweet Chili Salmon Tabbouleh
Now, most recipes on the net use sugar, coconut sugar, or honey to make Thai sweet chili sauce but if you want to watch your sugar intake, an alternative way is to utilize and manipulate fresh fruit juice through cooking methods.
Juice from fresh cut pineapples are the best for this dish but if you want to cut down on prep time, you can use store-bought canned pineapple chunks soaked in pure pineapple juice (not in syrup) like this one.
Once you reduce the juice, it will bring out the natural sugar content and will taste as delicious as other sweeteners.
Tips on making golden delicious Thai Sweet Chili Salmon Tabbouleh
Please marinate the fish overnight.
Place skin-side-up (if your salmon fillets' skin is not removed) so the fish will drink up all the yummy sweet sauce before baking.
Now every household's oven temperature differs. If the fish is too close to the heat source, it will broil too fast in the oven. If it's too far from the coils, it will be harder to get that gorgeous golden color.
A general rule of thumb is about 5-6 inches/ 13-15 cm below the heat source. Rotate the baking sheet pan at half baking time point to ensure even baking.
Tips on making Grain Free Paleo Tabbouleh
The trick to make crunchy and flavorful Paleo Tabbouleh is to remove the cauliflower's water content as much as possible.
Microwave the "riced" cauliflower on high for 2 minutes and once it's cool to-the-touch , use a cheesecloth or your hand to gently squeeze out water.
Why are we doing this ?
It will make your Paleo Tabbouleh stay fresher and crunchier longer in the fridge.
The cauliflower rice will absorb more flavor from the dressing and thus more flavorful.
By doing this, you can make Cauliflower Paleo Tabbouleh up to 2 days ahead and add the dressing before serving.
If you enjoy this article or have tried any of my free but awesome recipes, please do me a favor – Leave a comment and rate the recipe in the comment section below.
It will help me tremendously.
Wishing you all a wonderful holiday and thank you for spending time here with me. :))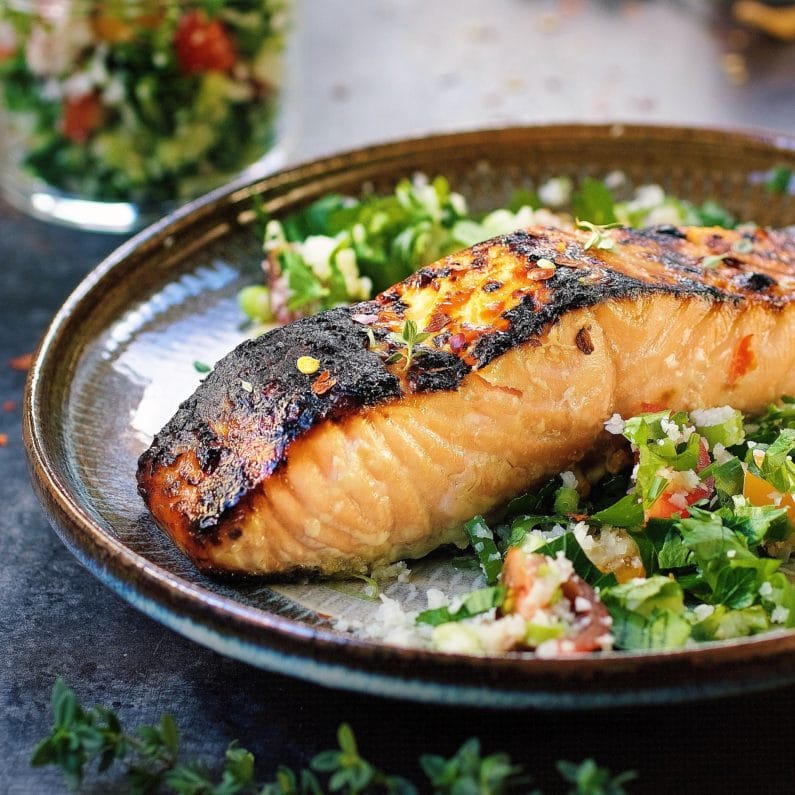 Paleo Thai Sweet Chili Salmon Tabbouleh
Paleo Thai Sweet Chili Salmon Tabbouleh (Tabouli) ! Delicious salmon filet marinaded in Thai sweet chili sauce. Perfect holiday and easy weeknight dinner to go with my grain-free Paleo tabbouleh. 🙂

Print
Pin
Rate
Ingredients
5 6 oz. atlantic salmon fillets, skin on or off
Thai sweet chili sauce:
1 cup fresh pineapple juice
1 medium size garlic clove, grated
1/2 tbsp fresh ginger, grated
Half one whole lime juice
1 tbsp California red fresno chili pepper, seeds removed, finely chopped
1/2 tsp fine sea salt
1 tsp arrowroot powder, (alt. sweet potato powder)
Instructions
Add pineapple and lime juice to a sauce pan with garlic, ginger, and sea salt. Bring it to boil. Thicken the sauce with 1 tsp arrowroot powder. Stir until no lumps. Set the sauce aside to cool.

Cover the fish fillets with sweet chili sauce. Place the fillets skin side down and marinade the fillets overnight.

Spray cooking spray over parchment paper and cover a large baking sheet pan with parchment paper. Place fish fillets skin side down. Brush more sweet chili sauce.

Position top oven rack about 5-6 inch below the heat source and boil for 6 minutes total on high. Rotate the baking sheet pan at halfway baking time point (at 3-minute mark) to ensure even baking.

After 6 mins, brush on more sweet chili sauce and boil for another 2 additional minutes or until the fish is caramelized.

Serve with paleo tabbouleh (see recipe below)
Nutrition
Calories: 273kcal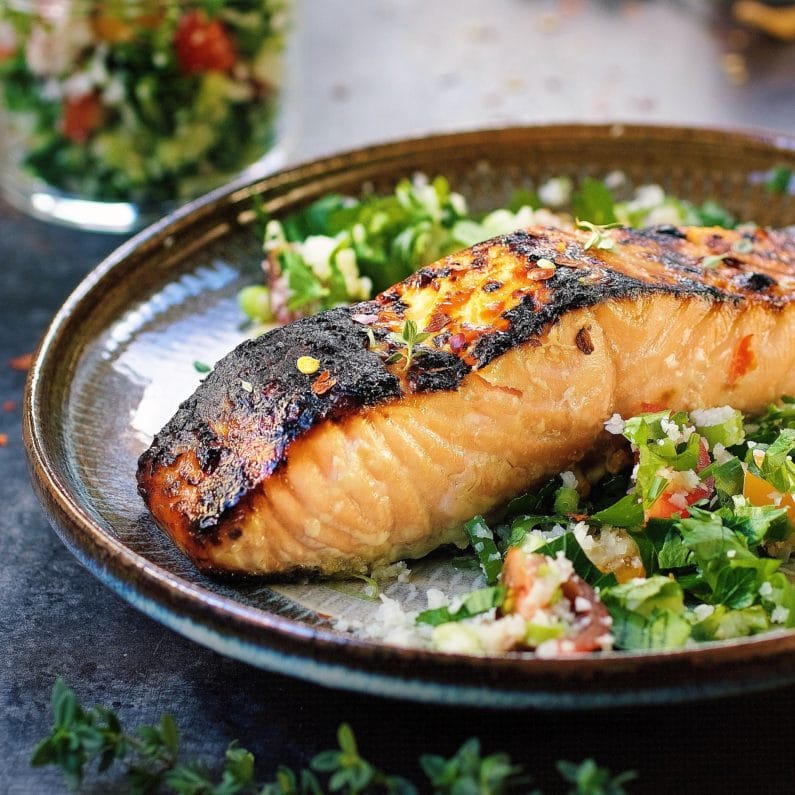 Paleo Tabbouleh (Tabouli)
Paleo Tabbouleh (Tabouli). Paleo grain-free cauliflower tabouli. This Paleo Tabouli recipe uses one simple method to make cauliflower tabouli super flavorful and stay fresh longer in the fridge. Follow the recipe below to experience this wonderful and beautiful side dish.
Print
Pin
Rate
Ingredients
2 cups + a bit more cauliflower rice
2 small persian cucumbers, diced
1 cup cherry tomatoes, diced
1 large bundle flat parsley, chopped
1/4 cup mint leaves, chopped
1/3 cup scallions, chopped
1 small shallot, finely chopped
Instructions
Process the cauliflower in a food processor until it reaches roughly the size of rice grains. Microwave on high for 2 minutes in a microwave safe container. Once it's cooled, gently squeeze out the water using a cheese cloth or hand. Set aside.

Chop cucumbers, tomatoes, parsley, mint, scallions, and shallots.

Mix well the dressing and combine everything together.
Notes
Tip: This Paleo Tabbouleh can be made 1 to 2 days ahead. If you follow step 1 to remove the water content of the cauliflower, the tabbouleh will last fresh and crunchy longer. Only combine the dressing right before serving to ensure fresh texture and taste !
Nutrition
Calories: 127kcal