Paleo Detox Green Soup
Paleo Detox Green Soup – a Whole30, Keto, AIP, and even Vegan friendly recipe !
This Paleo Detox Green Soup was invented because I had vegetable scraps in the fridge and was craving a green, almost smoothie-like recipe.
The dry-heat-plus-rich-food of the winter have made me crave something light and refreshing and to keep my body and skin hydrated.
This Paleo Detox Green Soup couldn't be simpler to put together. The cooking steps are quite similar to my Paleo Cauliflower Cream Chowder.
I've made this soup with chicken and vegetable stock. In my opinion, I feel vegetable stock makes the tastiest Paleo Detox Green Soup.
You can serve it warm or slightly chilled to allow your taste buds to experience the clean and refreshing flavor.
The color turns vibrant green when you blend the baby spinach and flat parsley together. It's an awesome way to incorporate more vegetables into your diet.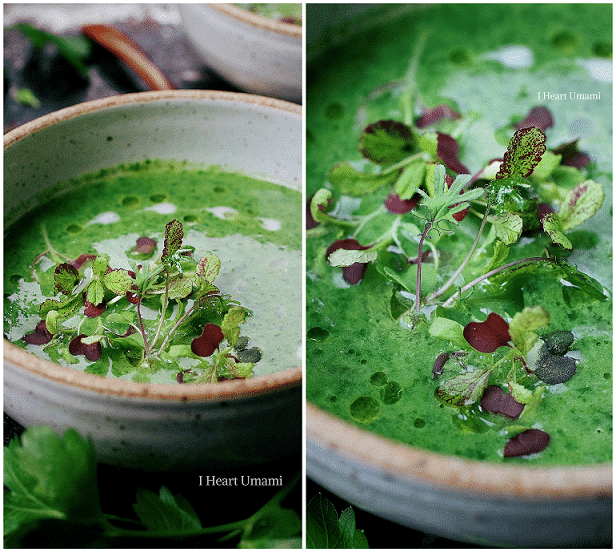 The Detox Green Soup that Soothes Your Stomach, Rich in Vitamins and Antioxidants
When my husband, Nate, and I were sick a few weeks ago, this Paleo Detox Green Soup was the only food we could put into our stomachs without upsetting them further.
According to medical news today, "spinach is an excellent source of vitamin K, vitamin A (in the form of carotenoids), manganese, folate, magnesium, iron, copper, vitamin B2, vitamin B6, vitamin E, calcium, potassium and vitamin C. It is a very good source of dietary fiber, phosphorus, vitamin B1, zinc, protein and choline".
It's best to buy organic spinach whenever possible and wash it well before using it. When purchasing spinach, look for vibrant, deep green leaves and avoid any leaves that look wilted or which have brown spots.
Parsley "strengthens the Immune System: The vitamins, minerals, and antioxidants found in parsley are helpful for strengthening immunity. Vitamins such as vitamin C, vitamin A, vitamin K, folate, and niacin each act on different aspects of the immune system", according to Organicfacts.net.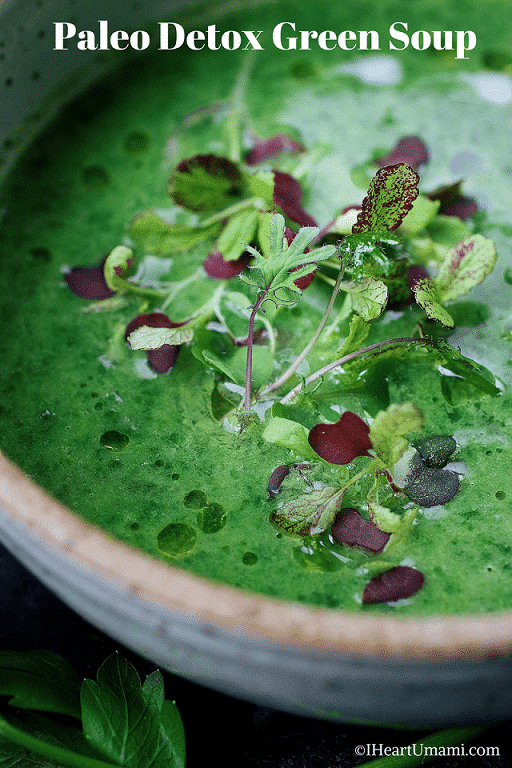 Another way to make the Paleo Detox Green Soup more hearty is to add avocado slices and coconut milk/cream. It will add good fat to your diet and it tastes lovely both warm and chilled.
So next time if you know someone who's not feeling well or if you just want some leafy green vitamin boost, my Paleo Detox Green Soup recipe will come in handy!
If you have tried any of my recipes, please leave a comment and rate the recipe at the end of the article so others can learn from you as well! Thanks in advance!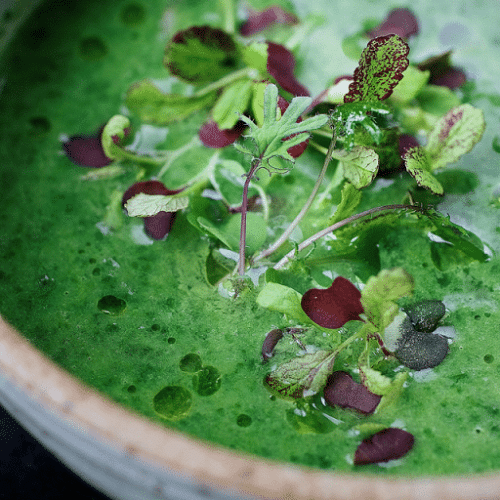 Paleo Detox Green Soup
Paleo Detox Green Soup – a Whole30, Keto, AIP, and even Vegan friendly recipe ! This smoothie-like green recipe is packed with tons of vitamins and antioxidants. It's so smooth and refreshing and very good for your skin. Serve both warm and chilled.
Print
Pin
Rate
Ingredients
2 1/2 Large Handful baby spinach, washed clean and pat dry
1 cup Italian flat parsley, chopped
2 cups cauliflower florets
Half of one whole yellow onion, medium size diced
1/2 tsp fresh grated ginger
2 cups Vegetable stock
1 tbsp coconut cream
Salt and pepper to taste
1 tbsp Cooking fat of your choice, saute vegetables
Instructions
Heat 1 tbsp cooking fat of your choice in a medium to large size soup pot, when hot, lower the heat to medium, add diced yellow onion. Season with a small pinch of salt. Saute until fragrant.

Add diced cauliflower florets. Add another small pinch of salt. Keep sauteing until the florets turn softer.

Add vegetable stock. Cover the soup pot with a lid and bring it to boil.

Once the vegetables turn very soft, add baby spinach, flat parsley, grated ginger, and coconut cream. Stir the soup pot for a few additional seconds until the spinach and parsley turn slightly wilted. Turn off the heat.

Blend the soup with an immersion blender or a regular stand blender until creamy and smooth.

Drizzle with olive oil, coconut cream, and top with micro-greens (optional).
Notes
Drizzle with lemon infused olive oil before serving for extra flavor boost !
Add some good fat with avocado and coconut cream.
The soup tastes even better in room or slightly chilled temperature, making it perfect to combat the dry heat in the winter or hot summer day weather.
You can freeze the soup and defrost it in the fridge for a quick and refreshing meal.   
Nutrition
Serving: 229g, Calories: 88kcal, Carbohydrates: 7g, Protein: 2g, Fat: 6.2g, Saturated Fat: 1.9g, Sodium: 900mg, Fiber: 2g, Sugar: 3g, Vitamin A: 3650IU, Vitamin C: 71.8mg, Calcium: 60mg, Iron: 2mg