My Moroccan Spaghetti Meatballs
Paleo Moroccan Spaghetti Meatballs.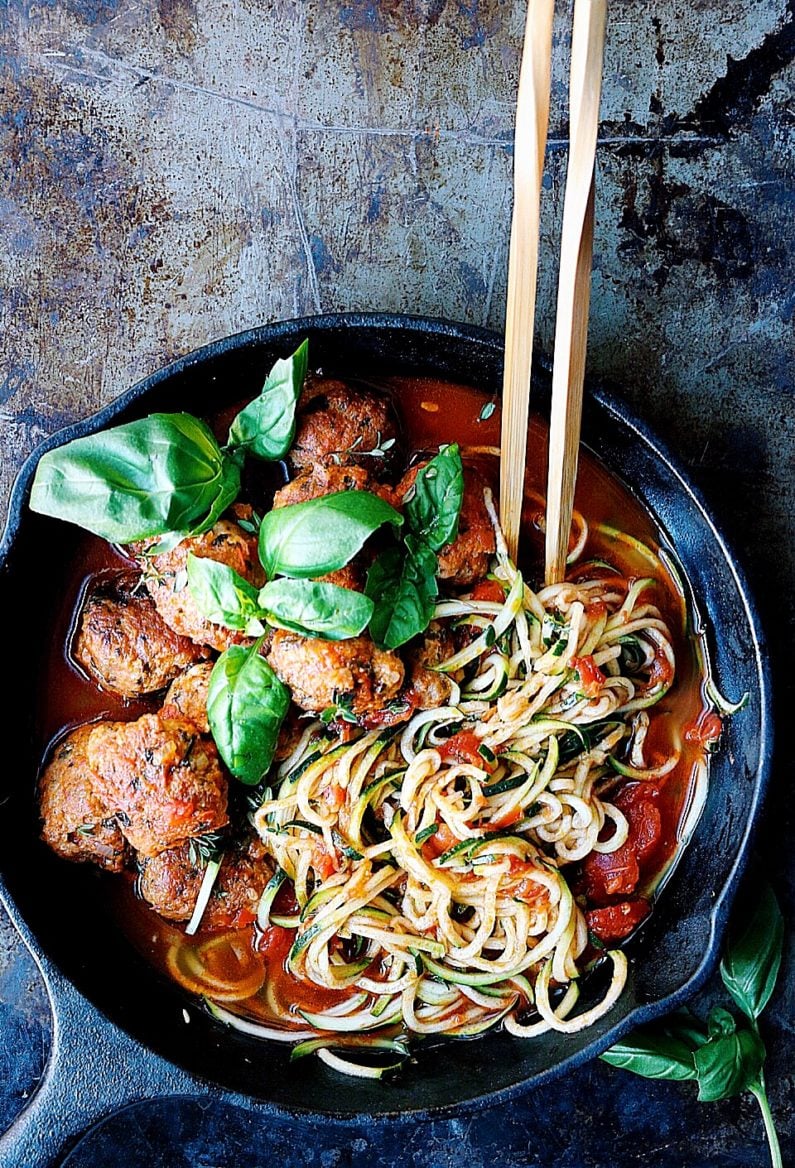 I'm taking a little detour from Asian cuisine today to discover the magic of Moroccan food.
My friend Teri at NoCrumbsleft and her friend from Mina very generously sent me this beautiful jar of magic wonder: Harissa – Moroccan Red Pepper sauce.
You know I rarely promote brands and if I do it's because they 1) are paleo compliant, 2) taste awesome, and 3) frankly speaking, will make your life easier.
I trust my friend Teri's taste and opinions when it comes to sauce and food selections so when she recommended this harissa to me, I immediately thought a bowl of spaghetti and meatballs would go superbly well with this beautiful sauce.
Normally when I make homemade spaghetti sauce, I'd add extra spices to make the sauce more tasty. Surprisingly, this is not necessary with this little jar of wonder.
All I had to do was add a few tablespoons of harissa sauce to a can of diced tomato, toss in a little bit of sea salt and olive oil, and the sauce was ready to go.
To add some extra protein, I seared the meatballs to golden brown before adding them to the sauce for simmering. Then I mixed with my all-time favorite zucchini noodles. Voila ! My Moroccan Spaghetti and Meatballs was ready in no time.
I can think of using this sauce for many things – dipping sauce, sandwich spread, to add on top of crispy fried eggs …:etc.
If you can get your hands on this little jar of magic wonder, I highly recommend you give it a try.
If you are curious about the ingredient list for Mina's harissa, I have included the content below.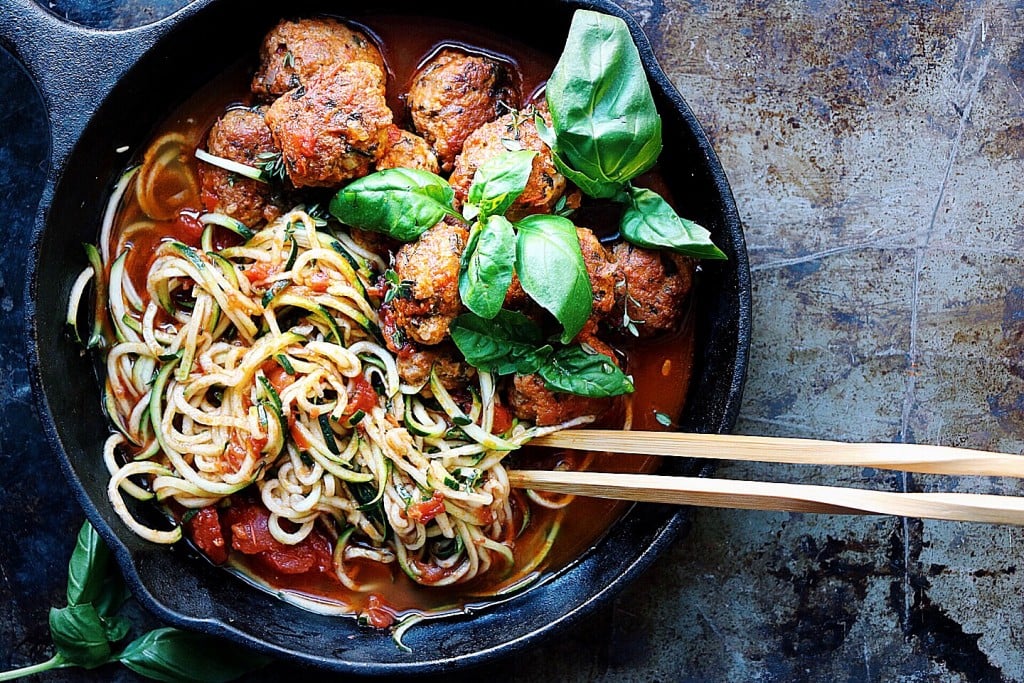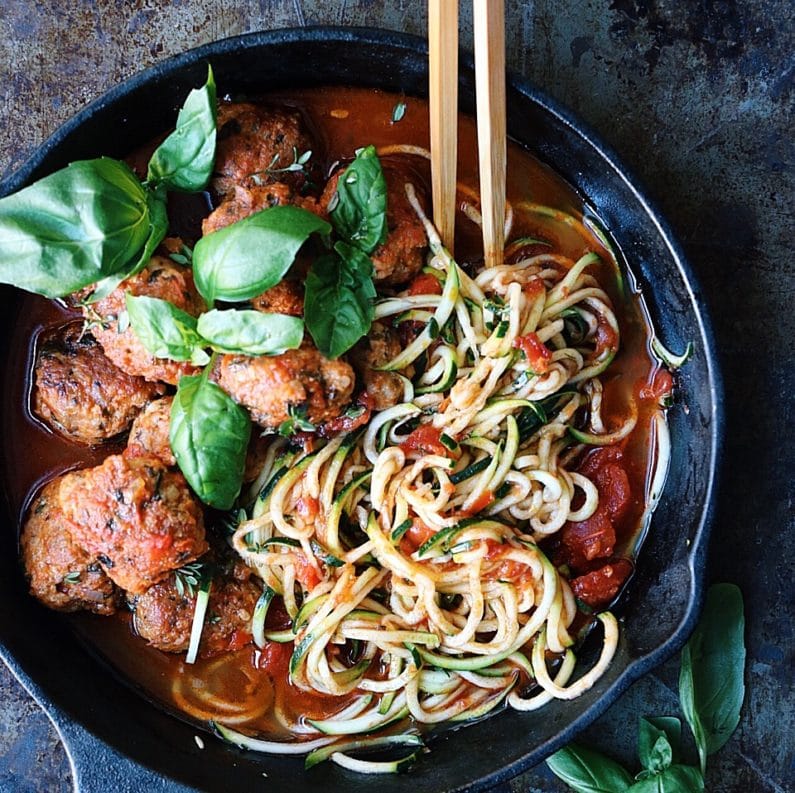 Paleo Moroccan Spaghetti Meatballs
A delicious and easy way to enjoy Paleo Moroccan Spaghetti Meatballs with no added sugar, low calorie, using homemade harissa tomato sauce and zucchini noodles. Paleo, Whole30, Ket, recipe.
Print
Pin
Rate
Ingredients
Meatballs -
1 lb ground pork, (80% lean, 20% fat)
3 cloves garlic, minced
1 medium size shallot, minced
1 tsp dry red chili pepper flakes
1 ½ tsp sea salt
2 tbsp olive oil, extra virgin
¾ cup chopped cilantro, leaves + stems
1 large egg
1 tsp black pepper
1 tsp arrowroot powder
Tomato Harissa Sauce:
1 oz can diced tomato, 14.5 oz, no salt added
2 tbsp Mina's Harissa in mild flavor
1 tsp sea salt
1 bay leaf, dry
Other:
2 large size zucchinis, using a spiralizer to make zucchini noodles
1 tsp fresh thyme
fresh basil leaves, decoration, final touch
Instructions
Mix all ingredients under "meatballs". Form about 20 meatballs. Pan seared them until the surface is golden brown.

In a medium saucepan over medium-high heat, add ingredients under "tomato harissa sauce". Bring to a slight boil then simmer with a lid.

Add meatballs to the saucepan and cook until the meatballs are cooked through. Serve with zucchini noodles, fresh thyme and basil leaves.
Notes
Mina's mild harissa includes red chili pepper, red bell pepper, garlic, extra virgin olive oil, vinegar and salt.
Nutrition
Serving: 431g, Calories: 277kcal, Carbohydrates: 14g, Protein: 29g, Fat: 13.3g, Saturated Fat: 3.1g, Cholesterol: 108mg, Sodium: 700mg, Sugar: 8g, Vitamin A: 1200IU, Vitamin C: 84.2mg, Calcium: 100mg, Iron: 3.1mg
Sharing is loving and if you'd like to use an image and/or a recipe from my site for your own blog and/or business, please send me an email requesting permission and make sure to include a link back to my original post. All photos and recipes in this blog are © 8020 creative LLC unless stated otherwise.