Paleo Asian Side Dishes
Paleo Asian Side Dishes – 3 simple and quick Asian-inspired Paleo vegetable sides that will become your favorite side dish recipes!
If you love Asian-style side dishes, you'll also love my very best Asian sauces for grilled chicken!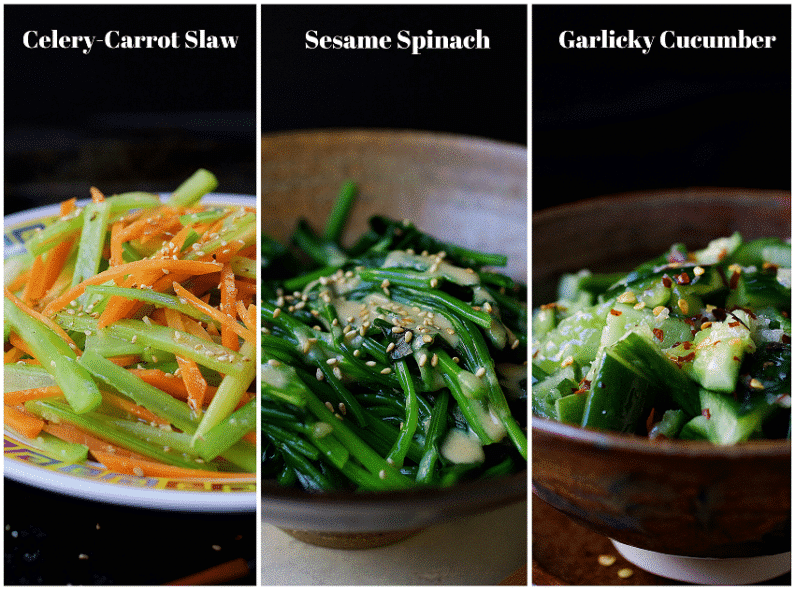 This week I'm sharing with you three very popular everyday Paleo Asian Side Dishes –
Cold Garlicky Cucumbers – 涼拌黃瓜 (Liángbàn huángguā)
Chilled Sesame Spinach – 芝麻菠菜 (Zhīma bōcài)
Crunchy Celery-Carrot Slaw – 涼拌芹菜 (Liángbàn qíncài)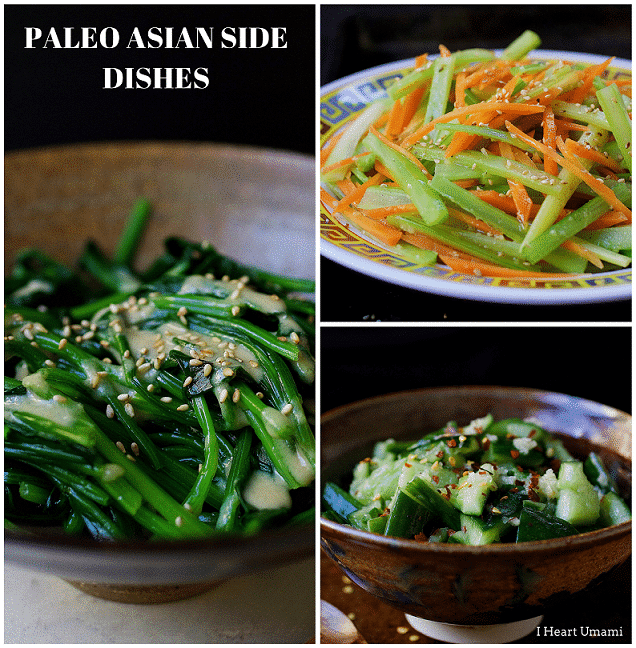 These vegetable sides are great for winter and summer. Easy and quick, and they go perfectly with any protein-rich main dish, like my Paleo Mongolian Beef, Paleo Tender Pork Roast, or Thai Red Curry Chicken.
Click the Pin button & Save these three mouthwatering Paleo Asian Side Dishes.
They will become your favorite after one bite !
Cold Garlicky Cucumbers – Paleo Asian Side Dishes #1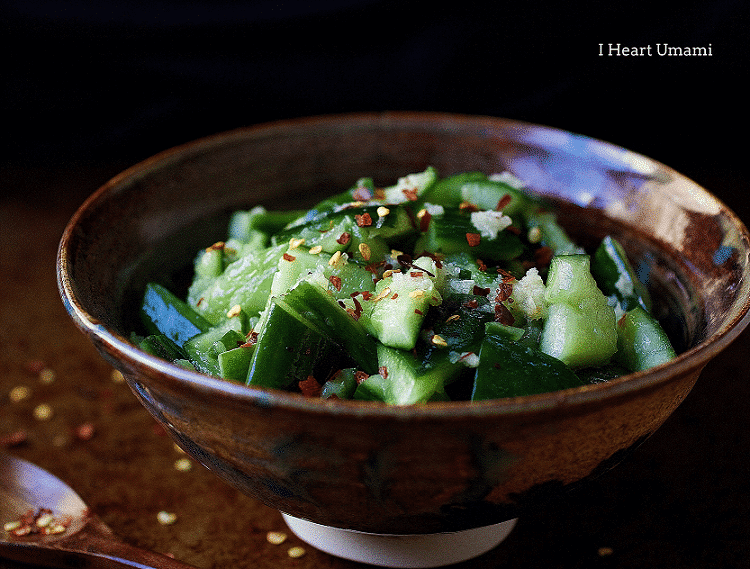 This is probably one of the most iconic side dishes in Taiwan. Almost every noodle shop along the streets of Taiwan serves this cold garlicky cucumber dish.
There are 3 key things to know so the cucumbers will be crunchy and refreshing.
1. Use mini Persian cucumbers or English cucumbers.
These cucumbers have thinner skin and there's no need to remove the outer skin. My first choice would be to use the mini cucumbers.
2. Remove the seeds of the cucumbers.
After slicing them in half, use a small teaspoon to scoop out the seeds so that the cucumbers will be less watery and remain crunchy.
3. Smash them.
Oh yeah. You've heard me right. Smash them in a ziplock bag with a meat pounder or a small bottle. Why smash ? The smashed cucumbers will grab the dressing sauce better and hence they will be more yum!
Chilled Sesame Spinach – Paleo Asian Side Dishes #2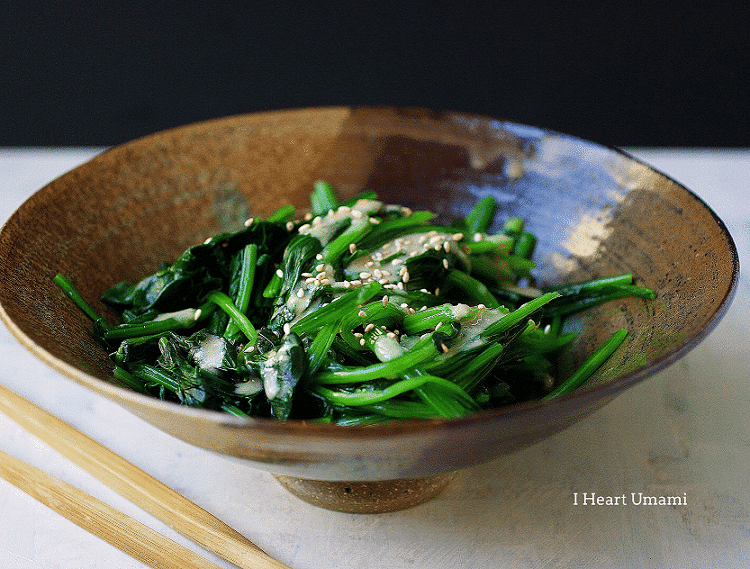 There are quite a few different dressings for this dish but my favorite is the Sesame paste dressing.
My Paleo Sesame paste dressing is very versatile. You can use it not only for this dish but also for salad dressing or even for grilled chicken breasts.
Follow the recipe instructions below and taste and make adjustments to your desired consistency.
It's creamy, savory, and with a hint of toasted sesame fragrance and slightly sweet.
I'm mouthwatering just thinking about this Chilled Sesame Spinach.
Crunchy Celery-Carrot Slaw – Paleo Asian Side Dishes #3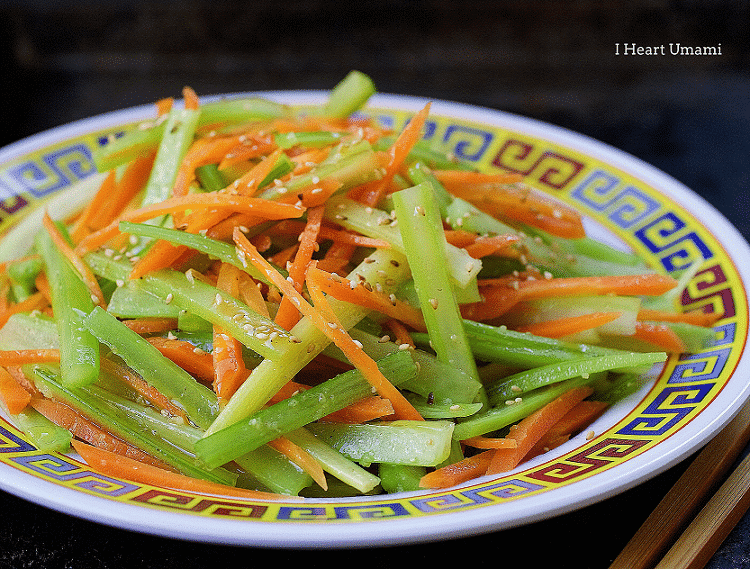 Similar to the cold garlicky cucumber, the crunchy celery and carrot salad taste even better the day after.
Cut the front and tip-end of the celery and use a peeler to peel off the outer tough fibrous skin. Slice them to matchstick thin (about 3-inch length as instructed below).
Give them a quick toss in hot boiling water and rinse in cold tap water. Add some simple seasonings and voila! Another wonderful Paleo Asian Side Dish is ready to go!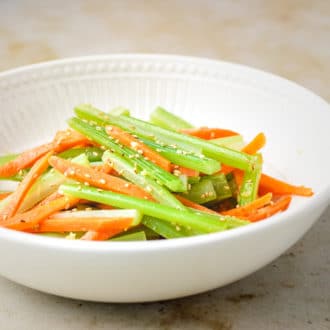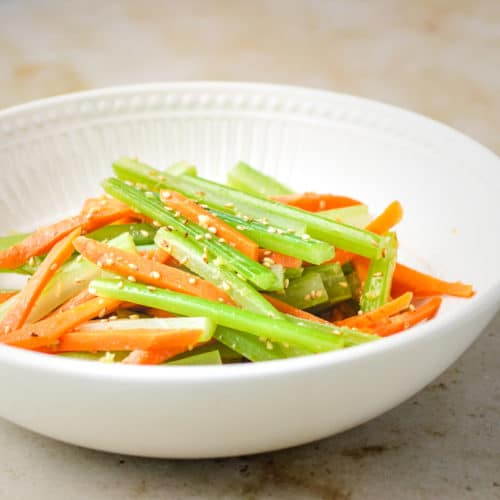 Paleo Asian Side Dishes
Delicious and easy to make Paleo Asian style side dishes that are all healthy and low carb like this Asian carrot-celery slaw. They taste even better after chilling.
Print
Pin
Rate
Ingredients
5-6 stalks celery
2 medium carrots
Asian Carrot-Celery Slaw Seasonings:
¼ to ½ tsp coarse sea salt
1 tsp grated ginger
1 tbsp sesame oil
Small pinch white pepper
Sprinkle toasted sesame seeds
Instructions
Bring a large pot of water to boil. Season the water with a pinch of salt.

In the meantime, prepare celery and carrots.

For celery, cut off the base and leaves, then wash the stalks under running water. Use a peeler to remove any fibrous and tough strings. Dice them to about 2.5 to 3-inch length sections then slice lengthwise to matchstick shape.

For carrots, slice them diagonally into thin slices (a little thicker than 1/8-inch thick). Stack 2-3 slices a time on top of each other, then cut through the layers to create matchsticks.

Blanch celery and carrot matchsticks in hot boiling water for about 1 minute.

Quickly rinse them under cold or ice cold water to stop cooking and preserve the vibrant color.

Drain and shake excess water from the vegetables before adding them to a large bowl.

Stir to coat seasonings from salt to white pepper.

Toss well and set aside for 30 minutes to develop the flavor or best marinate overnight. Sprinkle with toasted sesame seeds before serving. Best serve chilled.
Nutrition
Serving: 1serving, Calories: 52kcal, Carbohydrates: 4g, Protein: 1g, Fat: 4g, Saturated Fat: 1g, Sodium: 206mg, Potassium: 228mg, Fiber: 2g, Sugar: 2g, Vitamin A: 5320IU, Vitamin C: 3.4mg, Calcium: 30mg, Iron: 0.2mg