Easy Thanksgiving Recipes
If you are running out of time or looking for a stress-free but still super yummy and lovely Thanksgiving holiday meal, check out my 3 recipes in one Easy Thanksgiving Recipe from savory juicy roasted chicken to crispy bacon wrapped green beans. Guarantee delicious !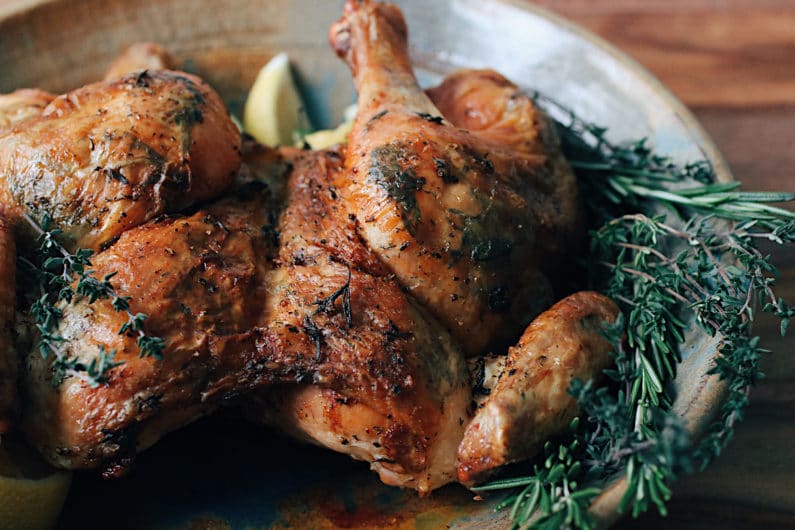 An alternative to traditional Thanksgiving – Easy Thanksgiving Recipes
Every Thanksgiving holiday if Nate and I host dinner parties at our home, we almost always opt for savory roasted chicken. They are much easier to brine, bake, and are perfect for smaller households.
You can absolutely roast an entire whole chicken or in my case spatchcock it for even and quicker roasting.
In the recipe I stuffed various savory herbs and ghee butter between the skin and meat layer. Rub these gorgeous savory herbs all over the chicken and store it in the fridge overnight for a truly stress-free holiday party next day morning.
In this short post, you'll find three of my simple yet super flavorful combo – Roasted Spatchcock Chicken, Bacon Wrapped Crunchy Green Beans, and Herb Stuffed Mushrooms that are vegan friendly.  Be sure to scroll down and save all three recipes. They are the perfect combo for a truly lovely and stress-free easy Thanksgiving !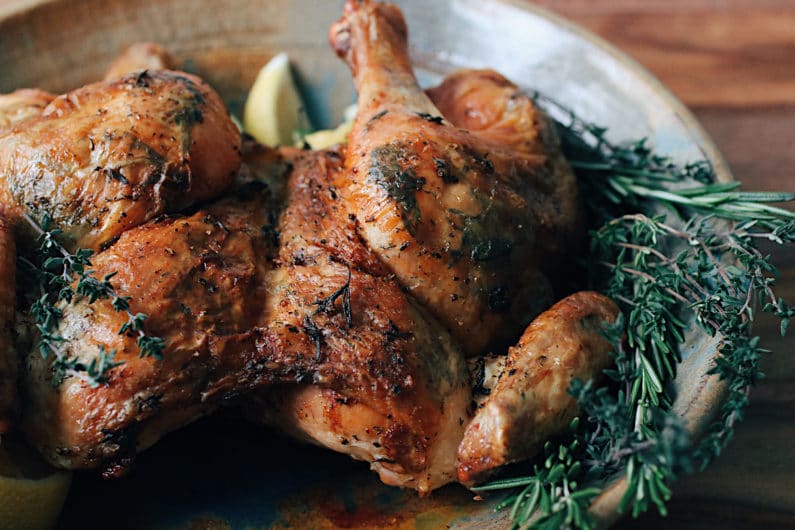 Herb Roasted Chicken
A delicious herb and citrus roasted chicken that's not only perfect for the holiday but also great for everyday Paleo meal.
Print
Pin
Rate
Ingredients
5 lbs fresh organic chicken
¼ cup sea salt
½ cup fresh mixed herbs, (Eg. sage, thyme, rosemary, oregano, Marjoram etc.)
2 tbsp ghee, melted
1 lime, serving use
2 lemon, serving use
Instructions
[In store] Ask the butcher to butterfly the chicken for you in advance.

Place the chicken on a foil-lined baking sheet. Use your fingers to carefully create pockets (to loosen the skin) between the skin and the flesh. Be careful not to break the skin.

Rub salt directly onto the meat under the skin, also on the outside and underside.

[Optional, if you have time] Cover the chicken with plastic wrap and place it in the refrigerator until you are ready to bake the next day.

On the day of the event, preheat oven to 450 F.

Mix the melted ghee (or olive oil) with fresh herbs and spread it under the chicken skin evenly between breast and thigh, as well on the outside of the bird.

Place the bird on a wire rack and bake for about 50-60 minutes until the meat thermometer reads 165 F for thickest part of the thigh meat & 145-150 F for the thickest part of the breast meat.

Set the bird aside to cool. Squeeze some lemon and lime juice. Enjoy!
Notes
Helpful Tools To Have -  Instant meat thermometer,  Baking tray + baking rack , and Aluminium foil Plastic wrap
Nutrition
Calories: 843kcal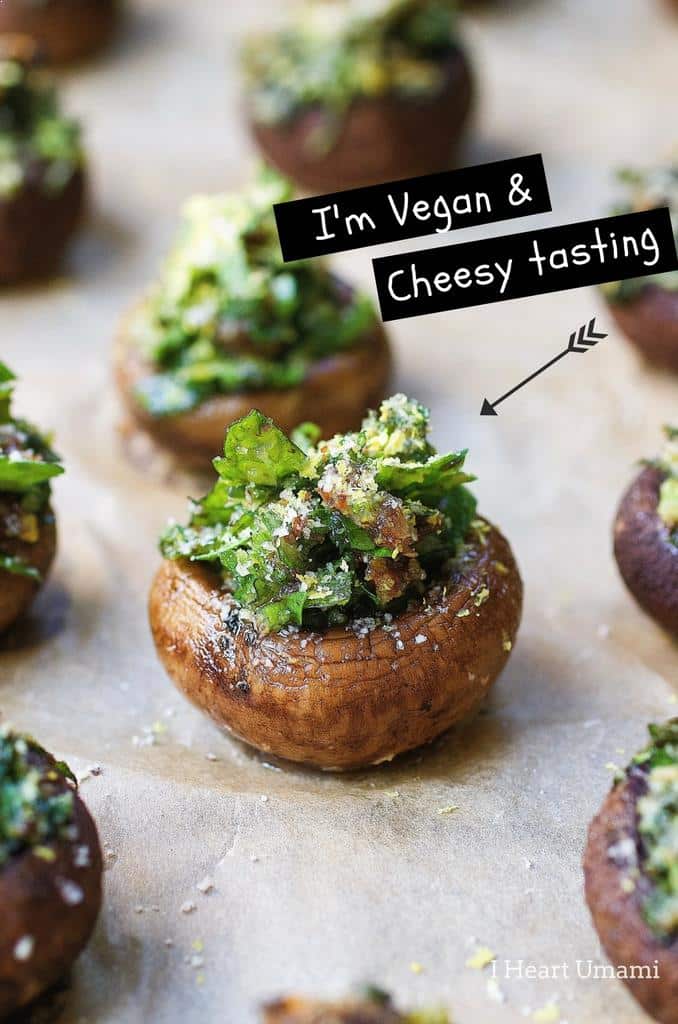 Herb Stuffed Mushrooms
Easy and "cheesy" Herb Stuffed Mushrooms that are gluten dairy free and vegan friendly, packed with fresh parsley, mint, and sun dried tomatoes. Each little morsel is loaded with tons of savory and naturally sweet Umami flavor. Perfect finger party food. Follow the instructions to make this simple and super delicious recipe + ton more easy make ahead side dishes on the blog !
Print
Pin
Rate
Ingredients
20 oz. baby bella or cremini mushrooms
1 cup, Italian fresh parsley leaves
⅔ cup, Fresh mint leaves
5-6 pieces, sun dried tomatoes soaked in olive oil
⅓ cup, Almond flour
2 tbsp + more for dusting, Nutritional yeast
⅓ cup Extra virgin olive oil
Coarse salt and black pepper to taste
Instructions
Mushrooms: Preheat oven to 375F. Gently clean the mushrooms with a dry paper towel and use your hands with a small teaspoon to remove the mushrooms stems. Lightly brush each mushroom with olive oil both inside and outside cap.

Herbs: Use a sharp knife to gently and finely chop mint leaves and Italian parsley leaves to fine pieces. Chop sun dried tomatoes to finer pieces.

Assemble: In a large mixing bowl, gently mix chopped parsley, mint, and sun dried tomatoes with almond flour, nutritional yeast, and extra virgin olive oil. Lightly season with salt and pepper to taste. Use your hands or a small teaspoon to stuff herbs into mushroom caps. Bake at 375F for 18-20 minutes. Check after 18 minutes.

Serve: Sprinkle with more nutritional yeast and serve in room temperature.
Notes
Please do not use food processor as the texture of these delicate herbs will become too fine and too watery. They will become mushy looking after baked in the oven.
Make-ahead: gently clean the mushrooms with a dry paper towel and use your hands with a small teaspoon to remove the mushrooms stems. This can be prepped a day ahead so it'll save you some time before the guests arrive.
The larger the mushroom caps the more stuffing you can pack into each morsel. My best advice is to pick medium size caps - not too tiny (hard to stuff) and not too large - so that they will be baked evenly in the oven.
Nutrition
Serving: 29g, Calories: 41kcal, Carbohydrates: 1g, Protein: 1g, Fat: 3g, Sodium: 3mg, Potassium: 131mg, Vitamin A: 245IU, Vitamin C: 3.6mg, Calcium: 13mg, Iron: 0.4mg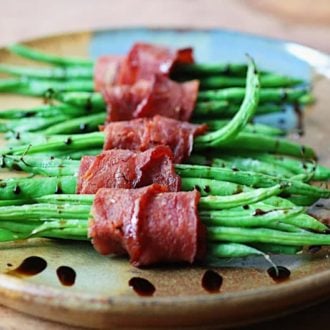 Bacon wrapped green beans
Paleo bacon wrapped with french green beans ! A nice and refreshing way to enjoy crunchy green beans with crispy Paleo bacon! Perfect Paleo side dish !
Print
Pin
Rate
Ingredients
12 oz package of turkey bacon, 1 packet
1 lb fresh french green beans, trimmed if necessary
Salt and black pepper to taste
Olive oil
Aged balsamic vinegar, Balsamic modena
Half one whole lemon juice, serving use
Instructions
[Beans] Sprinkle a little water and microwave french beans on high for about 1 ½ minutes. Plunge them into the ice water to stop the cooking and set the color. Drain the beans and pat dry on a cloth or paper towel.

[Bacon] In a large nonstick fry pan over medium heat, cook the bacon in batches until the slices are just beginning to brown along the edges but are still very pliable, 4 to 5 minutes depending on the thickness. Transfer to a paper towel-lined plate and let cool. Cut strips in half.

Preheat an oven to 350°F. Line a baking sheet with parchment.

Place a small bunch of green beans (about 4-5) onto the strip of bacon and roll up into a bundle. Place the bundle into the baking dish, seam side down. Repeat with remaining bacon strips and green beans and leave a little space between each bundle.

Sprinkle with some salt, fresh ground black pepper, and olive oil.

Bake in the preheated oven for about 8-10 mins until the bacon is browned and crispy.

Drizzle with balsamic vinegar & Serve with lemon wedges
Nutrition
Calories: 228kcal
Click Here to check out more info on the Herb Stuffed Mushrooms !