Vietnamese Meatballs Vermicelli Noodles
Paleo Vietnamese Meatballs Vermicelli Noodles !
I love meatballs.
Recently, I discovered a shortcut to make juicy and savory Asian meatballs.
And you can use these exact ingredients for pork, chicken, turkey, or a combination to create juicy balls every single time.
These Vietnamese Meatballs Vermicelli Noodles are perfect for a busy weeknight meal. You'll have lots of hands-free-time to play with the kids or catch up with friends while the meatballs and the golden delicious squash noodles are getting ready for you in the oven.
I literally spent 15 mins in the kitchen assembling the meatballs while listening to a podcast and having the oven do the rest of work for me. Just make sure you rotate the meatballs halfway through in the oven so that your meatballs will be an even golden brown color.
As always, I love finding short cuts to make your Whole30 experience amazing. Here I recommend you make the meatballs in large quantities during meal prep. Once they are baked through and cool down, freeze them in containers or ziplock bags.
Defrost the meatballs the night before serving and reheat in the microwave for a quick and satisfying meal.
If you love meatballs, share this post with your friends.
If you want more of my amazingly delicious Paleo and Whole30 recipes, subscribe to receive 26 of my best recipes in one free recipe book !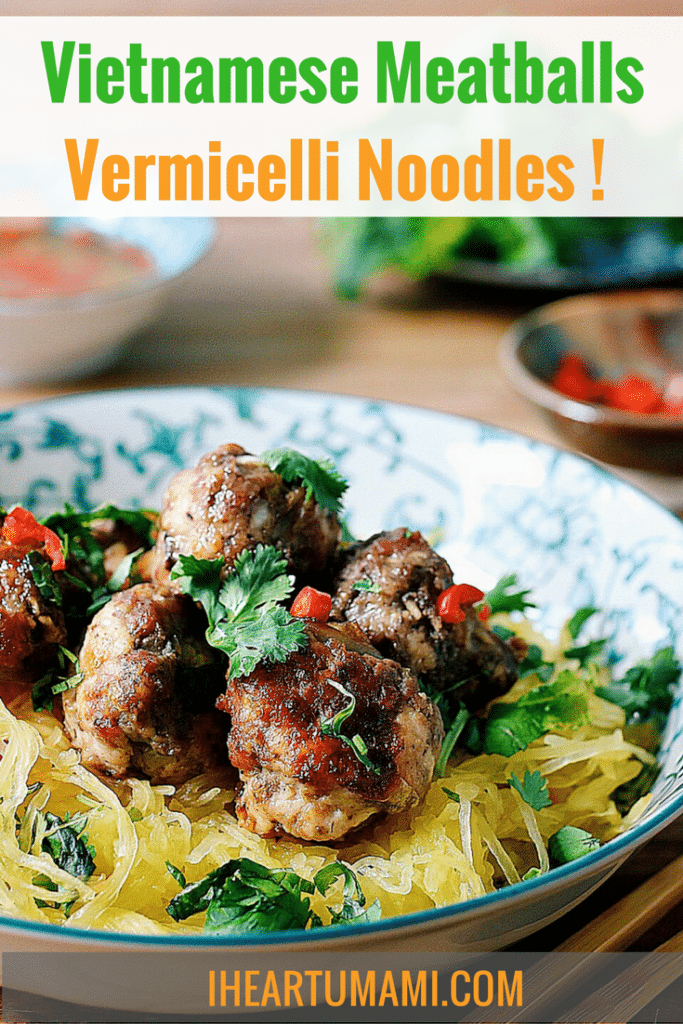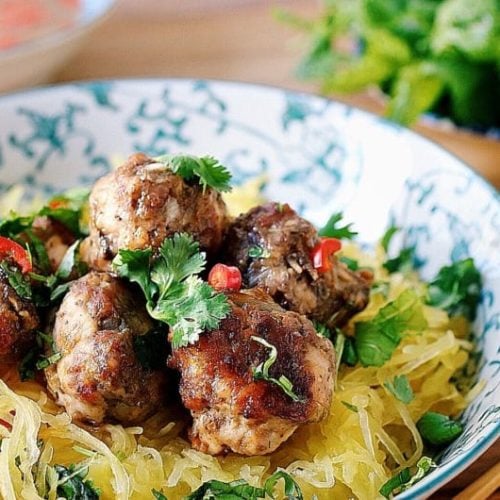 Vietnamese Meatballs Vermicelli Noodles
Total bake time for meatballs (1 1/4 lb ground meat & 2-2 1/2 tbsp/meatball size) is about 25-30 minutes total in 400-420F oven. Total bake time for spaghetti squash (depends on the size of squash) is about 30-45 mins in 400-420F oven.
Print
Pin
Rate
Ingredients
1 spaghetti squash
Salt to taste
Meatballs:
1 ¼ lbs ground pork and chicken, 50% + 50% combo or use one type of ground meat only
3 cloves garlic
2 large shallots, roughly chopped
5 oz fresh shiitake mushrooms, sliced (alt. Crimini or portobello mushrooms)
½ tsp sea salt
1 tbsp Red boat fish sauce
1 tbsp coconut aminos
1 tbsp extra virgin olive oil
Dressing:
Small pinch of finely minced garlic and red chilies*, *I use California fresno red chili pepper. Seeds removed.
Half one whole fresh lime juice
½ tbsp rice vinegar
½ tbsp fish sauce
2 tbsp water
1-2 tbsp fresh squeezed orange juice
Garnish:
Chopped Mint, cilantro, and basil (include them all or select a few)
Instructions
Squash:
Preheat the oven to 400°F - 420°F. Slice the squash in half from stem to tail. Be careful not to cut yourself. Work slowly. Scoop out the seeds. Season with a little salt. Place the squash in a roasting pan. Cut -side down with a little water just enough to cover the bottom.

Meatballs:
Use a food processor to chop 3 garlic cloves, 2 large diced shallots, and 5 oz. fresh shiitake mushrooms until fine. Mix them with ground meat with ½ tsp sea salt, fish sauce, coconut aminos, and olive oil. Combine well and form about 20 meatballs (about 2 ½ tbsp filling/ meatball) on a large non-stick baking sheet pan.

Bake:
Send meatballs and squash to the oven (400 - 420°F). Squash will take slightly longer time to bake than the meatballs so here's what you can do to bake them at the same time:

*Bake the meatballs for about 25 minutes total - 1st side: 15 minutes. Then, flip them and bake the flip side for an additional 8-10 minutes. Once the meatballs are cooked through. Remove from the oven and ready to serve.

**Bake the squash for 30-45 minutes. Smaller squash will cook more quickly than larger squash so check after 30 minutes. The squash is ready when tender and you can easily pierce the flesh all the way to the peel with a fork. Once it's ready, scrape out the squash with a fork gently in the same direction as the strands.

Serve:
Combine ingredients under "Dressing". Drizzle 1-2 tbsp dressing over squash noodles and meatballs. Sprinkle chopped herbs (mint, cilantro, basil) and watch them gone quickly than you think!
Nutrition
Calories: 374kcal