Holiday Gift Guide 2023
My Holiday Gift Guide is finally here! I've gathered some fun items and ideas that I personally use and love from cookware and unique kitchen accessories to cute gifts for your four-legged doggie friends. There's something for everyone!
A friendly note before you shop – many items on my holiday gift lists are from small independent shop owners on Etsy and most of them are hand-made. I recommend ordering them early so the gifts can arrive on time!
Without further ado, let's go shopping!
This post contains affiliate links. I earn a small commission from your purchase and with no extra charge to you. Thank you for supporting my small business!
Holiday Gift Guide for home cooks
People often ask for my cookware recommendations and here are my top 9 cookware that I use all the time. My current air fryer is from Instant Pot Vortex 6 qt. and I absolutely love my Made In wok!
Holiday gift ideas for cute kitchen accessories
I love spending time on Etsy looking for cute items for kitchen and home decor! I personally own several items from this list (the sponge dish holder, the olive oil cruet, the tea ball infuser, and the Le Parfait mason jars). The rest of the items are on my wishlist and I'm sure very soon I will bring them home, too! 🙂
Holiday gift guide for pet lovers (particularly the tiny ones 😉
Yup, this holiday gift guide is designed specifically for the little ones at your home! Many of you know that Zoe (my little chichi girl) is the love of my life so naturally I collect cute things for her. 🙂
From the dog sling and pet fleece, to airline approved pet carrier (in my opinion this is the best) and Japanese style pet food bowl and water bottle! Don't forget to pick something for your little love at home! 🙂
I Heart umami gift box!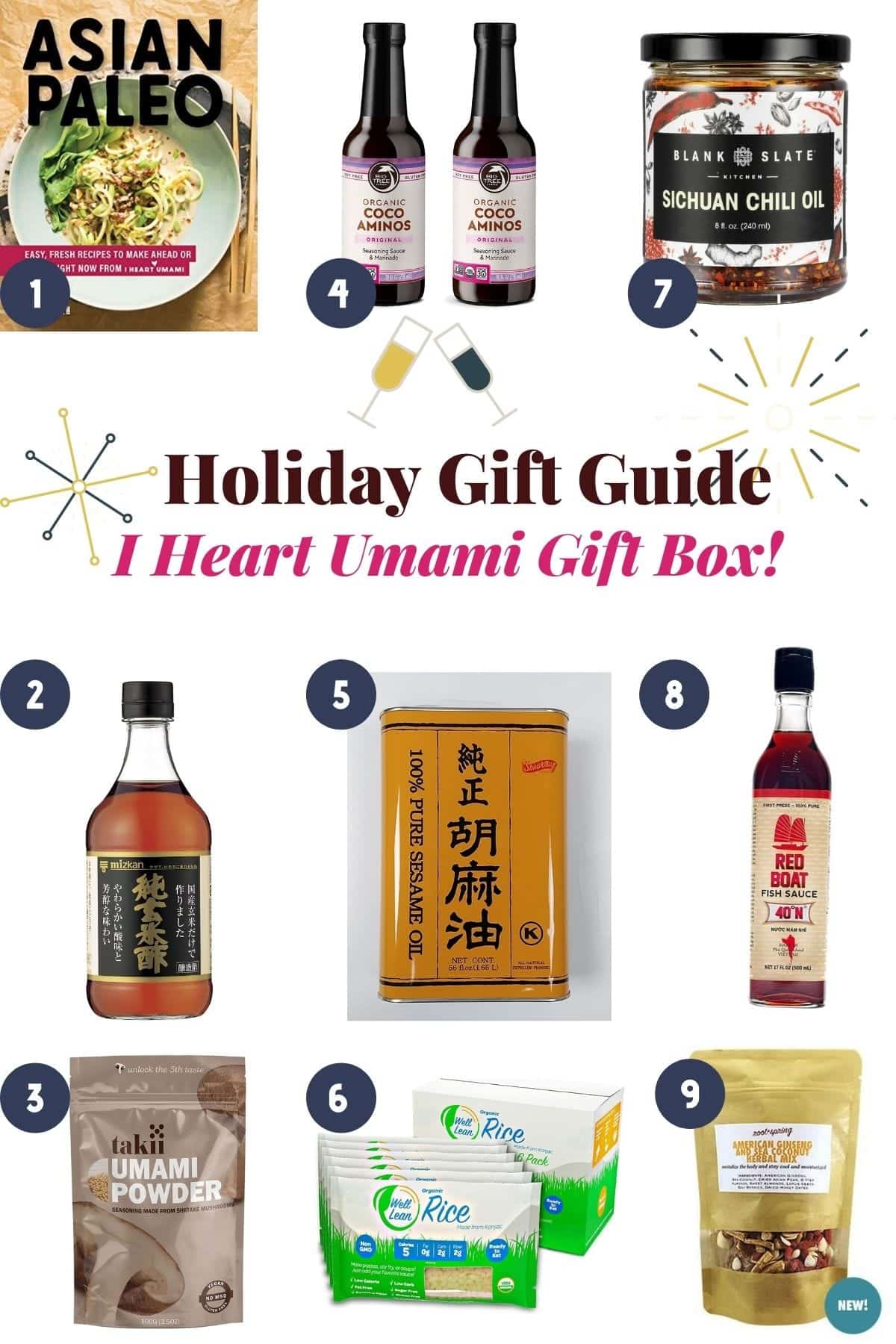 Speaking of one-stop shop to get everything you need to make healthy delicious Asian dishes that are also paleo and gluten-free!
Holiday Gift Ideas for everyone!
From air purifier and vacuum robot to portable LED lantern and bookcase, these are the items that I love fro my own home and hope you will enjoy it, too!
One of my favorite holiday gift ideas that's not on the list – Natural Teak Wood Folding Stool! You can use it both indoor and outdoor. I use it for my shower room for a spa-inspired look!