Asian Chicken Meatball Soup With Spinach
Mom's Asian Chicken Meatball Soup with spinach and crunchy colorful vegetables, simmered in Asian ginger chicken broth, and all made in one pot! These chicken or turkey meatballs add incredible flavor to the soup. They are ridiculously good and easy. Everyone will demand you make it again and again!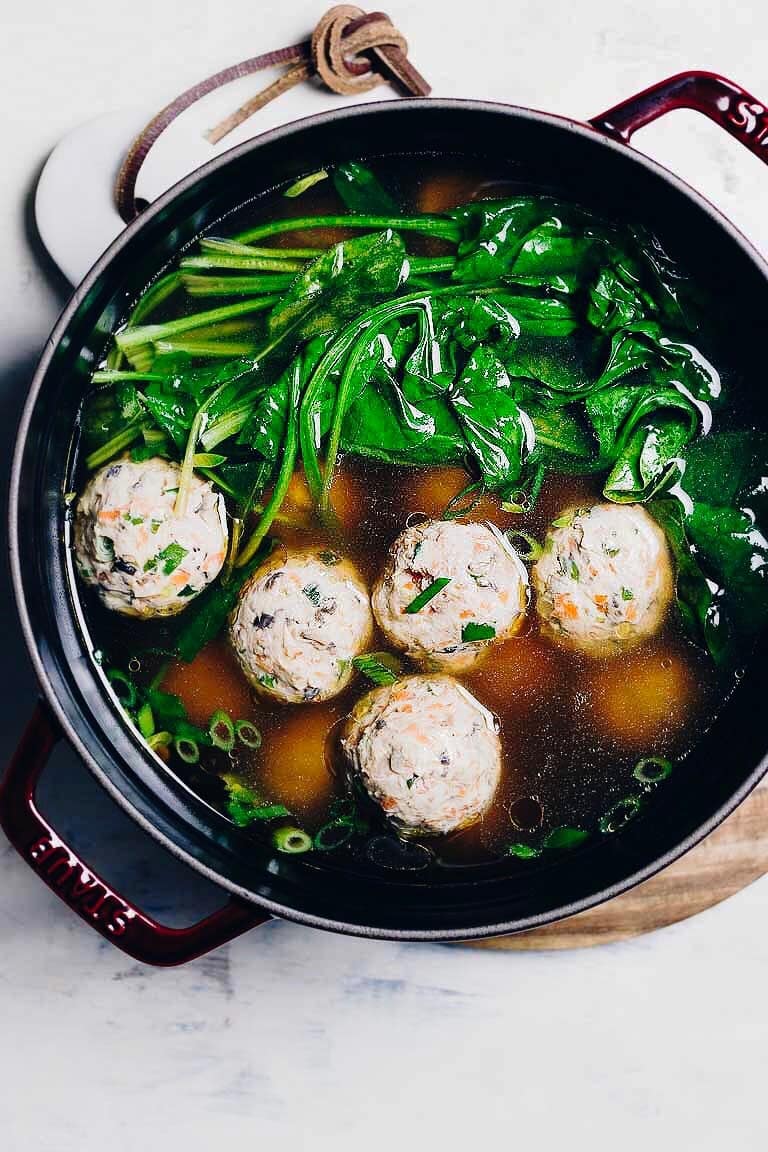 I've been wanting to make my mom's Paleo Chicken Meatball Soup with spinach for a long time and for some reason I waited until today to share it with you. They are one of my family's favorites and you can make either chicken or turkey meatballs. But first, let me tell you a story about how I came to learn about this recipe.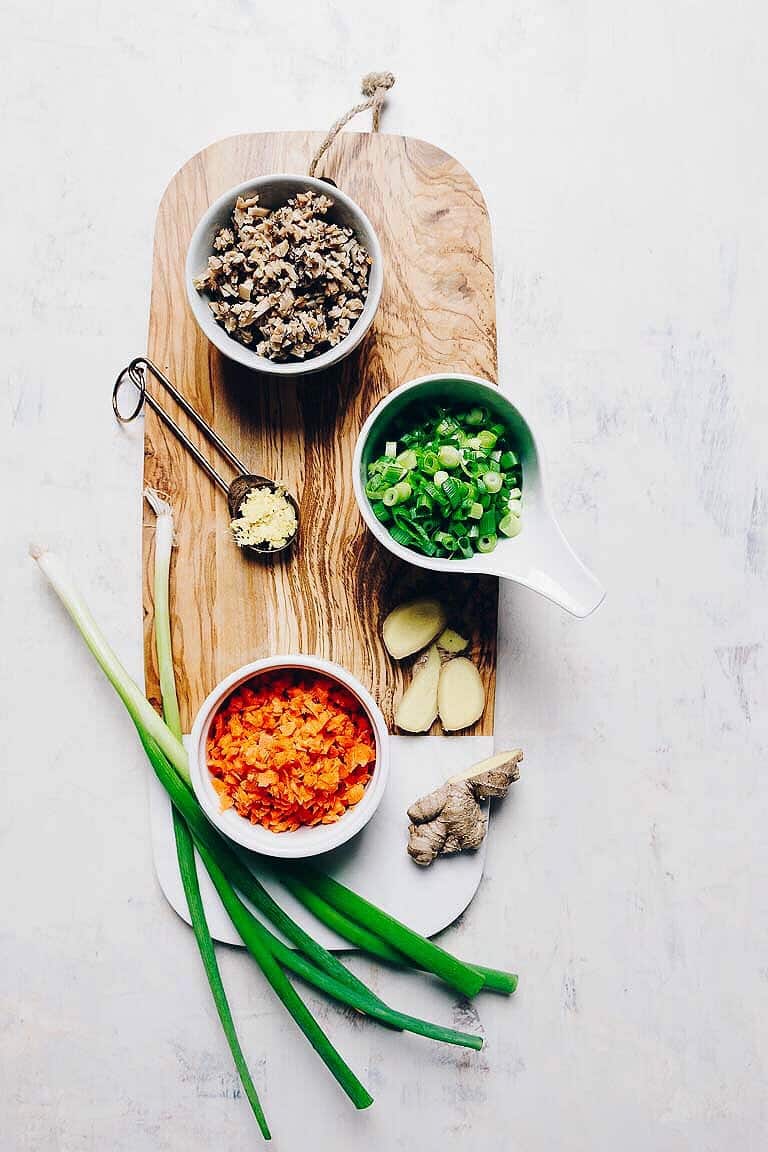 I remembered when I was little, one early morning I woke up earlier than anyone else in the family. I decided to make myself a fried egg but couldn't reach the kitchen counter. I pulled a little step stool so I could reach the stovetop counter and ever since then I was hooked to everything made over a stove burner. I think part of the fun is seeing how food transformed into different colors and textures and smelling the wonderful aroma coming from the kitchen.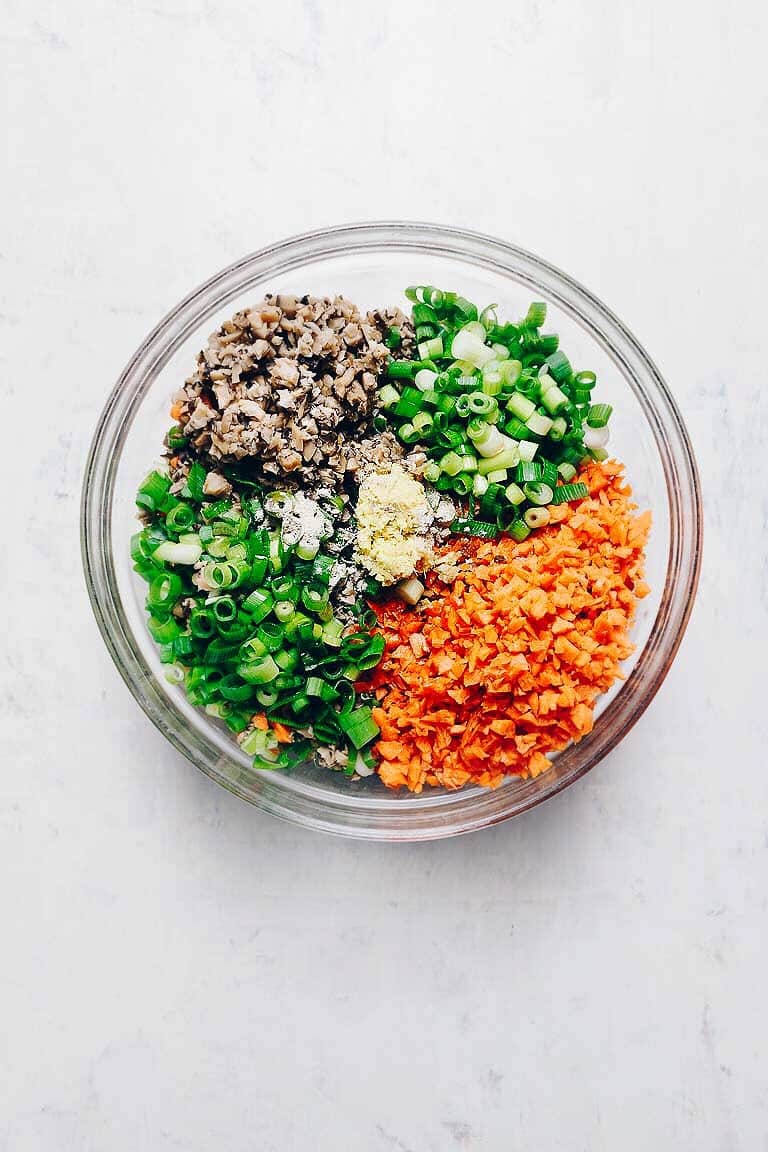 Mom will first make all the wonderful meatball fillings with finely chopped carrots, scallions, shiitake, and grated ginger to keep the meatballs light and full of nutrition. I love seeing how she transforms each meatball into cute little colored balls and lines them up like little soldiers one by one next to one another. 🙂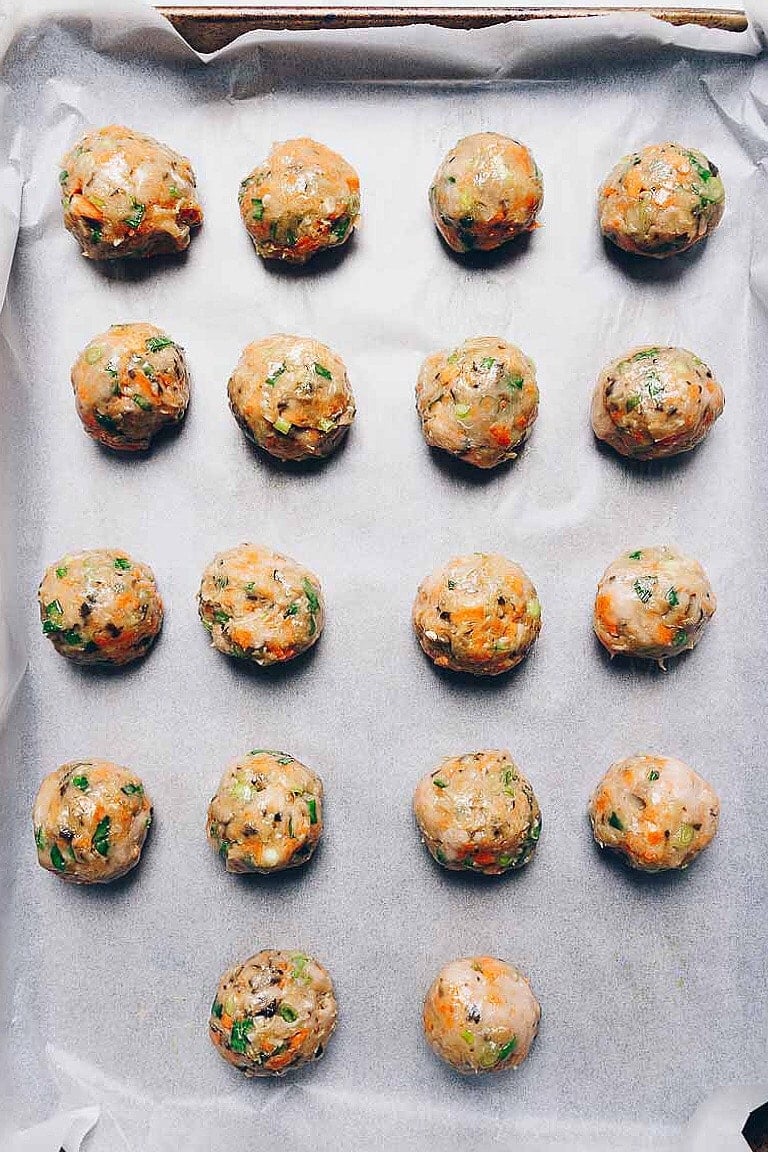 Homemade chicken stock or bone broth will make the best soup base for mom's Chicken meatball soup (or turkey meatball soup) but most of the time, a store-bought chicken stock will also do wonders.
These chicken or turkey meatballs are made with no eggs and flour. At that time neither my mom nor I realized the meatballs she made are Paleo and low-carb. Don't even mention these wonderful meatballs are also Whole30 and Keto friendly. How amazing! 🙂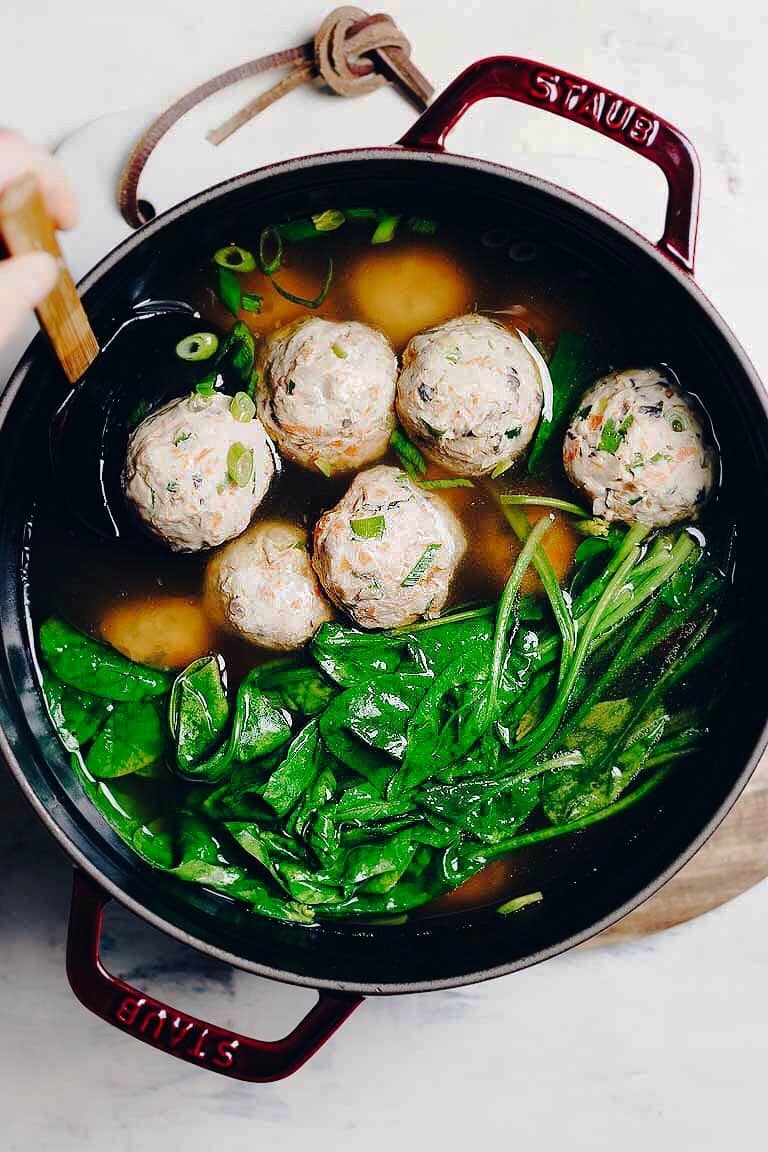 Wonderful one-pot meatball soup
Part of the charm (and fun) is seeing the meatballs one-by-one flow to the top of the hot simmering broth. I learn the trick from her when the meatballs flow to the top of the hot broth which means they are cooked through. If mom is making a huge batch of meatballs, she would fish them out of the broth after floating them to the top with a slotted spoon so they don't get overcooked.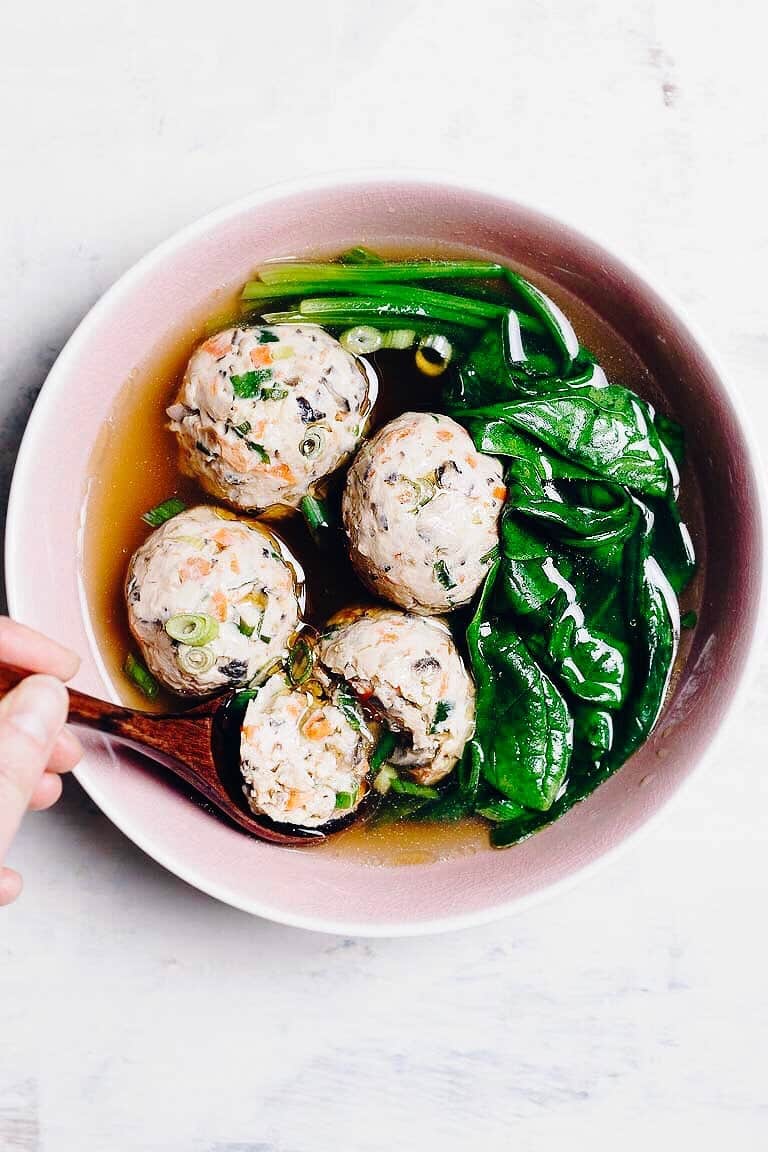 To a little kid, it's such a fun experience to participate in the kitchen and observe the actions. I'd anxiously watch the stove burner with my little step stool and wonder when the meatballs will flow to the top so I can take a big and satisfying bite!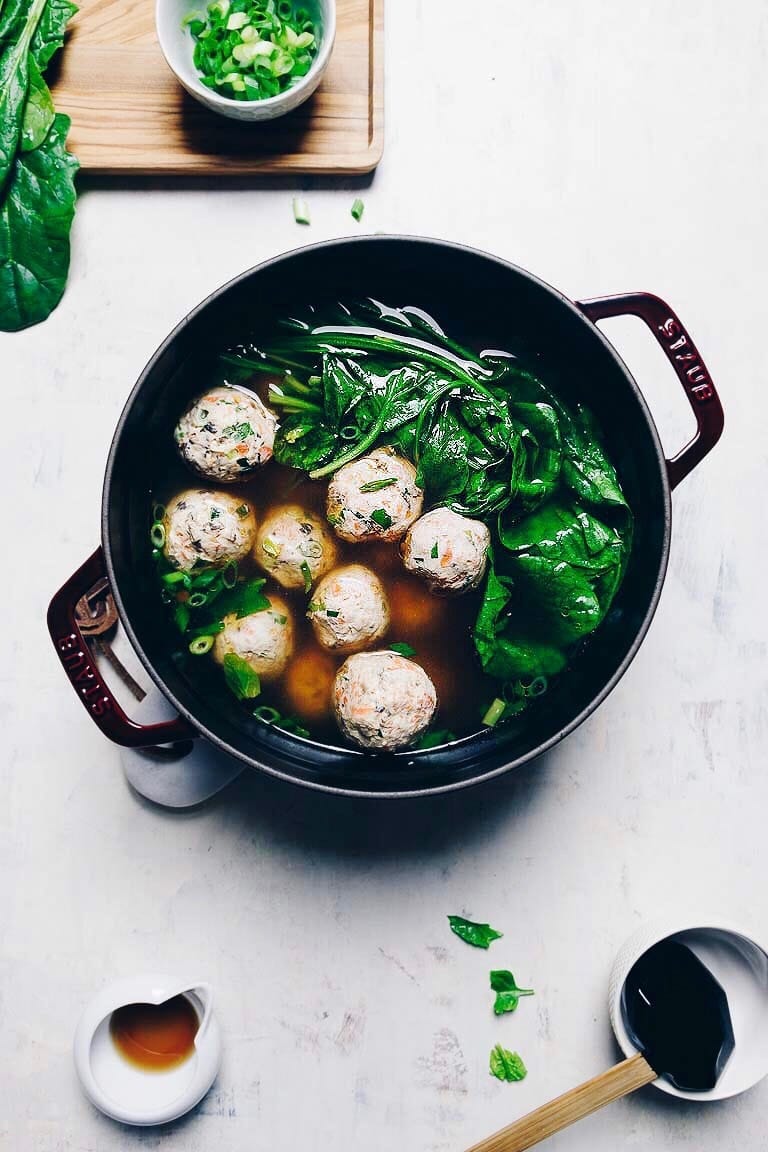 Since the meatballs aren't seared, the delicious flavor from the meat and the veggies melt into the hot ginger-flavored chicken broth and made the soup extra flavorful. Usually, we use ground pork but you can absolutely use ground chicken or ground turkey just make sure that if you use poultry incorporate half amount of thigh/dark meat and half the amount of breast meat to keep the meatballs flavorful and juicy.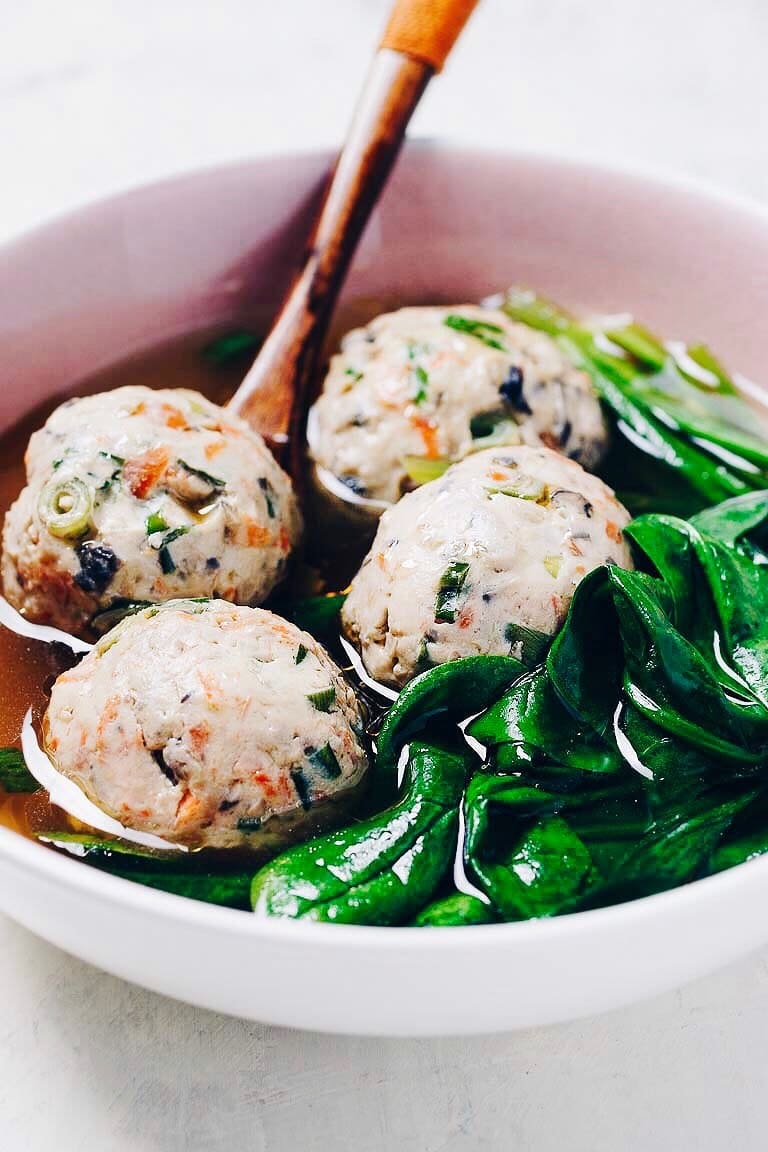 I hope you had fun reading my childhood story and how I came to learn about my mom's Paleo Chicken Meatball Soup. If you are a soup lover like me, also check out my Vietnamese Chicken Tomato Soup, Paleo Hot and Sour Soup, Egg Drop Soup, Instant Pot Chicken Cabbage Soup, Wintermelon soup with meatballs, Paleo Tantanmen Ramen, and Whole30 Cup Noodles!. They are all very very good and each of them tastes different from one another.
If you give this Paleo Chicken Meatball Soup a try, please rate the recipe and leave a comment below. It'll help me and my blog tremendously. I read all the comments. Thanks in advance!
Subscribe to my blog I Heart Umami to learn how to make 10 mouthwatering Paleo meals in under 10 minutes each!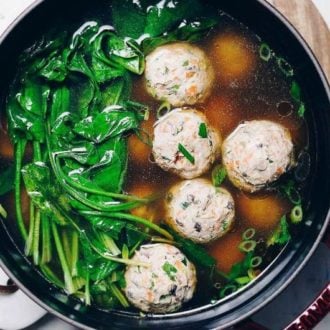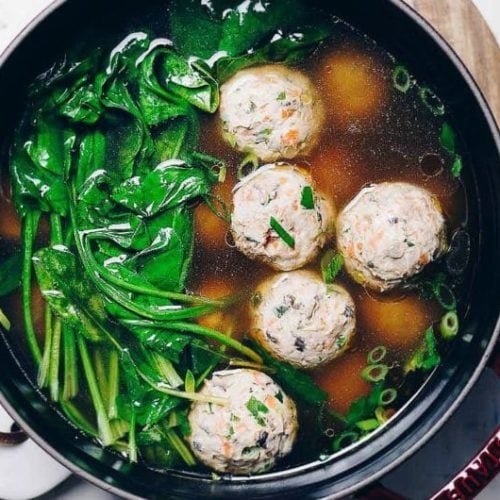 Asian Chicken Meatball Soup with Spinach recipe
Chinese Paleo Chicken Meatball Soup (or Turkey) with spinach and no eggs in Asian ginger chicken bone broth and all made in one pot! Makes about 18 meatballs (weight 1.4 oz. per meatball).
Print
Pin
Rate
Ingredients
Paleo chicken or turkey meatballs:
Whole or baby spinach, as much as you like
Broth seasonings: (only add if the broth is not enough flavor):
Instructions
In a food processor, press pulse a few times to finely chop carrots and shiitake. Chop scallions with a knife and prepare grated ginger.

In a 4-6 qt. Dutch oven or heavy soup pot, add 6 cups chicken bone broth with ginger slices. Close with a lid and bring the broth to a gentle hot simmering.

In a large mixing bowl, add all ingredients from carrot to ground chicken (or turkey). Use your hand to gently combine and mix well. The meatballs should feel moist and a bit slippery because of the oil. This helps the meatballs stay moist and also prevents the ground meat from sticking to your hands.

Line a large sheet pan with parchment paper. Form roughly 18 meatballs with each weight about 1.4 oz. Try to keep them in similar sizes so the cook time will be similar. If the ground meat becomes sticky to your hands, drizzle with a bit more olive oil.

Carefully and gently place meatballs one-by-one to the hot simmering broth, simmer the meatballs over medium-low to low heat until they flow to the top of the broth, about 10-12 minutes. You can also test by breaking the meatball in half with a fork to see if they are cooked through. Do not use high heat the broth will be less flavorful.

In the meantime, rinse and wash spinach. Set aside to drain. Once the meatballs are cooked through, taste the broth then decide if you like to add broth seasonings – coconut aminos, fish sauce, white pepper, and sesame oil. Stir-in spinach. Serve hot or warm.
Notes
How to rehydrate dry shiitake: Soak the dry shiitake mushrooms in room temperature overnight. If in a rush, soak them in warm water for at least 1-2 hours. You can use the shiitake mushroom water to replace chicken stock or combine mushroom water with chicken stock to make the soup broth.
Check out my youtube channel on how to select and prepare dry shiitake. Remember to subscribe to my channel!
To make-ahead: Form the meatballs without cooking them. Flash freeze over a flat plate/tray then store in a freezer friendly bag or container. When you are ready to cook them, no need to defrost. Bring the bone broth with ginger to hot simmering, add meatballs and simmer/cook until the meatballs are completely cooked through. Add spinach and serve.
Alternatively, you can also cook the whole recipe. Let cool and freeze the meatballs with the broth in freezer friendly containers.
You can easily double the meatball recipe quantity with 2 lbs ground meat and make about 36 meatballs.
The nutrition label is calculated for 1 serving out of six with 3 meatballs per person and not including the broth seasonings. 
Nutrition
Serving: 1serving, Calories: 196kcal, Carbohydrates: 6g, Protein: 18g, Fat: 11g, Saturated Fat: 2g, Cholesterol: 65mg, Sodium: 560mg, Potassium: 692mg, Sugar: 1g, Vitamin A: 3475IU, Vitamin C: 1.2mg, Calcium: 21mg, Iron: 1.2mg
What pairs well with my Chicken or Turkey meatball soup? Check out my Whole30 Kimchi Cauliflower Fried Rice, Simple Broccoli Fried Rice, Instant Pot Mashed Sweet Potatoes with Coconut Cream, and Paleo Baked Chinese Egg Rolls!